Howard Schultz's Cable News Fantasy Campaign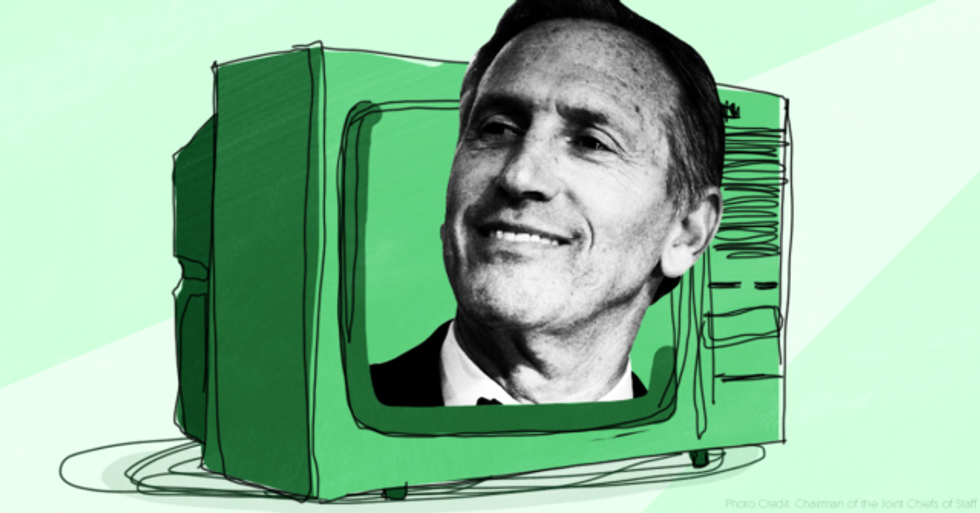 Reprinted with permission from MediaMatters.
Howard Schultz might be running for president and nobody knows why. No one asked him to run for president, and there was no existing political movement to recruit the billionaire former Starbucks CEO into a presidential campaign. The Schultz 2020 experiment just materialized out of nothingness, and in its short, cursed existence it has commanded outsized media attention despite the fact that pretty much everyone seems to hate it.
Since he teased his potential candidacy, Schultz has been interviewed on 60 Minutes, Morning Joe, The View, Anderson Cooper 360, and various other high-wattage news programs. Though he hasn't articulated a single policy, big-name columnists have bestowed their imprimatur upon the would-be candidate and he's being credited by political analysts with "driv[ing] a sustained debate on both policy and politics." Meanwhile, Fox News is having a love affair with Schultz and the prospect that he'd assist Donald Trump's re-election by splitting the Democratic vote.
There are two factors sustaining Schultz's media blitz. The first and most obvious is that he's a rich guy, and when a rich guy makes a splashy announcement — no matter how misguided and self-serving it is — the unwritten rules stipulate that he must be given credulous media attention.
The second factor is Schultz's embrace of the "centrist independent" mantle. The idea of a presidential candidate who floats serenely above the interparty squabbling of D.C. while uniting the country with an ideologically neutral platform is a fantasy, but it is a fantasy that holds deep influence among cable news pundits and other media figures. To the extent that Howard Schultz has a constituency, it exists largely in America's green rooms.
Schultz's 2020 trial balloon is just the most recent misguided attempt by intensely deluded wealthy people to manufacture a centrist political movement out of nothing. Back in 2006, the Unity08 movement sprang up with the goal of nominating a bipartisan presidential ticket that would run on a platform chosen by online delegates. It couldn't attract any real support and fizzled out after its founders joined a campaign to draft former New York Mayor Michael Bloomberg into the presidential race (that campaign also failed).
2010 saw the creation of No Labels, a well-funded but determinedly useless "centrist" organization that promises to end "fighting" but also practices clandestine partisan warfare. The 2012 election cycle bore witness to the Americans Elect catastrophe, in which $35 million of hedge-fund money was spent on a cockamamie scheme to break up the two-party system with an online presidential primary (no candidate reached the minimum threshold of support).
The consistent failure of these third-party centrist movements doesn't seem to dampen the enthusiasm for third-party centrism among political pundits. New York Times columnist Tom Friedman gave his full-throated endorsement to Americans Elect. In 2016, Axios co-founder Jim VandeHei wrote a Wall Street Journal op-ed proposing the creation of a new political party — The Innovation Party — that would "disrupt" American politics by making Mark Zuckerberg president. After Donald Trump was elected president, David Brooks wrote in The New York Times that "the most important caucus formation" in Trump's Washington "will be in the ideological center" as envisioned by No Labels.
Pundit enthusiasm for third-party centrism persists despite the fact that "centrism" has no appeal and no natural constituency. The fatal mistake all these centrist wishcasters make is in assuming that public frustration with left-right political gridlock will automatically translate into enthusiasm for someone who stands up and says, "That's not me!" The centrist ethos is consistently defined by what it isn't; groups like No Labels go to absurd lengths to show everyone that they're neither "left" nor "right," and in the process they reveal that they don't actually stand for anything.
And the centrist "agenda," to the extent that it exists, is divorced from practical concerns that motivate voters. Schultz hasn't proposed any detailed policies of his own, but he is singularly concerned about the national debt and has attacked Democratic proposals for health care and education as unaffordable. (Democratic candidates have also said they'll increase taxes on the wealthy to pay for their programs, but Schultz opposes that, too.) Schultz's whole pseudo-campaign has thus far consisted primarily of telling voters that Democrats are too extreme while mouthing vague slogans about unity.
This drivel plays well with the pundit class, which will extend to Schultz the presumption of viability for no reason beyond his wealth and self-identification as a centrist. Asked about the left-wing backlash to Schultz's potential candidacy, CNN's Michael Smerconish declared himself "dumbfounded" and said: "Here's a guy who tweets and then says, 'I love America and I want to run for president — I think — as a centrist independent.' Why aren't we thanking him?" Schultz has been publicly exploring a candidacy for a handful of days and in that time hasn't actually done anything to warrant gratitude from anybody, but that's immaterial to pundits who see in him the independent centrist of their many-times-unrealized dreams.
Header image by Melissa Joskow / Media Matters