Hunting The Clintons: The True Story Behind Gennifer Flowers' $500K Payday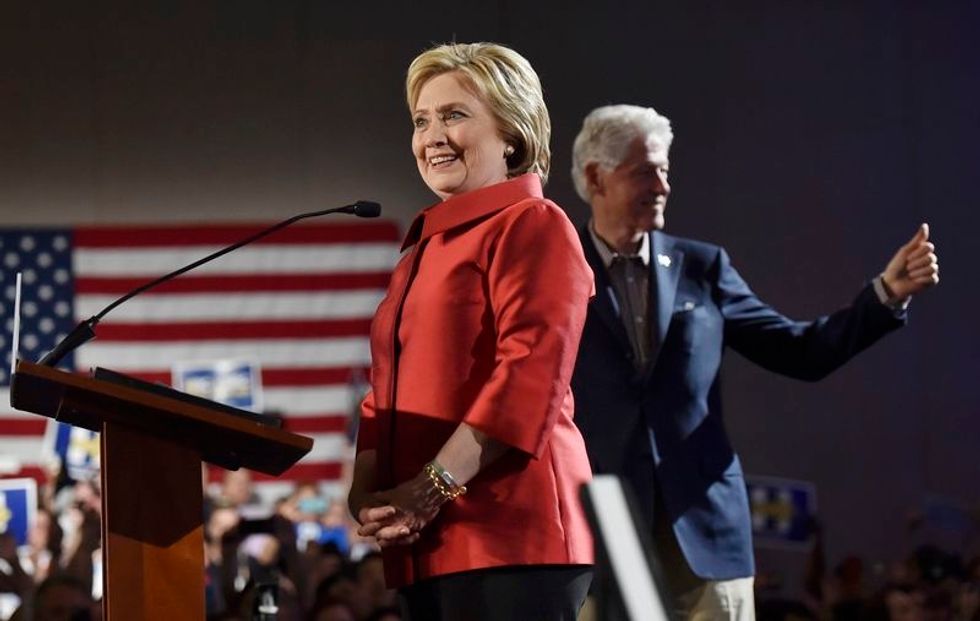 After many years immured in political obscurity, the once-notorious Gennifer Flowers is now expected to attend the first presidential debate between Donald Trump and Hillary Clinton — perhaps as the guest of the Republican nominee's campaign. Exactly what the dirty tricksters working for Trump hoped to gain from announcing her appearance, which can only draw fresh attention to their candidate's vulgarity (and his own adulteries) is not clear. But since they have conjured Flowers into the spotlight, it may be worth reviewing the real story behind Flowers' notoriety, as Gene Lyons and I first did in The Hunting of the President (St. Martins Press, 2000) — from which the following excerpts are adapted:
The strangely spelled name of Gennifer Flowers first came to public attention during a press conference at the Arkansas state capitol on October 19, 1990, where a disgruntled former state employee named Larry Nichols announced the filing of a three-million-dollar libel lawsuit against then-Governor Bill Clinton. Nichols complained that he had been wrongly fired from his state job as a "scapegoat," in order to conceal "the largest scandal ever perpetrated on the taxpayers of the state of Arkansas."
The governor had misused state development funds for "improper purposes," his lawsuit charged; appended was a list of five alleged Clinton mistresses upon whom those funds had supposedly been spent. Nichols planned to subpoena all of them to give depositions about their relationships with the governor, including Flowers, a 40 year-old cabaret singer originally from rural Brinkley, Arkansas, population 4,000 (which also happened to be the hometown of Sheffield Nelson, one of two Republican candidates hoping to run against Clinton that year; the other was Rep. Tommy Robinson, a former sheriff).
Flowers turned out to be the only one of the five whom Nichols knew personally. They had recorded advertising jingles together and still used the same booking agent. And there was one more interesting coincidence: In early October, about two weeks before Nichols's press conference, Gennifer Flowers had called the governor's office seeking help in finding a state job.
…
Though Nichols had filed his lawsuit without benefit of counsel, reporters soon learned that he had met several times with the Republican state chairman, lawyer Bob Leslie, a confidant of Sheffield Nelson. Leslie said he and Nichols merely had lunch together and had never talked about the lawsuit. Nichols later told the Washington Post that Leslie had advised him about the legality of making the women's depositions public.
Reprints of the Nichols complaint were readily available at Nelson's campaign headquarters. Faxed copies began appearing at out-of-town newspapers and radio stations all over Arkansas, but received almost no attention. After a right-wing talk show host at a small Little Rock station allowed a caller to read Nichols's list over the air, the station's owner received a brisk letter from one of the women's lawyers threatening a libel action. The incident was never repeated.
Headed for a quick dismissal in state court due to lack of evidence, the lawsuit was quickly forgotten in the wake of Clinton's reelection.
Two days before Election Day, Nichols tipped his hand. At a meeting in a diner with Clinton press secretary Mike Gauldin, he offered to settle his lawsuit if the governor would arrange to pay off the mortgage on his house, and give him an additional $150,000. Gauldin brushed him off.
…
In December 1990, a supposedly distraught Flowers made the first of what would become a world-famous series of four telephone calls to Bill Clinton himself. She told the governor that the Nichols allegations were hurting her ability to get nightclub gigs, and that she was concerned about Republican efforts to smear Clinton. Unaware that she was taping him, he spoke freely. "I think [Nichols's] suit will be dismissed now," Clinton told her. "So I don't think you need to worry about [being subpoenaed]."
"Well, I ' m . . . actively looking for a job, and I don't need all that," she replied. "And I know you sure as hell don't need it."
"Sheffield's headquarters," Flowers reminded Clinton, "was making it known that anybody that wanted a copy [of Nichols's lawsuit] could come by."
"They passed it around here," he said.
"Well, then how does he claim that he didn't have anything to do with it?" she said. "You know what I'm saying?… You know, that's absurd. He is exactly behind it."
"He's a creep," Clinton replied.
"But I want to tell you something. I hope that it's over, but I would watch it. Sheffield's got nothing to lose…."
"That's why he called and started to cover his ass He thinks that I'm gonna come after his ass," Clinton replied. Ribald tales about Nelson and Robinson were almost as common in Arkansas as stories about Clinton's womanizing.
"Frankly," Clinton assured Flowers, "unless they got one of the parties to admit to it and got pictures . . . You know, you can't hardly go to the press with it. All right, my dear, I'll talk to you later. Keep your chin up."
On January 30,1991, Flowers's attorney sent a curt letter to a radio station that had "wrongfully and untruthfully alleged an affair between my client…and Bill Clinton, Governor of the State of Arkansas." Claiming emotional and physical distress as well as an "inability to find gainful employment," the letter demanded cash compensation for Flowers and threatened to sue. More than three months had passed since the offending incident.
Five years earlier, supposedly during their torrid affair, Flowers had written the governor a letter. It arrived at the governor's office in January 1986 in an envelope marked "Personal," but was kept in a file there and was eventually released after Gennifer Flowers had become a household name. The letter read: "Bill, I certainly enjoyed speaking with you by phone! Enclosed please find a business resume and an entertainment resume. Anything you can do is much appreciated!! Thanks, Gennifer." On the bottom of Flowers's 1986 letter, somebody scrawled her parents' home phone number and noted that she was interested in "PR-marketing."
Apart from that, there appears to have been no follow-up on either side.
Years later, in the wake of Larry Nichols's lawsuit, Flowers renewed her quest for state employment. The governor's office forwarded her name to an aide named Judy Gaddy, who handled up to 50 such inquiries every week. Flowers's inquiry was handled as a routine matter. Over the next few months, Gaddy sent Flowers notices of job openings for which she might qualify. In February 1991, Flowers interviewed at the Department of Arkansas Heritage for a $15,200 job as a "multi-media specialist." She wasn't hired.
Gennifer wrote Clinton again on February 25. "Since we were unable to connect by phone," the letter began, "I thought I should drop you a note." Flowers complained that Gaddy hadn't been very successful in helping her and that her financial situation was dire. She enclosed a copy of her lawyer's letter threatening to sue the radio station, and closed by asking Clinton to "Please, be in touch." Three months later, Gaddy sent Flowers to the Arkansas Merit System to be tested for an administrative assistant position that paid $17,524.
This time she got the job, and she began work in June 1991.
For a sultry performer who had appeared in some of the best clubs in Dallas and done a stint as a TV reporter in Little Rock, the job seemed rather pedestrian. Subsequent accounts of her six-month sojourn in state government were distinctly mixed. Her supervisors later said that while she possessed competent clerical skills, she had none of the computer expertise she had claimed. And on more than one occasion, her supervisor said, Flowers had made tasteless and inappropriate sexual remarks.
"She asked if I knew she was one of the women named in the Larry Nichols lawsuit as having had an affair with Bill Clinton," the supervisor later told a reporter. "When I told her I didn't, she said it was all bullshit anyway."
…
During the late summer of 1991, Bill Clinton announced that he would likely seek the Democratic presidential nomination in 1992 if Arkansas voters would release him from his campaign promise to serve a full term as governor. He and Hillary already had reached out to longtime friends and supporters around the country, who had encouraged Clinton to run, and now he set up an exploratory committee. There was an undercurrent of worry, however, as the Clinton insiders frankly discussed how to cope with rumors about the candidate's philandering and the state of his marriage. At a breakfast with political reporters in Washington that September, Clinton acknowledged that his 20-year relationship with his wife had not been "perfect or free from difficulties."
…
Meanwhile, with her tape recorder running, Flowers began a new series of phone calls to Clinton a few days after he revealed his presidential ambitions. The story she told him couldn't have been better calculated to elicit his empathy for a woman down on her luck—especially, a cynic might note, an attractive woman with old, shared secrets. This time she said that because Larry Nichols had refiled his lawsuit, she was being harassed by tabloid newspaper and TV reporters.
"To be real honest with you," she told him, "I'm not completely surprised. I didn't think it would start this quickly. But I think, Bill, you're being naive if you think that these other shows like A Current Affair and…Hard Copy…"
"I thought they'd look into it," Clinton replied. "But you know, I just think a crazy person like Larry Nichols is not enough to get a story on the television.'
"Right. Well, he better not get on there and start naming names," Flowers said.
Perhaps mindful of her previous threat to sue the Little Rock radio station that had broadcast her name, Clinton assured her that as long as all the women stuck with their denials, there was no way even the tabloid programs could use their names. She asked whether he thought Nichols could be coaxed into naming Sheffield Nelson as his sponsor.
"I think he would, at least, you know, if somebody gave him some money."
"I'll tell you something," Flowers said. "He would take your money and turn around and double-cross you…. Somebody else you better watch isTommy Robinson. I wouldn't trust him."
On the tape, Clinton's next response was inaudible. Then he asked Flowers if she'd seen what Tommy Robinson had told reporters about him and Sheffield Nelson, by then the co-chair of the state Republican Party.
"He said, 'Well, I ran a security detail for two years and I don't know anything about [Clinton's sex life], but I'll tell you one thing, Sheffield Nelson makes Clinton look like the pope.'" Meanwhile Nelson, Clinton continued, was "working overtime. He's sending handwritten notes to reporters coming down here from other states."
At that point, Flowers told him about an approach she claimed was made by Ron Fuller, a Republican state legislator and Robinson supporter who had worked closely with Lee Atwater during the GOP primary. Behind Fuller's cash proposition for her cooperation, she insinuated, was his close friend J. J. Vigneault, the Robinson campaign manager and acolyte of Lee Atwater, who then chaired the Republican National Committee.
"J. J. Vigneault is a good . . . you know J. J.? He's a big buddy of Ron's," she explained, "and I don't know if J. J. had anything to do with it or not, but [Fuller] said, 'They would be willing to pay you $50,000' along with, give me a job in California" — to go public.
She brought up Vigneault's name because it was he, not Fuller, who had ties to national Republicans, and she speculated that he had access to money and jobs in other states—connections which might be rewarding if Flowers confirmed the rumors about her and Clinton. Vigneault remained an influential Republican consultant in the region long after Atwater's death, serving in 1996 as southern states coordinator for the Dole campaign. (He also appeared at conservative political conferences to denounce the Clintons.) As for Fuller, his alleged role in the scheme, which he later denied, may have seemed plausible to Clinton because Fuller shared Vigneault's ideological zeal. A widely mocked exampleof Fuller's ultraconservative bent was his bill to imprison homeless women for stealing supermarket shopping carts.
What Flowers didn't mention to Clinton was that she had spent several weeks working in Ron Fuller's losing 1990 congressional campaign and given him a contribution of $1,000.
"And what did you say to him?" Clinton asked. "Did you ask him if [the alleged affair] had to be true?"
"… I just said, 'Well, you know, that's ridiculous.' "
Clinton asked if she would be willing to sign an affidavit. "It'd be extremely valuable, if they ever do run anybody by me, " he said, "to have anon-file affidavit explaining, you know, you were approached by a Republican and asked to do that."
Flowers never answered. Instead, according to her tapes, she replied with a coarse joke about what she would tell inquisitive reporters. "I'll just tell them you eat good pussy." Whether Clinton actually heard that remark is unclear; again, there was a glitch on the tape. Printed transcripts describe his next six responses as inaudible.
Clinton closed by telling Flowers not to hesitate to phone him at the governor's mansion if she had any more news about Republican plotting. He could always be reached after 11:00 p.m.
When Flowers called the mansion again some weeks later, a state trooper named Roger Perry who answered the telephone failed to recognize her name. "Gennifer Fowler?" he asked when she said she was returning the governor's call.
"Flowers!" she repeated loudly, obviously annoyed.
"Hang on just a second," said Perry, one of the four state troopers who later recounted the "Troopergate" tales about Clinton, Flowers, and other women to the American Spectator and the Los Angeles Times.
…
Each of the four taped conversations between Clinton and Flowers revolved around the same topics: Larry Nichols's accusations, Sheffield Nelson's treachery, and Flowers's purported fear and loathing of the tabloid press. In December 1991, the candidate returned one last late-night call from the campaign trail.
"Gennifer," he said, "it's Bill Clinton." His voice was muffled and, for an alleged longtime lover, oddly formal. Flowers remarked that he didn't sound like himself. Did he have a cold?
"Oh it's just my . . . every year about this time I . . . My sinuses go bananas."
"Yeah, me too."
"And I've been in this stupid airplane too much, but I'm okay."
Clinton's allergies afflict him every spring and fall. His voice gets hoarse and his nose swells up and reddens. Anyone intimate with him for more than a decade, as Flowers would soon insist she had been, might be expected to know that.
Once again she launched into a tale of woe. Parties unknown, she said, had broken into her apartment and rifled the place. "There wasn't any sign of a break-in," she explained, "but the drawers and things. There wasn't anything missing that I can tell, but somebody had…"
"Somebody had gone through your stuff?" Clinton asked. "But they didn't steal anything."
"No . . . I had jewelry here, and everything was still here."
Possibly that's why Flowers never reported any break-in to the Little Rock Police Department. Years later, she would pin the rap for this alleged burglary on Clinton himself.
At no point on any of Flowers's tapes did Bill Clinton say anything that indicated a long-term sexual relationship with her. During one of their earlier talks, Clinton had told her about his joking response to Bill Simmons, a Little Rock AP reporter who read him Larry Nichols's "bimbo" list over the phone. "I said, 'God, Bill, I kinda hate to deny it. They're all beautiful women.' I told you a couple of years ago when I came to see you that I'd retired. Now I'm glad I have, because they [his Republican enemies] have scoured the waterfront. And they couldn't find anything."
…
On the eve of the 1992 New Hampshire presidential primary, Larry Nichols and Gennifer Flowers simultaneously sprang their traps. Clinton had emerged by then as "the Anointed," the candidate deemed most likely and most deserving to succeed by national reporters and pundits. In another seeming coincidence, Nichols and then Flowers both sold their stories to the Star, a major supermarket tabloid whose editor bragged that "this isn't Martians walking the earth." Rather, he insisted, it was hard-hitting journalism. Nichols reportedly received $50,000 but later said, "I gave it back." Flowers later testified that the Star paid her $150,000 for her account of a "12-year love affair" with Clinton.
Larry Nichols's version of Clinton's sex life shared the cover of the Star's January 28 edition, along with Roseanne Barr's current diet, Donny Osmond's new squeeze, and Sally Jessy Raphael's latest heartache. The headline was extravagant:
"EX-AIDE CHARGES IN COURT DEM'S FRONT-RUNNER BILL CLINTON CHEATED WITH MISS AMERICA AND FOUR OTHER BEAUTIES."
Although Nichols's 1990 lawsuit had been dismissed with prejudice by an Arkansas judge—barring further action in state courts—he had refiled it in the federal district court in Little Rock. That enabled the Star editors to do what the Little Rock media had refused to do 14 months earlier: The names and photographs of the five women Nichols had named as Clinton's mistresses were spread all over its pages.
Described in the Star story as "a thirty-something singer . . . very attractive and well-endowed," Flowers sounded coy: "Contacted by the Star, Gennifer . . . wouldn't discuss the matter: 'I'm afraid of the repercussions if I talk about it,' she said in a halting voice." In reality, the "thirty-something" Flowers was 42 and her fears, if any, had been conquered weeks earlier when she and the tabloid's editors had come to terms. Bythe time Nichols's accusations appeared in print, Flowers was already ensconced in a Manhattan hotel, at the Star's expense, talking with the tabloid's staffers,
The Nichols story went beyond naming five names to lay out other allegations against Clinton. The tabloid repeated Nichols's charges that Clinton had looted a slush fund of public money to wine and dine his girlfriends; spent state funds to visit a beauty queen on "love trips" to New York; and misused state police cars to ferry him to and from his secret trysts.
On the campaign trail in New Hampshire, Clinton called the Star report "trash . . . old news . . . an absolute, total lie." He mocked the tabloid's preoccupation with space aliens and humans with cow's heads. Hillary Clinton characterized Nichols's allegations as "absurd . . . the equivalent of a conversation with Elvis."
Exactly one week later, the Gennifer Flowers torpedo hit the Clinton campaign. The fact that Bill Clinton had foolishly allowed himself tobe taped while talking candidly with her handed the Star an irresistible opportunity to gloat. In a refrain that would later become all too familiar, Flowers insisted that she had made the surreptitious recordings only after friends told her she needed to protect herself.
"THE BILL CLINTON LOVE TAPES," shouted the Star's front page, "DEMOCRATIC FRONT-RUNNER'S EX-LOVER RECORDS THEIR INTIMATE PHONE CALLS WHEN PREZ HOPEFUL TELLS HER 'THEY DON'T HAVE PICTURES. IF NO ONE SAYS ANYTHING, THEN THEY DON'T HAVE ANYTHING.'"
According to Gennifer, her alleged affair with Clinton had been True Love. "Sex was wonderful with Bill," she confided. "He introduced me to things I'd never done before, like oral sex…. In the beginning, he'd talk about leaving Hillary for me, and I wanted so much for that to happen, but that was my heart talking. My head told me he'd never leave."
In a manner that would come to seem quaintly old-fashioned in hindsight, the press debated how to handle the story. Daily tabloids in New York and Boston went wild. But of the major TV networks only NBC initially broadcast her allegations. In New Hampshire, the conservative Manchester Union-Leader relegated Gennifer to an AP dispatch on page 11. The state's leading TV news program, however, played the story prominently. On January 23, ABC News Nightline spent a high-minded half hour fretting over how the media should cover such seamy stories.
Gingerly, if at all, said commentator Jeff Greenfield, veteran of a contentious divorce. "Does this aspect of a candidate's life really tell us anything worth knowing?" he wondered. "Are voters entitled to know the most intimate details of a candidate's marital history?" Polls showed that more than 70 percent of the public disapproved of the media's covering political candidates' intimate lives. Nevertheless, Clinton's chances of winning the New Hampshire primary suddenly seemed remote. Tracking polls appeared to show that Democratic voters tended not to regardsexual improprieties as a disqualifying issue, but doubted Clinton's viability because they believed other voters would.
The Clintons chose an unprecedented interview on CBS News's 60 Minutes as their forum for a rebuttal. Hillary's closest friends say she never hesitated. Having sat in the kitchen of the governor's mansion listening to her husband's end of the tape-recorded conversations with Gennifer Flowers, she was outraged by what she regarded as a cynical and duplicitous attack upon her marriage.
As sheer performance, the Clintons' joint appearance was almost flawless. Bill Clinton described Gennifer Flowers as a "friendly acquaintance" whom he had met during the late Seventies. When Larry Nichols's first lawsuit put the allegation in play, Clinton said, Flowers had told him, "I haven't seen you for more than ten minutes in ten years."
"She's alleging," correspondent Steve Kroft said, "…a twelve-year affair with you."
"That allegation," the candidate replied firmly, "is false."
Hillary described how she had met with two of the women named by Larry Nichols. "They were friends of ours. I felt terrible about what was happening to them. Bill talked to this woman [Flowers] every time she called distraught, saying her life was going to be ruined, and he'd get off the phone and tell me that she said sort of wacky things which he thought were attributable to the fact that she was terrified."
"You've said that your marriage has had problems," Kroft said. "What do you mean by that?…Does that mean you contemplated divorce? Does it mean adultery?"
"I'm not prepared, tonight, to say that any married couple should ever discuss that with anyone but themselves," Bill Clinton said. "I have acknowledged wrong-doing. I have acknowledged causing pain in my marriage. I have said things to you tonight that no American politician ever has. I think most Americans who are watching this tonight, they'll know what we're saying. They'll get it, and they'll feel we've been more than candid."
The next day Gennifer Flowers and the Star editors held a riotous press conference at the Waldorf-Astoria Hotel in midtown Manhattan. Standing at a podium bristling with microphones, before a shouting, jostling mob of reporters and TV crews, Flowers sobbed and dabbed at her eyes with a tissue as she spoke.
"Yes, I was Bill Clinton's lover for 12 years. And for the past two years I have lied about the relationship. The truth is, I loved him. Now he tells me to deny it. Well, I'm sick of all the deceit, and I'm sick of all the lies."
In her tight, bright red suit, with dark roots showing through her blond tresses, Flowers looked the part of an icy gold digger. Amid the carnival atmosphere—someone in the crowd shouted a question about whether Clinton used condoms—she maintained that she had intended to keep their affair a secret until she learned the Star planned a feature on Larry Nichols's lawsuit. She played selections from her tape-recorded conversations with Clinton—including her own raunchy remark about "eating pussy," to which Clinton's next several responses were garbled and inaudible.
Asked at a Baton Rouge campaign stop the same day about Flowers's tearful tirade, Clinton said, "She didn't tell the truth. She hired a lawyer a year ago—a year and a half ago—to say that anybody who says that was a liar and would be sued. And she commented that she changed her mind for money….My wife and I have said everything we have to say about this whole subject yesterday. As far as I'm concerned, it's a closed matter."
Back in Arkansas, the Flowers controversy displayed the ugly underside of the 1990 election all over again. Sheffield Nelson, now cochairman of the Arkansas Republican Party, told the Arkansas Democrat-Gazette that he knew Clinton was lying. "Gennifer Flowers," he revealed, "was one of the files we had that we could have used in the campaign if we had been willing to do so. There was a super commercial developed during the campaign and I declined to use it becauseit alluded to . . . morals and drugs."
Tommy Robinson charged that Nelson himself had "orchestrated" the Flowers story. As state director of public safety during the governor's first term from 1979 to 1980, Robinson had supervised Clinton's state police bodyguards.
"Bill Clinton had no affair with Gennifer Flowers," he asserted. "I would've known about it…Sheffield's been spreading the rumors."
Over the following weeks, investigative work by Arkansas journalists demolished Flowers's credibility. Her allegation that Arkansas Republicans had offered her$50,000 to accuse Clinton was fully explored in the Little Rock press, with details about her involvement in Ron Fuller's state senate campaign and her $1,000 donation.
Musicians and club owners who had worked with Flowers described her as manipulative and dishonest. Her resume falsely proclaimed her a graduate of a fashionable Dallas prep school she'd never attended. It also listed a University of Arkansas nursing degree she'd never earned and membership in a sorority that had never heard of her. Her agent told the Democrat-Gazette that contrary to her claims, Flowers had never opened for comedian Rich Little. A brief gig on the Hee Haw television program had come to a bad end, the agent would later confirm, when Flowers simply vanished for a couple of weeks with a man she'd met in a Las Vegas casino—and then concocted a tale about havingbeen kidnapped. She had never been Miss Teenage America. Even her "twin sister Genevieve" turned out to be purely a figment of Flowers's imagination.
The account that probably came closest to the truth was a column by the Democrat-Gazette's John Brummett, a respected political analyst and frequent Clinton critic. His sources said Flowers had mentioned to friends 15 years earlier that she was "having a fling with Clinton," but "they say they heard nothing from her after 1979 about a relationship with Clinton and were surprised and skeptical upon reading her assertion in Star magazine of a 12-year affair that ended only in 1989.
"They are also dubious about her assertion that she was in love with Clinton all those years, dreaming of marriage. They say that she had other relationships in Dallas and Little Rock during that time…They speculate that she doesn't like or respect men generally and probably enjoys using them…Their instinctive reaction to the [Star] article is that her vivid, detailed account probably contains truth, exaggeration, and fabrication, not necessarily in equal parts."
A subsequent, sexually explicit Penthouse article (accompanied by a nude photo layout, for which Flowers was paid an additional $250,000, pushing her total scandal earnings over $500,000) made Brummett's portrait appear relatively kind. Flowers boasted of the many married men she'd seduced for fun and profit. "I usually throw them back. I don't want to keep them. Let the wives have them back." Her ex-roommate Lauren Kirk told the article's author, CNN correspondent Art Harris, that she believed Flowers had lied for revenge and money. "She just can't accept the fact that he [Clinton] came, wiped himself off, zipped up, and left."
The agreement between Flowers and the Star stipulated that no one would ever be allowed to examine her original tapes. Consultants hired by the tabloid vouched that they were free of tampering. But a specialist hired by KCBS-TV in Los Angeles examined a copy of the tapes provided to him by the Star and determined that they had been "selectively edited" and were misleading at best. He also concluded that some of Flowers's remarks may have been dubbed in later.
Flowers never produced a single photograph, valentine, or birthday card as evidence of her "12-year affair" with Clinton; no witness ever came forward who had seen them together. Indeed, she would eventually write an entire book, Passion and Betrayal, without stating a specific time and place where she and her famous lover were together.
In Little Rock, much sport was made of her claim that they had enjoyed numerous trysts between 1978 and 1980 at Little Rock's Excelsior Hotel. At the time, most observers found it highly improbable that the governor would have conducted an illicit assignation in a landmark downtown hotel two blocks from the state's largest newspaper. Particularly in view of the fact that the Excelsior Hotel hadn't been built until 1983.
…
In the short run, the Flowers and Nichols broadsides had backfired. Besides endowing Clinton with nearly 100 percent name recognition, the New Hampshire episode introduced his formidable wife to tens of millions of Americans, most of whom admired her poise and tenacity. The late Lee Atwater's worst fears about Clinton were coming true. Here was a different kind of Democrat who fought back.
Still, due partly to the Clinton campaign's decision to respond on the networks, the trajectory between the Star and the front pages of the New York Times and Washington Post had been drastically shortened. (Several days after the 60 Minutes broadcast, the Times found itself reporting Hillary Rodham Clinton's denial of accusations it had never printed in the first place.) For Clinton, though he may not have realized it at the time, this was an ominous development.
Even more ominous were the easy profits and political impact achieved by Flowers and Nichols. Through the agency of a paid story in a supermarket tabloid, a pair of rank amateurs with almost no credibility among journalists in their hometown were able to make national headlines, turn themselves into minor celebrities, and earn a substantial amount of cash in the bargain.
…
With the eruption of Paula Jones' federal sexual harassment lawsuit against Clinton in 1997, virtually the whole cast of characters from the sexual side of the "Clinton scandals" either filed affidavits or gave depositions in the case between October 1997 and January 1998. During her deposition, Clinton's lawyers walked Gennifer Flowers through a detailed accounting of every dollar she had banked as a result of going public about her alleged 12-year affair with the president. The total came to more than $500,000. As in her two books, however, Flowers was unable in hours of cross-examination to specify a single time and place where she and Clinton had ever been alone together. After claiming to have shacked up with him in several Little Rock hotels, for example, she was unable to name one under oath.
By all accounts, Bill Clinton left his own six-hour deposition at the downtown Washington offices of Skadden, Arps, Slate, Meagher & Flom on January 17 believing that he had done well. Toward the end he had finally admitted that, under the convoluted definition of "sexual relations" provided by the Jones lawyers, he had once done something sexual—exactly what, they did not ask him — with Gennifer Flowers, in 1977.