Hurricane Death Toll Reaches 19 In Flooded North Carolina
@reuters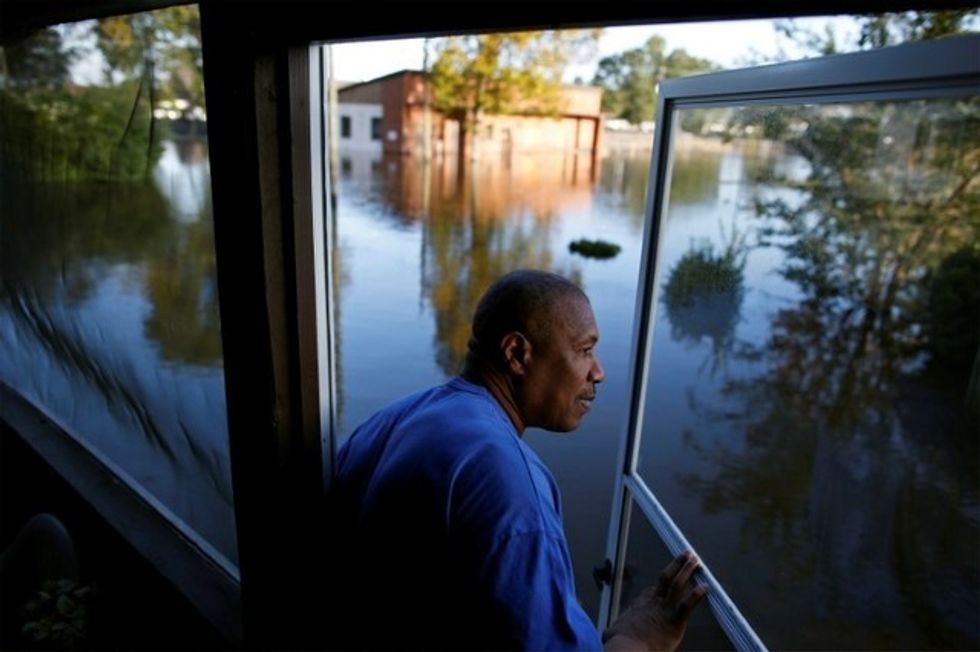 By Nicole Craine
KINSTON, N.C. (Reuters) – Rivers swollen by rainfall from Hurricane Matthew rose dangerously higher in North Carolina on Wednesday, prompting officials to go door to door urging residents to leave as a wide swath of the state faced its worst flooding in 17 years.
Floodwaters have swamped areas across the central and eastern part of the state, where drownings in recent days have brought the death toll to 19.
That figure represents more than half of the deaths in the U.S. Southeast linked to the fierce Atlantic storm, which killed around 1,000 people in Haiti and displaced hundreds of thousands as it tore through the Caribbean last week.
Matthew caused an estimated $10 billion in total U.S. property losses, about $5 billion of which are insured, according to a preliminary estimate by Goldman Sachs.
The damages continue to mount in North Carolina. Flooding has killed up to 5 million poultry birds, most of them chickens, in a blow to the local economy, said North Carolina Department of Environmental Quality Secretary Donald van der Vaart.
The floodwaters have forced more than 3,800 residents to flee to shelters, closed down stretches of major interstate highways and shuttered 34 school systems, North Carolina Governor Pat McCrory told reporters in Raleigh.
Emergency officials rescued dozens of people on Wednesday from flooded homes in areas including Robeson and Pender counties. There were no official estimates as to the number of people and homes still in harm's way in the state.
Matthew's aftermath drew comparisons to Hurricane Floyd, which triggered devastating floods in North Carolina in 1999 and caused more than $3 billion in damages in the state.
In Kinston, where the Neuse River is expected to peak on Saturday at almost twice the 14-foot (4.3 meter) flood stage and just shy of the Floyd record, city officials warned residents not to be fooled by the water's gradual rise.
"It's not like it's a tidal wave that's coming. It's a slow rise," city manager Tony Sears said in a phone interview.
But, he added, "in the next 24 hours, it's not whether I should go or not, it's when you should go."
Residents should be prepared to be out of their homes for more than a week, Sears said, with river levels expected to remain elevated into next week.
Kinston resident Toby Hatch, 60, who lived through Floyd and Hurricane Irene, which destroyed his home in 2011, heeded the city's evacuation order this week and headed to a shelter.
"I didn't really want to leave, but I was already looking at enough water that I was trapped," he said.
Evacuations also continued in Greenville, where the Tar River was 10 feet (3 meters) above flood stage and forecast to crest even higher by Friday. Flooding has forced the city's airport to close and classes were canceled for the week for East Carolina University's 28,000 students.
In Goldsboro, where the Neuse River peaked on Wednesday at a record level, Tony Rouse, 56, had taken refuge at an elementary school with his wife. His home lost power and all the roads leading to it were inundated, he said.
"It's kind of boring," he said of life at the shelter, "but it beats not being able to eat."
(Additional reporting by Gene Cherry; Writing by Colleen Jenkins; Editing by Bill Trott and Tom Brown)
Eric McClary of West Mulberry Lane checks flood levels while checking on his flooded home after the effects of Hurricane Matthew in Goldsboro, North Carolina, U.S., October 12, 2016. REUTERS/Randall Hill