'I Was A Suicide Bomber': Paris Suspect Charged In Belgium
@reuters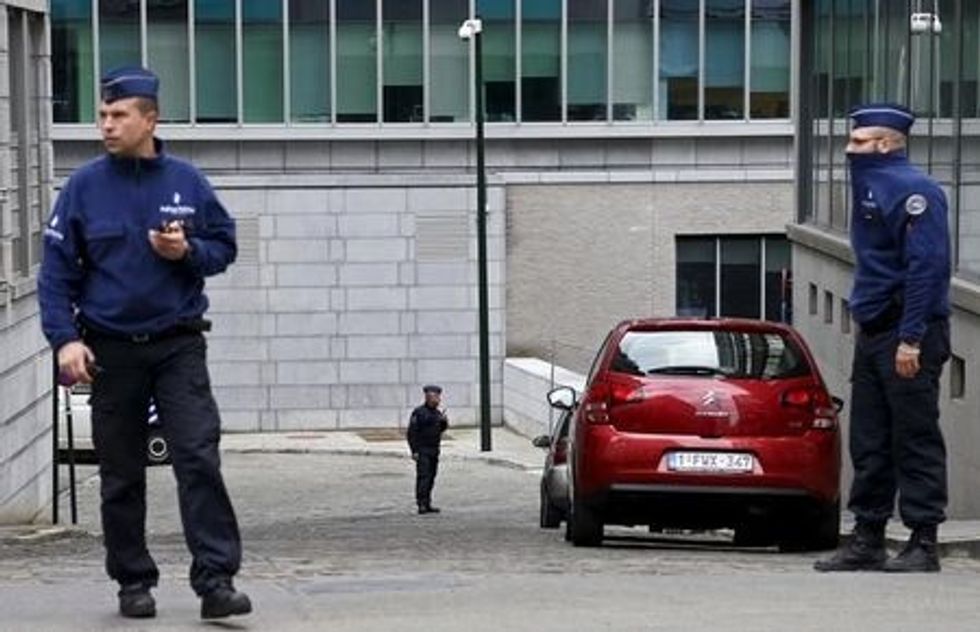 By Alastair Macdonald and John Irish
BRUSSELS/PARIS (Reuters) – The prime surviving suspect for the Nov. 13 Paris attacks planned to blow himself up at a sports stadium with fellow Islamic State militants but changed his mind, he told Belgian investigators on Saturday.
The admission by Salah Abdeslam came a day after he was shot in the leg and captured during a police raid in Brussels, ending an intensive four-month manhunt.
"He wanted to blow himself up at the Stade de France and … backed out," said the lead French investigator, Francois Molins, quoting Abdeslam's statement to a magistrate in Brussels before he was transferred to a secure jail in Bruges.
The gun and bomb attacks on the stadium, bars and a concert hall killed 130 people and marked the deadliest militant assault in Europe since 2004.
Molins told reporters in Paris that people should treat with caution initial statements by the 26-year-old French national. But his capture and apparent urge to talk marked a major breakthrough for investigators after the trail had seemed to go cold.
Abdeslam's lawyer said he admitted being in Paris during the attacks but gave no details. He told reporters his client, born and raised by Moroccan immigrants in Brussels, had cooperated with investigators but would fight extradition to France.
Legal experts said his challenge was unlikely to succeed but would buy him weeks, possibly months, to prepare his defense.
Belgian prosecutors charged Abdeslam and a man arrested with him with "participation in terrorist murder".
Abdeslam's elder brother Brahim, with whom he used to run a bar, was among the suicide bombers. Salah's confession suggested he was the 10th man mentioned in an Islamic State claim of responsibility for the attacks, after which police found one suicide vest abandoned in garbage.
Abdeslam's family, who had urged him to give himself up, said through their lawyer that they had a "sense of relief".
Authorities hope the arrest may help disrupt other militant cells that Belgian Foreign Minister Didier Reynders said were certainly "out there" and planning further violence. French security services stepped up their measures at frontier crossings after a global warning from Interpol that other fugitives might try to move country.
"We've won a battle against the forces of ignorance but the struggle isn't over," Belgian Prime Minister Charles Michel said.
The case has raised tensions with France but Michel and French President Francois Hollande, who was in Brussels for an EU summit when Abdeslam was arrested, praised each other's security services. Hollande was attending an international soccer match at the Stade de France when the bombers struck.
Fight Risk
A man using false papers in the names of Amine Choukri and Monir Ahmed Alaaj was also charged with terrorist murder. As Choukri, he was documented by German police in the city of Ulm in October when he was stopped in a car with Abdeslam. French prosecutor Molins said Abdeslam traveled widely to prepare the attacks.
A third man in the house when the pair were arrested was charged with belonging to a terrorist organization. He and a woman who was present were charged with concealing criminals.
Police had sought Abdeslam since he called two acquaintances in Belgium in a panic, hours after the attacks, to have them collect him and bring him home. Suspected to be as far away as Syria, it seems he was in Brussels all or most of the time.
Failure to complete his mission could have limited his access to any support from Syria-based Islamic State; the chief Belgian investigator on the case said he had instead relied on a network of friends, family and neighbors with whom he had a history of drug trafficking and petty crime.
Security agencies' difficulties in penetrating some Muslim communities, particularly in pursuit of Belgium's unusually high number of citizens fighting in Syria, have been a key factor in the inquiry.
PARIS RELIEF
As Parisians, and families of the victims, voiced relief at the arrest, French Interior Minister Bernard Cazeneuve said after an emergency cabinet meeting that a trial could answer questions for those who suffered in the attacks.
"Abdeslam will have to answer to French justice for his acts," he said. "It is an important blow to the terrorist organization Daesh (Islamic State) in Europe."
A trickle of people came to a makeshift memorial in central Paris, near the scene of much of the bloodshed, to pay their respects.
"It's really a relief," said Emilien Bouthillier, who works in the neighborhood. "I can't wait for Belgium to transfer and return him to France so he can be tried the way he should be."
Friday's armed swoop came after Abdeslam's fingerprints were found at an apartment following a bloody raid on Tuesday in which an Algerian was shot dead and police officers wounded.
Later, local media said, a tip-off and a tapped telephone led police to a mobile phone number used by Abdeslam and, by triangulating the device's location, established where he was.
At his nearby newspaper store, a vendor named Dominique said Abdeslam had been well known and liked in the community: "He was a very nice lad before," he said. "How can things go this far?"
(Additional reporting by Robin Emmott, Clement Rossignol, Hortense de Roffignac, Philip Blenkinsop and Jan Strupczewski in Brussels and Miranda Alexander-Webber in Bruges; writing by Alastair Macdonald; Editing by Mark Trevelyan)
Photo: Belgian police officers secure the departure of Salah Abdeslam, the most-wanted fugitive from November's Paris attacks, from the federal police headquarters in Brussels, March 19, 2016, after he was arrested after a shootout with police in Brussels on Friday.    REUTERS/Francois Lenoir