Immigration Reform Is Both Compassionate And Practical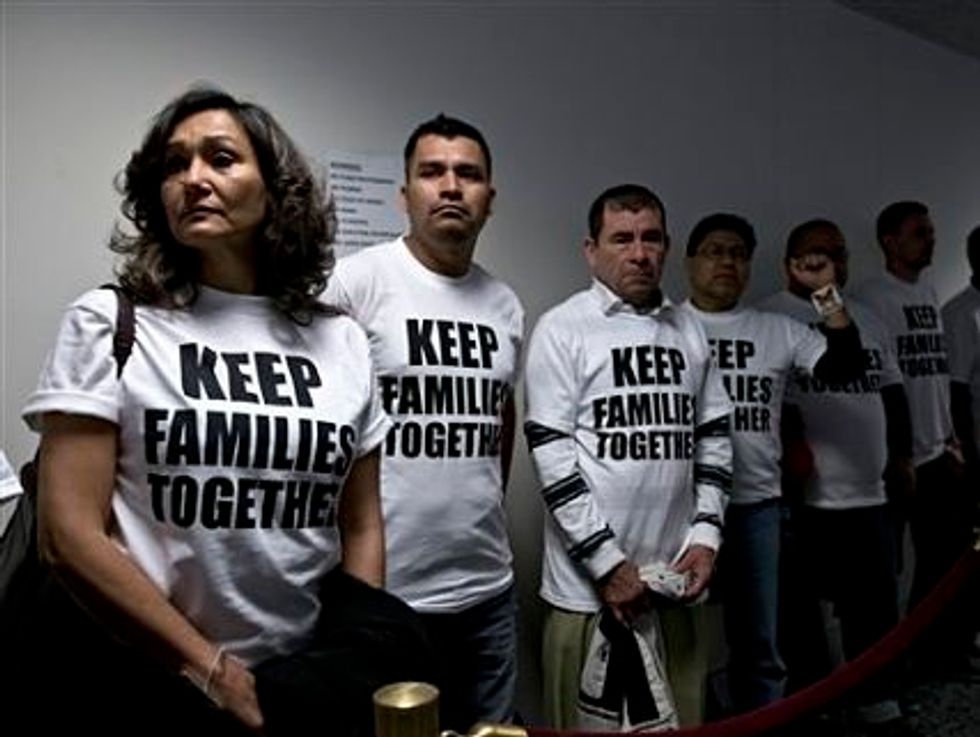 Marco Rubio, Florida's junior senator, is pushing immigration reform because he needs a major legislative accomplishment to cement his credentials as a rising GOP star.
Haley Barbour, former GOP governor of Mississippi, is campaigning for an immigration overhaul because he knows that the Republican Party will be doomed if it does not make peace with growing numbers of Latino voters.
John McCain, Arizona's senior senator and former GOP presidential nominee, is once again advocating a path to citizenship for undocumented workers because, well, his ego won't allow him to be outdone by a young upstart named Rubio.
Whatever their reasons, they have found the right cause: The time has come to offer an estimated 11 million people living in the shadows a path to citizenship. Political calculations can produce lasting accomplishments, and few issues are more in need of ambitious pols looking to burnish their resumes than immigration reform.
For decades now, Mexicans, Guatemalans, Indians, Koreans, and even a few Irish and Norwegians, among others, have lived and worked among us, paying taxes, buying homes, sending their children to school — all the while without the protections afforded by legal documents.
Their labors are easily exploited by greedy employers. They can't drive or board airplanes legally. They are not eligible to collect Social Security upon retirement, even if they have paid into the system through fake papers. They live in fear of those routine disruptions that can spiral downward into devastation for those without proper documents: the routine traffic stop, which can lead to deportation; the death of a parent in a distant land, which urges travel across borders; the teenager's approaching 16th birthday and its shattered promise of a driver's license, which can't be obtained.
Jose Antonio Vargas, a former reporter who has become an advocate for immigration reform, wrote about learning of his status as an undocumented immigrant only when he went to apply for a driver's license as a teenager. His grandparents, who were naturalized citizens from the Philippines, had never told him that they had conspired to bring him into the country illegally in order to give him a better life. He was as American as any other California teenager, so he was shocked to learn he stood on the other side of an invisible line.
But some of the most compelling reasons to put people like Vargas, Americans in almost every respect, on the path to citizenship have to do with the benefits that would accrue to the rest of us. Yes, immigration reform is a compassionate policy. It's also a very practical one that provides substantial assistance to the economy, which is good news for everyone.
Business executives already know that, which is why so many of them are campaigning for comprehensive immigration reform. They depend on well-educated immigrants for their science and engineering expertise; they also depend on low-skilled immigrants to do the jobs that Americans don't want to do, including farm work.
In addition, there is a broader benefit provided by immigrants, both legal and illegal: They have helped the United States to remain youthful, in contrast to its rapidly aging peers among industrialized nations.
Just look at Japan, a vast geriatric ward. A stunning 23 percent of its population is 65 or older. A cultural resistance to outsiders has exacerbated its problems: It remains hostile toward immigrants, despite the fact that it needs younger workers.
Several Western European countries haven't fared much better. In Greece, for example, 19 percent of the population is 65 or older. That helps to explain its dismal economy, which doesn't have enough younger workers paying taxes to support its retirees.
The United States, by contrast, sees itself as a nation of immigrants (despite the fact that history shows waves of discontent over the issue). Because of more recent waves of newcomers — whether they crossed the border with or without legal documents — this country's retirees account for just 13 percent of the population. Just imagine how vicious the fights over cuts to Social Security and Medicare would be if we had fewer young workers to pay the tab.
Most of America's undocumented workers have shown their allegiance to this country. We ought to show our appreciation by putting them on a path to citizenship. After all, we need them.
(Cynthia Tucker, winner of the 2007 Pulitzer Prize for commentary, is a visiting professor at the University of Georgia. She can be reached at cynthia@cynthiatucker.com.)
AP Photo/J. Scott Applewhite