Immigration Reform Passes Senate, Likely To Die In The House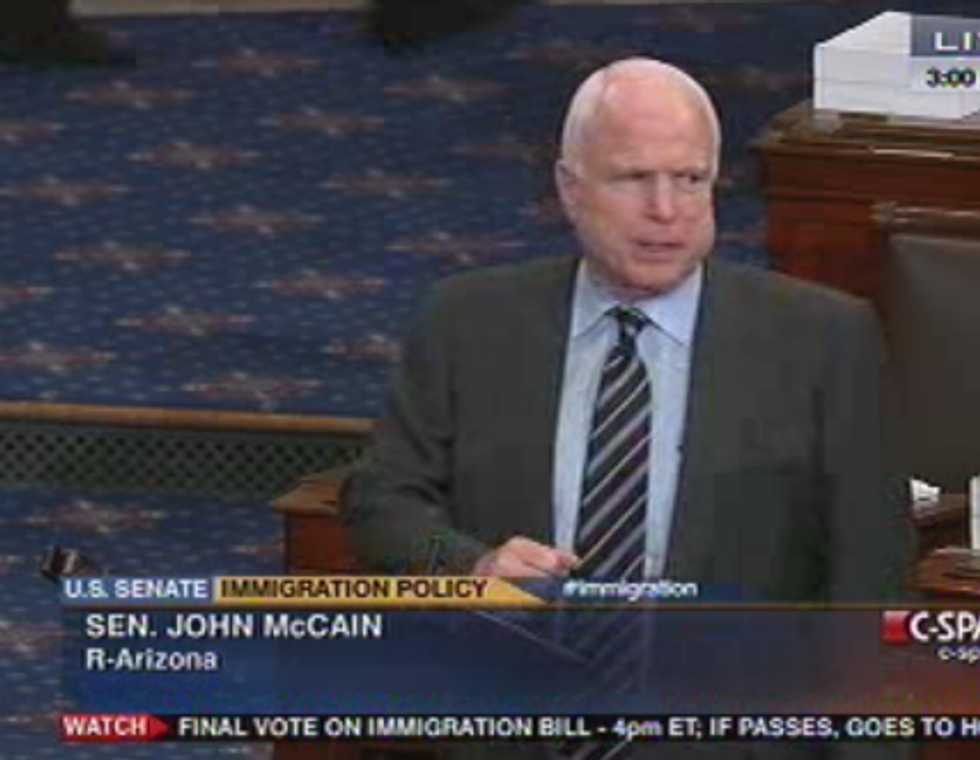 By a vote of 68-32, the Senate has passed the comprehensive immigration reform compromise it has been debating for weeks. The fate of reform now rests with Speaker John Boehner (R-OH), who has said that he will not bring the Senate bill to the floor of the House or to a conference committee without support from the majority of his Republican caucus.
A total of 14 Republicans voted for the bill: Lamar Alexander (R-TN), Kelly Ayotte (R-NH), Jeff Chiesa (R-NJ), Susan Collins (R-ME), Bob Corker (R-TN), Jeff Flake (R-AZ), Lindsey Graham (R-SC), Orrin Hatch (R-UT), Dean Heller (R-NV), John Hoeven (R-ND), Mark Kirk (R-IL), John McCain (R-AZ), Lisa Murkowski (R-AK) and Marco Rubio (R-FL).
The so-called "Gang of Eight" had hoped to win 70 votes, believing that might pressure House Republicans into action on the reform, which was one of the few specific policy recommendations made in the " GOP autopsy " of the 2012 election. To win over Republicans, the Gang had to adopt the Hoeven-Corker amendment, which includes a " border surge " that Senator Pat Leahy (D-VT) has called " a Christmas wish list for Halliburton ."
Senator McCain bragged that the bill would create "the most militarized border since the Berlin Wall."
Senators Ted Cruz (R-TX) and Rand Raul (R-TN) — both all-but-declared candidates for the 2016 GOP presidential nomination — oppose the bill. Cruz introduced an amendment to strip the bill of its "path to citizenship" and another amendment which would have defunded Obamacare. Both amendments failed. Paul was not swayed by the additional $30 billion being pumped into border security.
"I'm all in favor of immigration reform, but I'm like most conservatives in the country, [in] that I think reform should be dependent on border security first," Paul said .
The argument that the border should "be secure" before any path to citizenship is allowed to begin will likely be the central argument House Republicans make against the legislation. Several Republicans are opposed to any option for citizenship, calling it "amnesty." Senate Democrats will likely not consider any bill that changes the path laid out in the Gang of Eight's final compromise.
Immigration reform will ultimately test Speaker Boehner's leadership.
Tea Partiers and the Heritage Foundation are fueling opposition to the bill, but other major GOP funders including the Koch brothers, Karl Rove and Sheldon Adelson have all supported reform, believing it is essential in order for the GOP to take back the White House. To get a bill that could become law, he'll likely need to persuade his caucus to let him bring a bill to the floor that will only pass with Democratic support. Or he'll have to do so without his caucus' support and risk his speakership.
And it certainly doesn't look as if Boehner is willing to do that.

Senator Rubio — who has made himself the face of reform on the right — has become a lightning rod for criticism from the far right over the past few weeks and seen his favorability rating tumble within his own party . But he was steadfast Thursday, arguing from the floor of the Senate, "America changes immigrants." And what he was implying was "immigration reform will change Latinos into Republican voters."
The question House Republicans need to ask themselves is: How many Latino voters will we lose if we kill immigration reform?