After Implicating Himself On Twitter, Trump Desperately Lashes Out At FBI, Clinton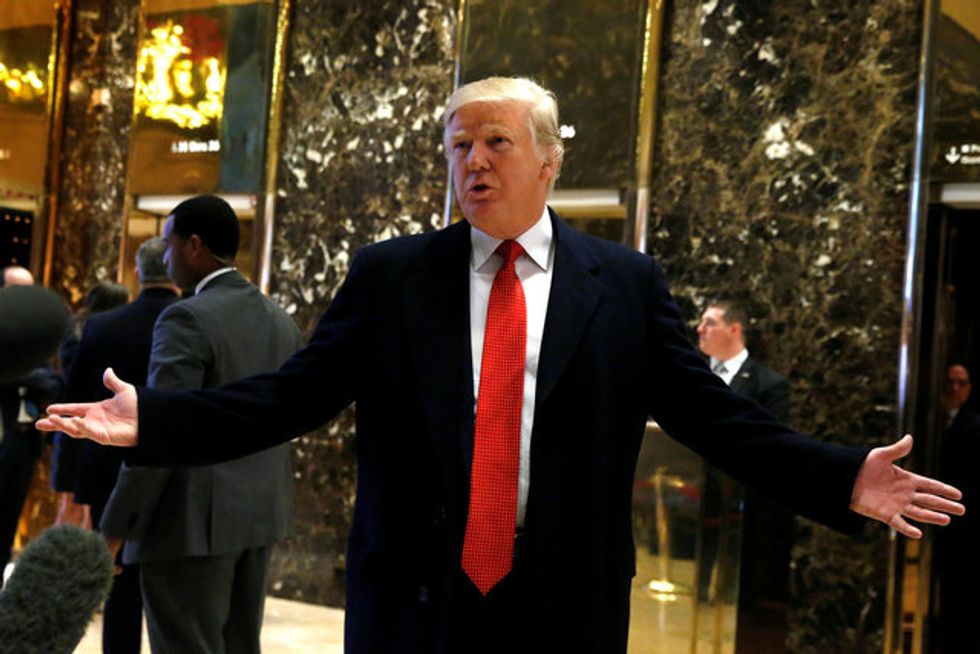 Reprinted with permission from Shareblue.com
If you thought things couldn't get much worse for Donald Trump after Friday's guilty plea by disgraced former National Security Adviser Michael Flynn, then you don't know Donald Trump.
On Saturday, Trump made what appeared to be an extraordinary admission that he knew Flynn was guilty of lying to the FBI when he fired Flynn, which would mean he also knew that when he pressed then-FBI Director James Comey to drop the Flynn investigation.
The White House subsequently embarked on a dubious attempt at damage control, insisting that the admission was actually drafted by Trump lawyer John Dowd in an attempt to shield Trump from legal liability. But even if true, Dowd's involvement doesn't change the fact that it was Trump who tweeted the admission, a fact that sent Trump into a panicked flurry of lies and distraction Saturday night and Sunday morning.
Trump began by comparing Flynn's crime with Hillary Clinton's total exoneration by the FBI, falsely implying a "double standard" in the way the interviews were handled, and inventing "lies" that Hillary Clinton never told:
So General Flynn lies to the FBI and his life is destroyed, while Crooked Hillary Clinton, on that now famous FBI holiday "interrogation" with no swearing in and no recording, lies many times…and nothing happens to her? Rigged system, or just a double standard?

— Donald J. Trump (@realDonaldTrump) December 3, 2017
The fact is that the FBI never records interviews like these, and lying to the FBI is a crime whether you're "sworn in" or not.
In what would be big news under any other president, Trump then renewed his suggestion that the Justice Department investigate a private citizen and political rival:
Many people in our Country are asking what the "Justice" Department is going to do about the fact that totally Crooked Hillary, AFTER receiving a subpoena from the United States Congress, deleted and "acid washed" 33,000 Emails? No justice!

— Donald J. Trump (@realDonaldTrump) December 3, 2017
On Sunday morning, a still-panicked Trump denied he told Comey to drop the Flynn investigation, a clear sign that his apparent admission on Saturday has the White House extremely worried:
I never asked Comey to stop investigating Flynn. Just more Fake News covering another Comey lie!

— Donald J. Trump (@realDonaldTrump) December 3, 2017
Trump then retweeted a pair of tweets attacking the FBI, one of which contained a call for Trump to "clean house" at the FBI, and began obsessing over Fox News coverage of an FBI agent who was removed from the Mueller probe after exchanging political text messages with another agent:
Tainted (no, very dishonest?) FBI "agent's role in Clinton probe under review." Led Clinton Email probe. @foxandfriends Clinton money going to wife of another FBI agent in charge.

— Donald J. Trump (@realDonaldTrump) December 3, 2017
After years of Comey, with the phony and dishonest Clinton investigation (and more), running the FBI, its reputation is in Tatters – worst in History! But fear not, we will bring it back to greatness.

— Donald J. Trump (@realDonaldTrump) December 3, 2017
Report: "ANTI-TRUMP FBI AGENT LED CLINTON EMAIL PROBE" Now it all starts to make sense!

— Donald J. Trump (@realDonaldTrump) December 3, 2017
One fair reading of Trump's promise to "bring (the FBI) back to greatness" is that he intends to make good on the suggestion to "clean house," further violating the agency's independence, and obstructing justice in the process.
But lest Trump's distractions have their intended effect, there is really only one of these tweets that matters: the one in which he denies telling Comey to drop the Flynn investigation.
That is a fairly clear signal that Trump understands the damage he did to himself by tweeting about Flynn, and that his White House's attempt to shift blame onto Dowd has not healed that damage one iota.