In Florida And Georgia, Midterm's Not Over Till It's Over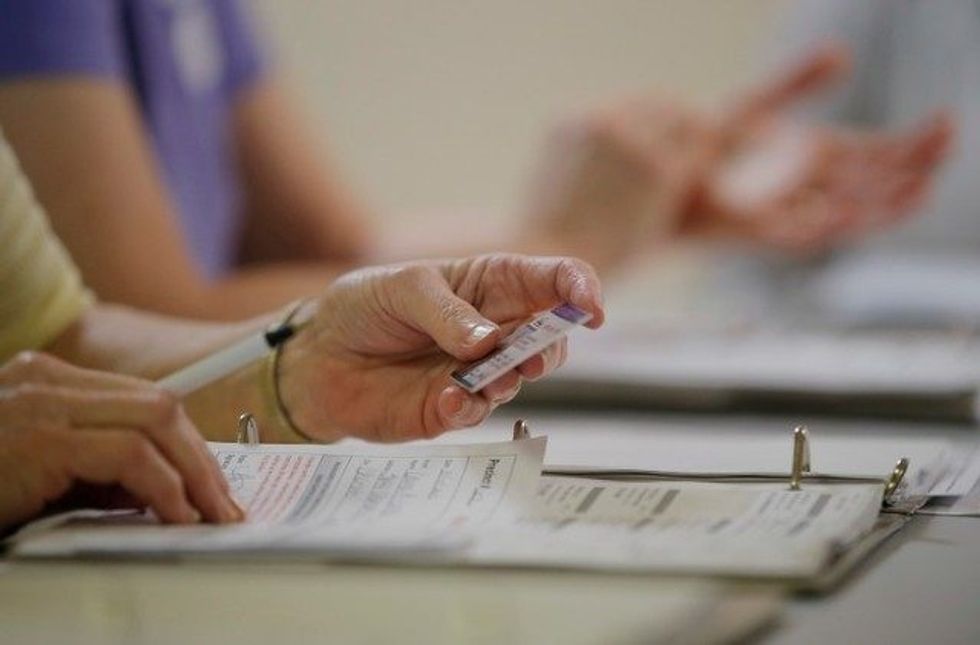 Reprinted with permission from Independent Media Institute.
Unresolved races for governor and U.S. Senate in Florida and Georgia were heading into uncharted territory Friday, as ballot submission deadlines, candidate lawsuits and preparations for recounts—or runoffs—all converged.
By the close of business on Friday, all 2018 midterm ballots to be counted, or information required from voters to ensure their ballot would count, is due in both states. Unless otherwise ordered by courts, Friday's deadline is the cutoff that comes before county election offices report their final numbers early next week, to be followed by state announcements of the official winners.
In both states, however, legal and administrative actions are unfolding that are likely to interfere with this progression to the midterm's finish line. (A federal court on Friday ordered that certification be postponed in Georgia's Dougherty County until ballot-processing issues were resolved.)
In short, voters in these two states, and across America, will soon see how elections are fairly or unfairly administered, and how election technology is falling short or performing well—which very much translates into public confidence about electoral outcomes.
Florida
In Florida, Democratic gubernatorial candidate Andrew Gillum, who conceded on Tuesday, is now saying he will await the results of a statewide recount (to which he is entitled because Republican Ron DeSantis leads by 36,000 votes, less than 0.5 percent of the votes cast). Gillum walked back his concession after learning that many thousands of votes had not been counted. What were these emerging ballots?
Apparently, a widely used paper ballot scanning tabulation system by ES&S, one of the largest voting machines companies, has not been reading a sizable number of mailed-in absentee ballots—which all get processed in the county election offices, according to a contractor involved in this process. Thus, many counties have been forced to manually re-create the "unreadable" ballots. That process is slow, as the correct local ballot must be reprinted, and then filled in with observers present to ensure it is done accurately.
But that's not the only challenge facing Florida election officials. State law requires a full manual hand count of all paper ballots must be done when the unofficial victory margin is less than .25 percent—as it now is in the U.S. Senate race. Beyond the lawsuits this week filed by Republican Gov. Rick Scott, whose lead in the Senate race has fallen to 15,000 votes out of 8 million cast, a logistical nightmare awaits local election officials.
That nightmare consists of having multiple recounts to run—some by scanners and some by hand—for these top statewide and local races. Thus, the stored paper ballots will have to be retrieved and handled many times, which presents ballot custody challenges and is a scenario for potentially damaging the paper records. Thus, Floridians will soon see the pluses and minuses of using every voting system out there—from paper ballots to a spectrum of newer and older electronics processing the count.
Georgia
In Georgia, a different verification scenario is unfolding. In that state, the votes cast on electronic machines cannot be audited for accuracy; they are whatever was recorded on computer memory cards. What can be examined, however, and is the subject of ongoing and prospective litigation—including likely federal court action on Friday by Democratic gubernatorial candidate Stacey Abrams—concerns a small but significant number of votes cast on paper in the 2018 midterms.
Georgia's paper ballots fall into two categories. The first is provisional ballots, which are given to voters who are not on local precinct voter rolls or lack required ID. (They were also given out on Tuesday after some aging electronic voting machines failed.) To count, election officials must verify that these ballots were cast by eligible and registered voters. The second category is absentee ballots that are mailed in or dropped off at county offices. These are paper ballots submitted inside sealed envelopes.
The big picture is the Abrams campaign, which trails Republican Brian Kemp—who Thursday resigned as the state's top election administrator—by 63,000 votes, needs to add 26,000 votes to her tally to prompt a runoff election. Twenty-three thousand more votes could force a recount, which would cast Kemp's oversight of the election in a larger spotlight.
The Abrams campaign has been challenging how provisional and absentee ballots are being examined, validated and, in some cases, disproportionately rejected. In several suburban counties outside Atlanta, there are thousands of provisional ballots in each jurisdiction. Many are believed to be voters who showed up at the wrong precinct, which means they are votes that will count. Others are voters who need to return to the county election office by the close of business on Friday with additional ID, so their registration information is validated and ballot can be counted.
Since Wednesday, the campaign has been chasing these provisional voters—literally following up with people who called the Democratic Party's election protection hotline, as some counties will not release lists of these voters.
The Abrams campaign is expected to file a federal lawsuit as soon as Friday concerning absentee ballots, which have been disqualified in large numbers in some counties under a range of arcane technicalities. In some cases, the local election officials have reportedly identified the voters are legal, but apparently they did not correctly sign the ballot envelopes.
The campaign's hope is that a court will require these counties to retrieve the rejected—but unopened—absentee ballot envelopes, so these ballots could then be counted. In Minnesota's 2008 Senate race, Democrat Al Franken was able to retrieve rejected absentee ballots, which helped him win a recount. Together, by validating provisional ballots and counting rejected absentee ballots, Abrams hopes to get a wider recount or a runoff in December.
The timetable in Georgia is similar to Florida: all ballots and voter information must be submitted by late Friday. On Tuesday, Georgia counties are to submit their totals to the state, which will declare the official winners on Wednesday. The Abrams campaign obviously hopes to extend and open up this process.
National Stakes
In both states, these developments are unfolding rapidly and with unforeseen consequences. There is a political dimension and a technology dimension to this narrative. Like after the 2000 presidential election in Florida, the nation will soon see how voting and vote counts are handled in two neighboring states—with implications for the rest of the country, as a majority of states are poised to replace voting systems by 2020.
While Georgia may be showcasing modern voter suppression, Florida will be showcasing whether today's spectrum of voting technologies can handle close elections that move to recounts—without breakdowns undermining public confidence in the outcomes.
This article was produced by Voting Booth, a project of the Independent Media Institute.
Steven Rosenfeld is a senior writing fellow of the Independent Media Institute, where he covers national political issues. He is the author of several books on elections, most recently Democracy Betrayed: How Superdelegates, Redistricting, Party Insiders, and the Electoral College Rigged the 2016 Election (March 2018, Hot Books).