In Rare Interview, ABC's Muir Failed To Hold Trump Accountable
@existentialfish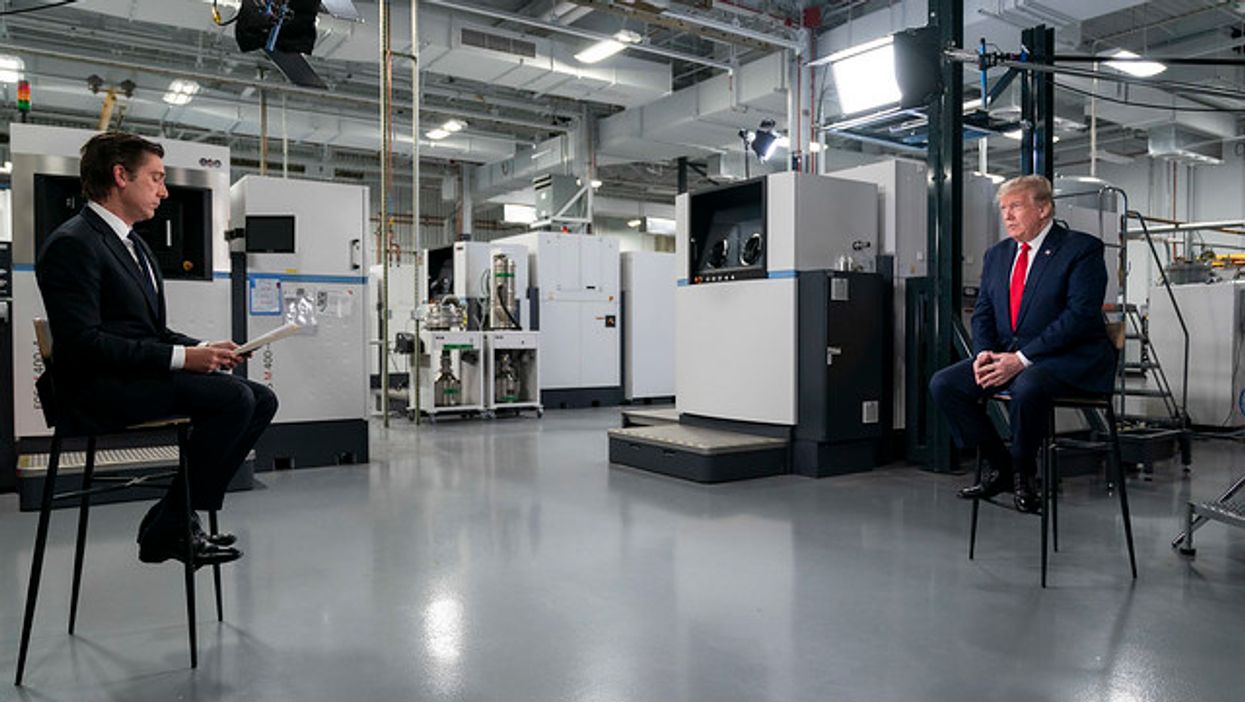 Reprinted with permission from MediaMatters.
When you are a mainstream journalist and you have a rare one-on-one sit-down interview with President Donald Trump during a pandemic that has killed 70,000 people in this country alone, you need to do better than David Muir did.
It's not Muir's fault that Trump almost never does a one-on-one sit-down interview with the mainstream media. If you look through Trump's televised interviews, there's a lot with Fox News, a good helping of Sinclair, and the occasional quick local hit. The national mainstream journalist interviews are rare; the last ones were in June of 2019 with George Stephanopoulos (ABC), José Díaz-Balart (Telemundo), and Chuck Todd (NBC).
---
But Muir accepted this interview knowing all of that and knowing that he would be held to a high standard. He didn't do even a middling job.
It's important to be clear up front that no one understands the stakes of these interviews as well as Trump does. He's spent a good amount of his presidency lying about what happened when Lester Holt interviewed him in May 2017.
As Simon Maloy explained:
The president and his attorneys are not subtle. Caught up in the grinding gears of the Russia investigation, they've apparently decided that whatever legal strategy they've adopted (if they have one) must be complemented by a loud, clanking, and incessant media blitz to exonerate the president in the court of public opinion. And so they go on TV -- constantly -- to proclaim Trump's innocence and endlessly litigate the evidence that suggests otherwise.
By watching how they communicate, you can suss out clues to which issues are causing the president and his lawyers the most grief. At the moment, for whatever reason, Trump and his team seem preoccupied with the idea that the president might have admitted to obstruction of justice when he told NBC's Lester Holt last year that "this Russia thing" was on his mind when he fired former FBI Director James Comey. And so they're trying to rewrite recent history by lying about the Holt interview and brazenly retconning Trump's relationship with Comey.
Right-wing media also have spent a serious amount of time attacking Holt.
Trump is still not subtle. He communicates quite a lot to the press, recently in briefings and yesterday with the old "chopper talk" standby. And the things that Trump said in those settings are more or less what he told Muir -- regardless of the questions that Muir asked.
And based on what aired, Muir was totally unprepared.
Just look at the Twitter feed of professional Trump fact-checker Daniel Dale of CNN.
Even when Trump said that Dr. Anthony Fauci and Dr. Deborah Birx told him in late February that the coronavirus crisis would blow over, Muir still didn't push back or even seek more information about the bombshell claim. (Birx was appointed to lead the White House coronavirus task force in late February; Trump's claim here would mean that the task force, once established, told him immediately that the virus was not a serious problem. That strains basic credulity.)
It's not even clear what Muir's plan for the interview was, or what he hoped to get out of it. Some questions aimed to get Trump to explain various statements he has made downplaying the virus, but when Trump shifted topics multiple times, Muir eventually let it go and went right along with it.
Oliver Darcy elaborated on these themes in CNN's nightly newsletter. It's worth reading.
This isn't complicated. The way to interview Trump (or any politician -- or hell, anyone predisposed to lying) is to be prepared, stay focused on a topic, and ask follow-up questions. Instead, ABC News and David Muir gave the country a truth-optional approach where Trump's lies were blasted to an audience of 10 million.
I'm not even getting into the fact that Muir didn't bring up the disproportionate effect of COVID-19 on minorities, or how indigenous tribes face a shocking lack of aid from the federal government. The latter was an especially egregious oversight on Muir's part since Trump was in Arizona, near where many indigenous peoples reside; the struggles have been enormous.
It doesn't have to be this way.
The truth still is the truth, regardless of how much the president says otherwise and regardless of how much a journalist fails to point it out.