In Republican Resistance To Hurricane Relief, A Stink Of Hypocrisy — And Worse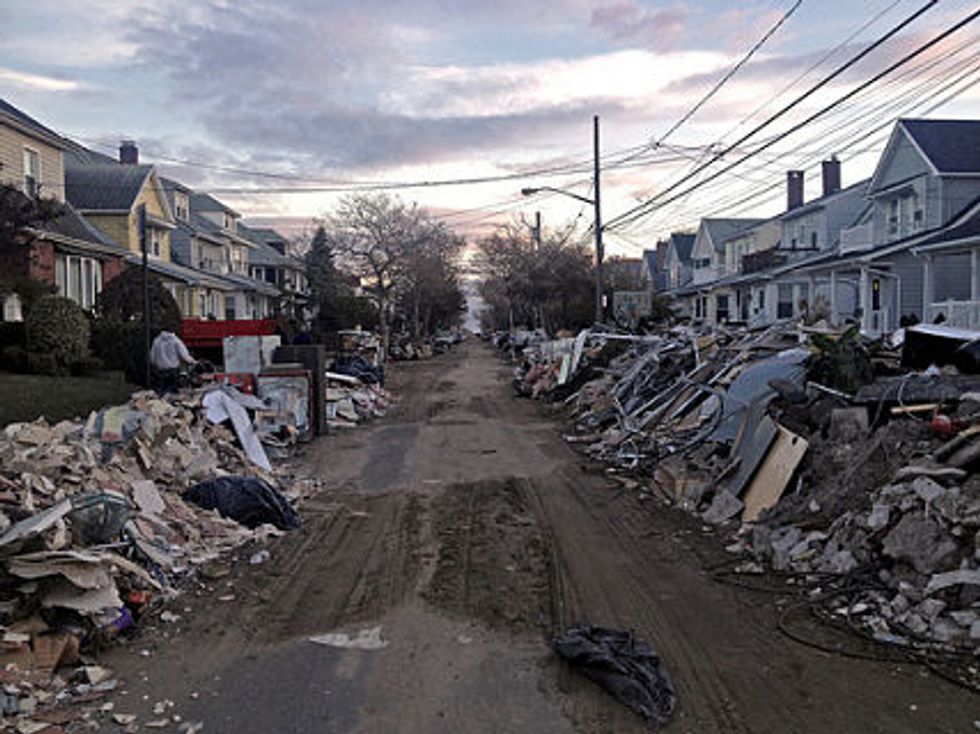 Provoked by opposition to Hurricane Sandy relief among House Republicans – and the delay in voting the first tranche of aid by Speaker John Boehner – both New Jersey governor Chris Christie and representative  Peter King (R-NY) denounced the irresponsibility and cruelty of those betrayals. Even when that first bill passed, 67 Republicans voted no, in contrast with only 11 who voted no when Congress provided emergency funding for Hurricane Katrina (far more quickly, too) in 2005.
The Tea Party Republicans in Congress would offer various excuses for their hostility to Sandy relief, from budgetary constraints to far-right ideology. But those who voted no hail from states that have benefited from all kinds of federal relief over the past two decades, financed by Northeastern taxpayers who send a wildly disproportionate sum in levies to Washington every year.
Moving down the alphabet from Hurricane Andrew onward over the past two decades, it is not hard to trace tens of billions of dollars for storm relief alone that have flowed from New York and Connecticut to the South, the Gulf Coast, the Midwest and other regions over the years, with never a word of demurral over costs, "pork," or "offsets" from other federal spending.
Then consider the many other forms of federal aid that have benefited the regions where "conservative" fiscal stringency supposedly prevails, and a disturbing habit quickly emerges: Republican members of Congress tend to support aid packages that benefit their own states or districts, while opposing help for other Americans. This doesn't hold true for all Republicans or conservatives, of course, but it is nevertheless a detectable pattern.
The most obvious example in recent years is the rescue of the auto industry, a decision of national importance supported by both presidents George W. Bush and Barack Obama, which nearly all Republicans rejected – except those from Michigan and auto-plant districts in several surrounding states. Those in favor included Paul Ryan, the House Budget Committee chair from Wisconsin, who voted for the bailout and then, while running for vice president on the GOP ticket, pretended to have opposed it. But he couldn't bring himself to vote for Sandy relief.
The Republicans in Kansas, whose entire four-member delegation voted against Sandy relief, never voiced any opposition to the massive aid provided by the federal government in 2007 when the city of Greensburg was devastated by a Force 5 tornado – or for that matter all the other instances of disaster assistance accepted by that benighted state over the decades. Nor did the Republicans in places like Missouri or Georgia or any of the other states severely damaged by flooding in recent years suddenly stop their routine pleading for federal aid, which they duly received.
The biggest frauds are naturally to be found in Texas, one of the drought-stricken states where the Federal Emergency Management Agency, the Department of Agriculture, and sundry federal agencies have been spending vast sums to help farmers, ranchers, and other suffering residents. Rep. Randy Neugebauer, a right-wing Texas Republican whose district includes bone-dry Lubbock, praised those federal bureaucrats just last summer for spending funds to help farmers and ranchers in his Lubbock district "mitigate damage caused by wildfires and drought." Quoted in a local newspaper, Neugebauer said, "I hope that FEMA will quickly follow suit and declare a major disaster declaration for affected Texas counties." But this week, Neugebauer was one of seven Texas Republicans who voted against Sandy relief, along with fellow wingnuts from drought-afflicted districts across the South and West.
All this represents something worse than cheap hypocrisy, which often crosses political and ideological lines. The behavior of these Republicans is rooted in their selfish ideology and regional chauvinism – and their rejection of a generous spirit that has united this country for more than hundred years. It is the opposite of patriotism.
Photo by "ma neeks" via Flickr.com