In Santa Fe, This Week's School Massacre Elicits More 'Thoughts And Prayers'
@EricBoehlert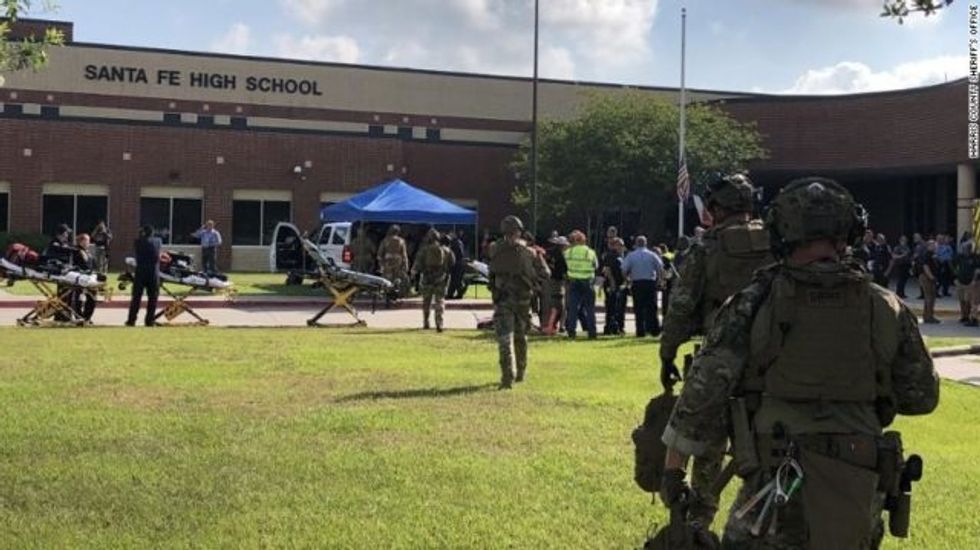 Reprinted with permission from Shareblue.com

America in 2018 has endured, on average, one school shooting every week this year.
On Friday, the latest massacre unfolded at Santa Fe High School in Santa Fe, Texas, 30 miles outside of Houston. CNN reports 10 people were killed in the gun attack, and that the suspect has been captured.
"An armed person walked into an art class at the school and began firing what looked like a shotgun," according to one witness.
According to a running count from CNN, the Santa Fe shooting represents the 22nd campus shooting this year where at least one person was injured or killed. To date, 36 people have died in connection to the shootings that have erupted in places like Winston-Salem, North Carolina; Benton, Kentucky; Savannah, Georgia; and Birmingham, Alabama.
And it's only May.
"Our children have become collateral damage in a nation that allows its gun laws to be written by gun lobbyists," said Shannon Watts, founder of Moms Demand Action for Gun Sense in America. "I am devastated for the Santa Fe community, and for the families whose worst fear has become a reality. And I am outraged by the lack of action from too many lawmakers who do nothing to stop this school shootings crisis. We don't have to live like this, and our children shouldn't die like this."
The Texas school shooting was the third in the past seven days in this country.
The school day started with a fire alarm. "We were all standing (outside), but not even five minutes later, we started hearing gunshots," one Santa Fe student told CNN. "And then everybody starts running, but like the teachers are telling us to stay put, but we're all just running away."
The latest gun massacre comes two weeks exactly after Trump basked in the adulation of the NRA, as the radical gun group hosted its annual convention.
Trump and the NRA have been at the forefront of the right-wing effort to curb any attempts to pass commonsense, and widely popular, gun safety legislation through Congress.
The NRA spent more than $419 million in 2016 to help get Trump and other Republicans get elected.
Following the February school massacre in Parkland, Florida, when 17 people were killed, Trump initially urged Republicans to stand up to the NRA. But he then quickly capitulated to the group.
On Friday, Trump posted a tone-deaf message on Twitter, saying news of the Texas gun massacre didn't "look good." Later in the day, he read a listless, prepared statement off a White House teleprompter.
Based on the deadly gun trend, Trump will soon again have to address a U.S. school shooting.
Editor's note: This article has been updated to reflect the updated number of fatalities.