Indicted GOP. Rep. Hunter Tries To Blame His Wife
@Scout_Finch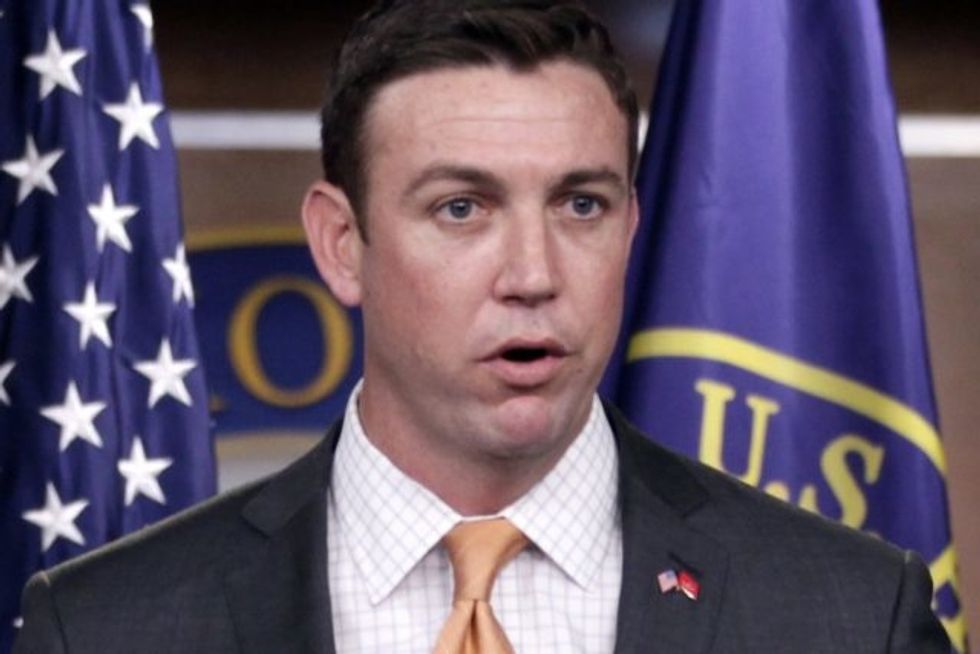 Reprinted with permission from AlterNet.
By Jen Hayden / Daily Kos
Every single day, Rep. Duncan Hunter finds a new way to disgrace himself. You'd think a criminal indictment would humble the California Republican, but no. He took to Fox News to make a public defense of the charges that he used $250,000 in campaign funds on items like a family trip to Italy, flying his pet rabbit across the country, sporting events, and most grotesquely, buying shoes and clothing and then disguising those as donations to the Wounded Warriors Foundation.
So, what was his primary defense? That he himself disclosed this inappropriate spending (he didn't), that these are Justice Department Democrats out to get him (they aren't) and that his wife is to blame for all of it (she isn't.) From CBS News:
They pleaded not guilty in federal court in San Diego Thursday afternoon. Hunter blames "pure politics" and the "Democrats' arm of law enforcement" of the Justice Department for the charges against him. In the Fox interview, Hunter said his wife has long handled the finances, and worked as his campaign manager.

"When I went away to Iraq in 2003, the first time, I gave her power of attorney," Hunter told Fox News. "She handled my finances throughout my entire military career and that continued on when I got into Congress. … She was also the campaign manager so whatever she did, that'll be looked at too, I'm sure, but I didn't do it."

No wonder they reportedly sat four seats apart in the courtroom this week as they heard the charges. Something tells me these two will be meeting again in a different courtroom in the not-too-distant future—a divorce court.

Of course, there is another big problem with Hunter blaming his wife, Margaret: his own campaign treasurer repeatedly warned him directly about the illegal use of funds, and it is all documented in the 47-page indictment.

From CNN:

"Duncan Hunter facilitated the theft of campaign funds by directing his Treasurer to obtain a Campaign credit card for Margaret at a time when she had no official role with the Campaign and received no official salary, knowing that she would spend campaign funds for the Hunters' personal benefit."
"Duncan Hunter installed Margaret Hunter as his paid Campaign Manager despite the protests of his Treasurer and with full knowledge of her long history of misuse of campaign funds, in part because as they discussed the Hunters 'need[ed] the extra money' that would come from her salary."
"Duncan Hunter facilitated the theft of campaign funds by ignoring his campaign staff's multiple warnings about Margaret's improper use of campaign funds, accusing campaign staff of disloyalty by 'trying to create some kind of paper trail on me' when they raised concerns about improper spending, and continually refusing to remove her access to campaign funds."

It's clear this man doesn't have the necessary character to represent the people of California's 50th Congressional District. If he's convicted, the United States Marines would seem to have little choice other than a court martial and dishonorable discharge. It's a sad ending for anyone who served this country.