Indignant Over Hillary's Server, Trump Is Still Using Unsecured Cell Phone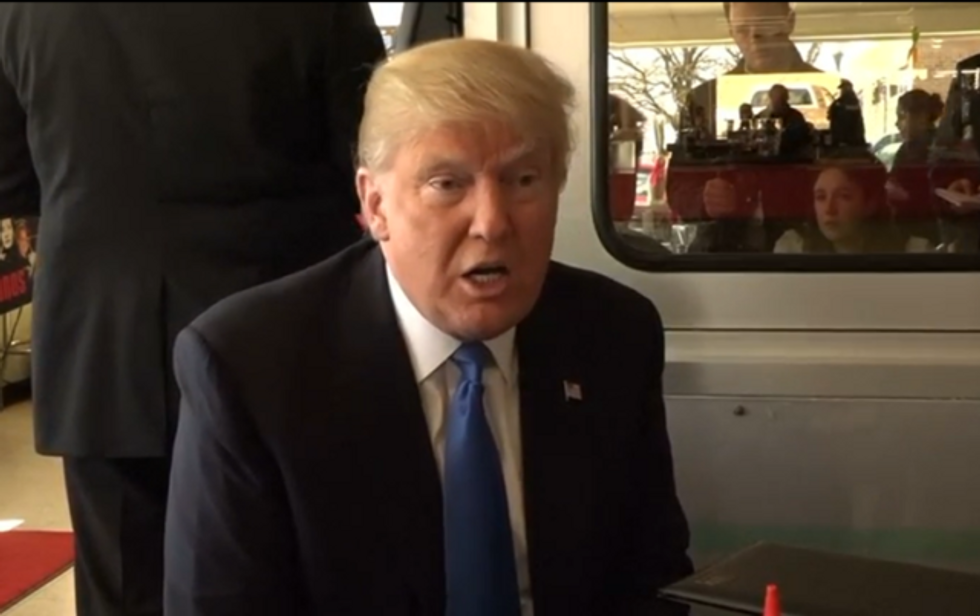 Reprinted with permission from Shareblue.com
Trump's professed concern for security in electronic communications conveniently takes a break when it comes to his own cell phone.
Politico reports that Trump uses a White House cell phone that lacks "sophisticated security features designed to shield his communications." And senior administration officials say that he has specifically spurned his staff's efforts to change that.
Trump actually uses two separate White House-issued iPhones, one that only makes calls and another that carries a few news apps as well as his favorite hangout spot, Twitter. But neither phone is apparently fully secured, and they have gone months without being checked by security experts.
Further, he doesn't even want to occasionally swap out the Twitter-capable phone as a security measure, because it would be "too inconvenient."
And that's an interesting choice of words for Trump to use.
Part of Hillary Clinton's explanation for using a private email server as secretary of state was that it was a matter of "convenience." Trump, of course, had precisely zero benefit of the doubt to extend to her on this issue. Even though her email server was never actually hacked, Trump to this day still cannot stop talking about it.
And he's apparently often doing so from his decidedly vulnerable cell phone.
A West Wing official insisted to Politico Trump's Twitter-capable phone "does not necessitate regular change-out." The official also claimed that Trump's call-capable phones "are seamlessly swapped out on a regular basis."
But those call-capable phones also contain cameras and microphones, making them even more vulnerable to hackers. The official refuted that notion, even taking into account Trump's reluctance to have the phones checked by experts.
And considering just how much Trump uses his phone, anyone — especially those inside the White House — ought to be supremely worried about even the merest chance of it being vulnerable to hackers.
His nightly calls to Fox News host Sean Hannity alone could provide plenty of sensitive material to anyone listening in. And Republicans like Florida Rep. Matt Gaetz often get calls from Trump "late at night or early in the morning."
Trump used Clinton's self-professed ill-conceived use of a private email server to attack her competency and her character, and to paint her as wholly unfit to be president. Yet his own administration used private email accounts for months, seemingly oblivious to the blatant hypocrisy, let alone the danger it posed that Trump himself was so gung-ho about on the campaign trail.
Trump, of course, likely didn't care a whit about any potential security concerns regarding Clinton's use of technology. He only wanted it as an attack line to rile up his base, relishing their chants of "Lock her up!"
But security experts are definitely concerned about Trump's total disregard, now that he's in office, for hacking vulnerability.
"Foreign adversaries seeking intelligence about the U.S. are relentless in their pursuit of vulnerabilities in our government's communications networks, and there is no more sought-after intelligence target than the president of the United States," Nate Jones, former director of counterterrorism on the National Security Council under President Obama, told Politico.
And Trump's refusal to listen to the concerns of his aides on this matter, while within the scope of his authority, "could pose significant risks to the country," Jones added.
Trump repeatedly slammed Clinton for her handling of classified material, hypocritically dubbing her "Crooked Hillary." He once seemed to care very deeply about the idea of electronic security.
But when it comes to his own phone, and his ability to tweet whenever the mood strikes him, suddenly security takes a backseat to convenience.