Inside The Grassroots Group That Wants America To 'Feel The Bern'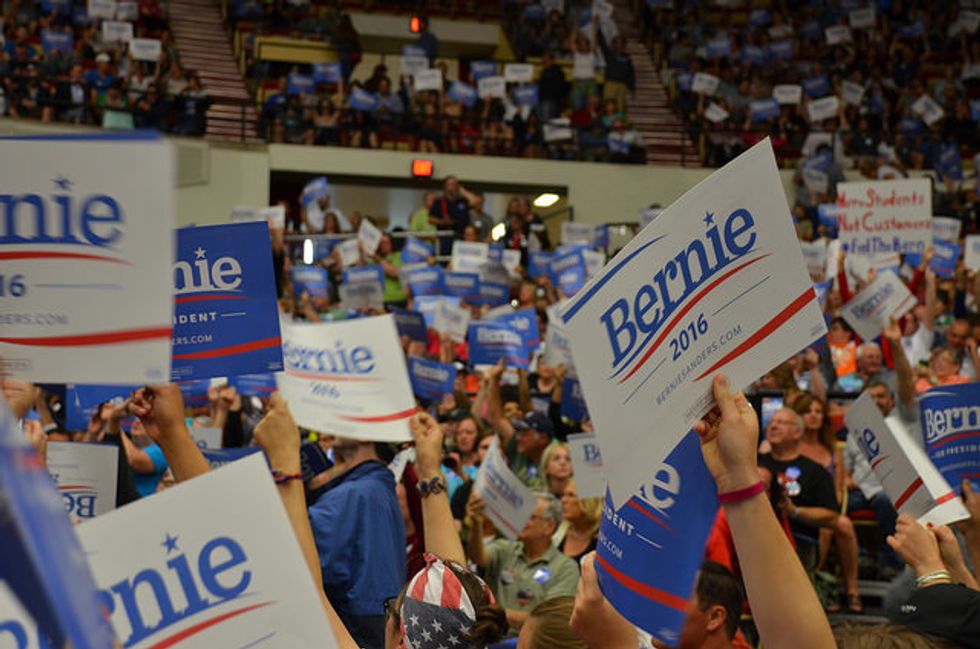 By Arit John, Bloomberg News (TNS)
NEW YORK — Joseph Beuerlein, a 33-year-old bartender and actor, was looking through the list of groups registered to march in New York City's Gay Pride Parade when he noticed that Hillary for America would be there, but no Bernie Sanders surrogates. He registered and reached out to People for Bernie, a grassroots group aimed at helping people organize for the Vermont senator and Democratic presidential candidate, to get some people together.
"They said, 'How about you organize it?'" Beuerlein said.
About 70 supporters showed up to march in Sunday's parade, decked out in Bernie shirts, Bernie buttons, and neon-colored workout gear (a play on the "feel the Bern"/"feel the burn" pun the group claims to have popularized), carrying handmade signs with more puns and messages about Sanders' LGBT support.
The parade was a good example of the role People for Bernie hopes to play in the 2016 election, where Sanders is waging a long-shot bid to wrest the Democratic nomination from Hillary Rodham Clinton. The group's presence at the parade didn't raise any money for the candidate, but it raised awareness and gave people a chance to get involved and meet other supporters. Sanders' name was announced to a small crowd of onlookers still watching the parade at 6 p.m. when the group started marching down Fifth Avenue. Organizers passed out lollipops with a QR code leading to Sanders' website.
By design, that's how People for Bernie operates. The group's goal is to help people who are new to politics, people who support Sanders but don't know how to help the campaign, and put them in a place where they can lead.
"We call ourselves a permission machine," said founder Charles Lenchner. "Usually in politics someone says, 'Oh, we should do this,' and then they look for someone to say that that's a good idea…. People come to us with ideas and our approach is almost always, 'Yes, how can we help?'"
While Lenchner says he is in contact with the Sanders campaign — they provided buttons and posters for the event, and have asked the group to promote events such as the candidate's Wednesday night rally in Madison, Wisconsin — People for Bernie sees itself as a resource for activists the campaign might not have the bandwidth to work with.
"They don't have staff; they're not going to set up operations in all 50 states; they're going to run a smaller, less well-funded campaign than say Hillary Clinton," he said. "So what are we going to do to make it easier for people to jump in?"
The Sanders campaign didn't have an immediate comment on the group's efforts, but referred to a June 22 statement in which Sanders "welcomed growing support for his candidacy from" former supporters of a presidential run by Democratic Sen. Elizabeth Warren, which finally fizzled last month when it became clear Warren was not going to jump in.
The Origins of #FeeltheBern
Before there was People for Bernie, there was Ready for Warren, and before Ready for Warren, there was Occupy Wall Street. Lenchner was heavily involved in the protest effort to challenge income inequality. In 2013, joined by several other Occupy veterans, he co-founded Ready for Warren with Erica Sagrans, who worked on President Barack Obama's 2012 campaign. Ready for Warren was, in his words, an "intervention," an effort to force a debate on progressives' issues in the 2016 debate.
"In 2013, some of us figured out that it looked like Hillary Clinton was cruising toward a Democratic Party nomination without there being any sort of significant fight for the progressive wing of the party," Lenchner said.
People for Bernie started taking shape a few months before Sanders announced he was running on April 30, as activists started realizing that Warren was out and Sanders was in. The group formally launched on the day of Sanders' announcement outside the U.S. Capitol in Washington. They launched dozens of niche "for Bernie" Twitter accounts (examples: @Women4Bernie, @LGBT4Bernie and @Blacks4Bernie), which have since multiplied, and the hashtag #FeeltheBern. Lenchner joked that he couldn't say who came up with it.
"I can't answer that without causing intense rivalries inside the team," he said. "I'll just say that it was definitely us, and we chose that hashtag, we tested it, we saw that it was doing well, so we used networking and social media strategies in order to popularize it."
It's hard to say how much of a dent the group is making. Katherine Brezler, a 33-year-old teacher and the administrator of the group's social media accounts, said the #FeeltheBern hashtag had earned 2.5 million impressions on Twitter in June, but added that they measure success in more anecdotal ways.
"My mom has eight Twitter followers, and she tweets about Feel the Bern. You have older, retired people taking to Twitter and Facebook. That is a huge metric for us also," she said.
Deray McKesson, an activist and Twitter user well known for his involvement with the Black Lives Matter movement, has mentioned Sanders, and rapper Killer Mike endorsed Sanders this week, Brezler said, though it's not clear how much People for Bernie had to do with those gestures.
"We feel the skepticism too, but you know, everywhere he goes he's packing rooms," she said.
Photo: Jen Wegmann-Gabb via Flicker