Investigators Recover 'Black Box' In Deadly Philadelphia Derailment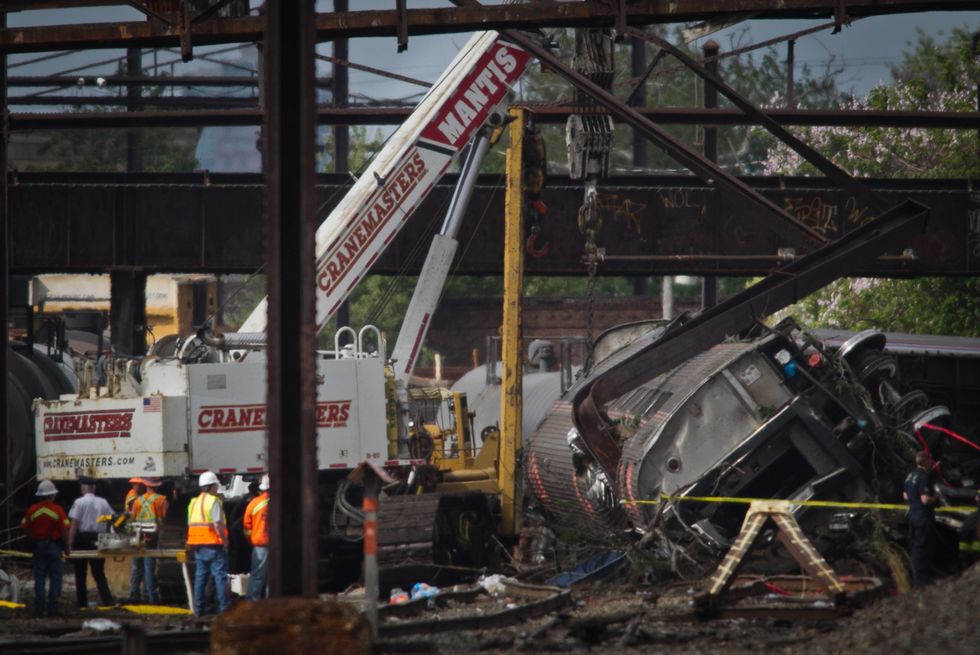 By Tina Susman, Michael Muskal, and Noah Bierman Los Angeles Times (TNS)
PHILADELPHIA — Investigators arrived at the scene of a derailed Amtrak train in Philadelphia on Wednesday morning, searching for clues to explain how it derailed, killing at least six and injuring more than 200 people in one of the nation's busiest transportation corridors.
Officials from the city, the National Transportation Safety Board, and Amtrak said they had recovered the train's "black box" data recorder. They expressed their condolences to the families of those who died and pledged to do all they could to determine how the accident occurred.
"We express our deepest sorrow," Philadelphia Mayor Michael A. Nutter told reporters Wednesday morning. "We are heartbroken. We have not experienced anything like this in modern times."
One of the six killed was a midshipman from the U.S. Naval Academy in Annapolis, Md., who was traveling home on leave, officials said.
The derailment left all seven cars of the Amtrak train askew in a mangled wreck. One car appeared to be collapsed like an accordion, three cars were overturned and three others were twisted heaps.
Hundreds of workers used earthmovers and cranes at the scene in a working-class area of the city with rail yards, warehouses and homes. The search for survivors remained the top priority as rescuers searched the wreckage of the train that derailed about 9 p.m. EDT Tuesday.
As of Wednesday morning, some passengers were still unaccounted for, Nutter said.
President Barack Obama offered his thoughts and prayers to the victims and praised the first responders and medical professionals helping the wounded.
"This is a tragedy that touches us all," Obama said in a statement that called Amtrak "a way of life for many" who live along the Northeast Corridor.
Obama also praised passengers who helped one another.
"Philadelphia is known as the city of brotherly love — a city of neighborhoods and neighbors — and that spirit of loving kindness was reaffirmed last night," he said.
Along with the NTSB, the Federal Railroad Administration will investigate the crash.
Kazimierz Folta, whose house is about a quarter-mile from the tracks, said he did not hear anything unusual Tuesday night until sirens began to wail and helicopters began to fly overhead.
"I've been living here over 20 years and nothing like this has ever happened," he said.
Robert Sumwalt, an NTSB board member, said the agency would examine the black box and investigate a variety of factors that could have led to the crash. We will be "looking at the track, signals, mechanical conditions and human performance."
Five were initially reported dead and a sixth person died overnight from chest injuries, Temple University Hospital's Dr. Herbert Cushing told reporters at a televised briefing Wednesday morning.
About 200 people were treated for injuries, mostly broken bones, at hospitals, officials said. At least six were in critical condition, authorities said.
Train 188 left Washington and was headed to New York when it derailed, carrying 238 passengers and five crew members.
The area where the derailment occurred is known as Frankford Junction and has a big curve. It's not far from where one of the nation's deadliest train accidents occurred — the 1943 derailment of the Congressional Limited, from Washington to New York, which killed 79 people.
The crash disrupted service along the Northeast Corridor, which links Washington to Boston. Trains will run between Washington and Philadelphia, Harrisburg and Philadelphia, and New York and Boston.
Dr. Cushing said passengers closer to the front of the train appeared to suffer the worst injuries.
"I was able to talk with people who were seated in the back," he said at the briefing.
In interviews with television reporters at the scene, passengers described a jolt, followed by chaos as the train derailed. Many passengers, unsure whether the train was still moving or whether the tracks held electrical hazards, waited for word that it was safe to get out.

"Immediately, I could tell the train derailed," Janna D'Ambris, a passenger, told CNN. D'Ambris said she was thrown against the woman seated next to her.
"People from the other side of the aisle started falling on top of us," she said. "So somebody's leg hit the side of my head. The rest of her body must have been in the luggage rack."
"I just held on to this leg and the girl next to me and ducked my head and praying — Please stop! Please stop! — because we still had forward momentum. The train started to tip to the right, this way, and I was just hoping we weren't going to flip or end up on our side."
Another passenger, Jeremy Wladis, described flying cellphones and laptops. He told CNN that he was one of the first to get out, and then began helping others, including a sight-impaired man.
They waited for hours with other passengers until a group decided to take an Uber car to New York City, the train's scheduled destination.
Emily Foote, who was not on the train, told Fox News that she spent Tuesday night and Wednesday morning searching for a friend, Rachel Jacobs, the mother of a 2-year-old.
"She was on her way back to New York last night and we haven't heard from her since," Foote said.
Foote said she and Jacobs' husband had not found any evidence of her in hospitals or at the Red Cross staging area. Jacobs was not on Amtrak's official passenger list, probably because she had a multi-trip pass that may not have been scanned, according to Foote
Among those on the train was former U.S. Rep. Patrick Murphy of Florida, who said he helped people. He tweeted photos of firefighters helping other people in the wreckage.
"Pray for those injured," he said.
Sen. Tom Carper of Delaware also was on the Amtrak train but got off in Wilmington, Del., shortly before the derailment. He later tweeted that he was "grateful to be home safe and sound."
—
(Susman reported from Philadelphia, Bierman from Washington and Muskal from Los Angeles. Michael A. Memoli contributed to this report from Washington.)
(c)2015 Los Angeles Times, Distributed by Tribune Content Agency, LLC.
Photo: The scene of the train derailment on Wednesday, May 13, 2015, after a northbound Amtrak train crashed in the Port Richmond area of Philadelphia Tuesday night. (Alejandro A. Alvarez/Philadelphia Inquirer/TNS)