Audit Says Iowa Governor — Who Delivered Biden Rebuttal — Misused COVID Funds
@alexvhenderson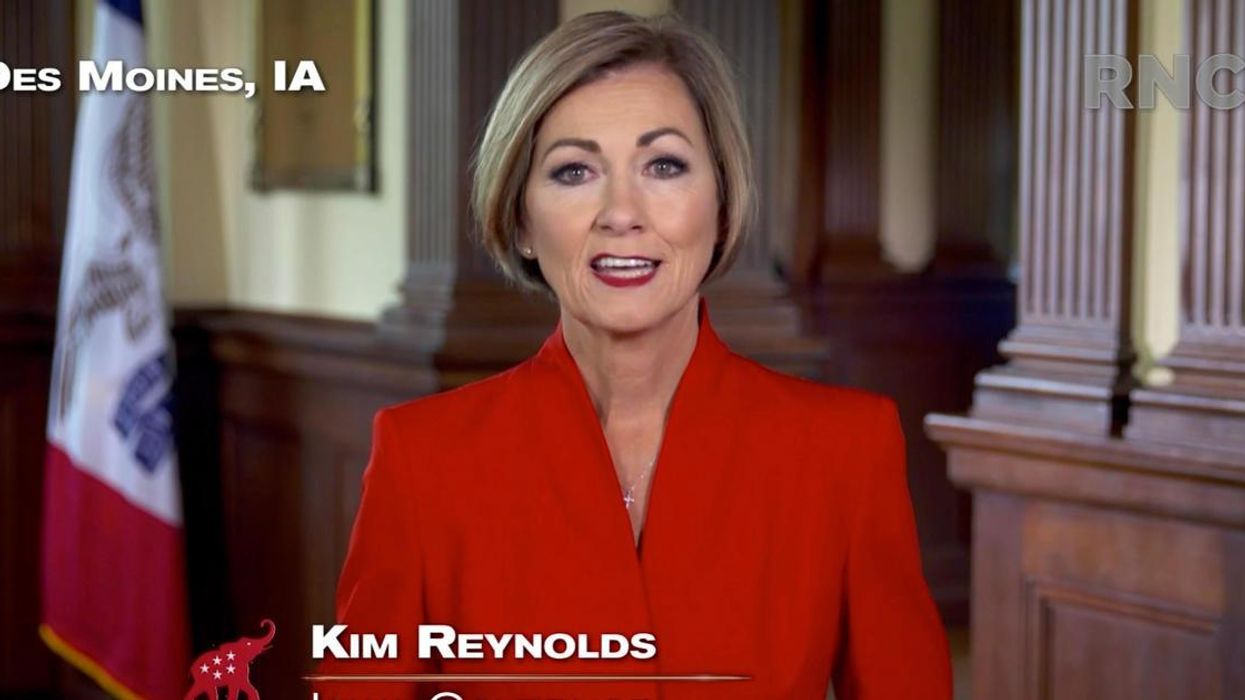 Image via screengrab
On Tuesday night, March 1, Iowa Gov. Kim Reynolds gave the Republican Party rebuttal to President Joe Biden's first State of the Union address. Reynolds' prominence in the GOP has grown, but in her state she is facing controversy over COVID-19 relief funds.
According to Associated Press reporter David Pitt, "Iowa's state auditor has again called for Gov. Kim Reynolds to return nearly $450,000 in federal coronavirus relief funds that were used to pay for 21 governor's office staff members for three months in 2020. Auditor Rob Sand, a Democrat, released a report Tuesday that repeated his recommendation from October 2020 and last year that the funds were improperly used and should be returned."
Sand, according to Pitt, alleged that Reynolds misspent COVID-19 relief funds and tried to cover that up by passing the money through the Iowa Department of Homeland Security and Emergency Management.
"After that report was released," Pitt reports, "Sand said he finally received, in December, a 159-page packet of information he had sought repeatedly from the governor's office to justify use of federal pandemic emergency money for her staff's salaries. After reviewing the documentation, he said his recommendation to return the $448,448 remains the same."
Pitt adds, "The governor's staff salaries had already been considered in creating her budget prior to the pandemic, making them ineligible for payment out of the federal pandemic relief money, he said. Reynolds paid salaries for 21 staff members — including her spokesman, a lawyer, and her chief of staff — from March 15 to June 30, 2020, out of federal funds."
Rich Delmar, deputy inspector general for the U.S. Treasury Department, said that Sand "will assess the adequacy and sufficiency of supporting documentation as part of its audit."
"In December 2020," Pitt notes, "Reynolds had to return $21 million in COVID-19 relief money after using it to upgrade an outdated state information technology system; U.S. Treasury officials determined the payments were not allowed expenditures under the federal Coronavirus Aid, Relief and Economic Security Act."
Reynolds, now 62, was serving as Iowa's lieutenant governor in May 2017 when then-Gov. Terry Branstad resigned to become U.S. ambassador to China under then-President Donald Trump. In the 2018 midterms, Reynolds won a full term as Iowa governor, defeating Democrat Fred Hubbell by almost three percent — and she is seeking reelection in 2022's midterms.
Reprinted with permission from Alternet