Is Iowa Slipping Away From Democrats?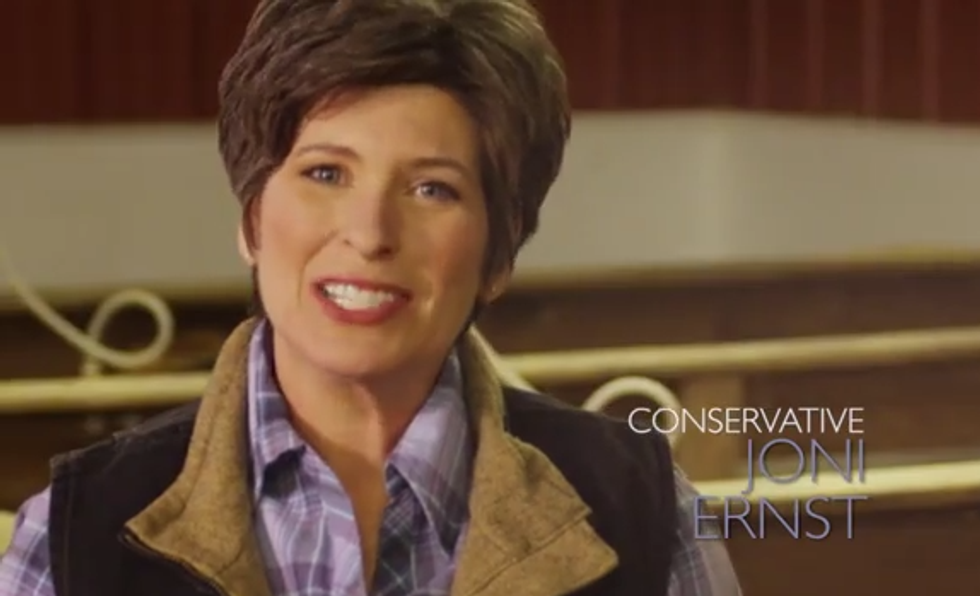 Democrats have long known that they would have to win elections in some severely conservative states in order to protect their Senate majority in November's elections. But 36 days before voters head to the polls, a blue state might ultimately cost them control of Congress' upper chamber.
According to a new Des Moines Register poll of likely voters, Republican state senator Joni Ernst has opened up a 6-point lead over Democratic congressman Bruce Braley in Iowa's Senate race. The poll is the latest in a series of surveys showing Ernst with the wind at her back; she now leads Braley by 2.2 percent in the Real Clear Politics poll average.
This is hugely problematic for Democrats. On paper, the race to replace retiring liberal Senator Tom Harkin should favor Braley, a four-term congressman from Grinnell. Although Iowa has soured on President Barack Obama, its voters have historically supported Braley's brand of populist politics, and the state has voted for the Democrat in six of the past seven presidential elections. Even taking the more conservative nature of midterm electorates into account, most analysts thought that a candidate as far to the right as Ernst — who backs hardline policies such as eliminating the minimum wage, privatizing Social Security, and outlawing abortion and some forms of birth control — was a longshot in a statewide election.
Still, Ernst is thriving. One main reason has been her success at turning the race into a contrast of personalities. Despite the glaring policy differences between the two candidates, much of the media's campaign coverage has focused on Ernst's zany ads and Braley's dispute over wandering chickens (Republicans have endlessly claimed that Braley threatened to sue his neighbor for failing to keep her therapy hens out of his yard, a charge he denies). That episode, along with an ill-advised remark that Senator Chuck Grassley (R-IA) is unfit to to chair the Judiciary Committee because he's merely "a farmer from Iowa who never went to law school," have helped Republicans make the case that Braley is an out-of-touch elitist, and kept the Democrat on the defensive.
This framing of the race was on display in the aftermath of Sunday's debate between the candidates. Speaking to the Des Moines Register, political scientist Dennis Golford praised Ernst as an "excellent performer" who "seems to radiate a certain kind of confidence."
That Ernst's debate performance was a factual tire fire went less emphasized.
Democrats clearly understand the need to introduce voters to Ernst's outside-the-mainstream positions (hence DNC chairwoman Debbie Wasserman Schultz disparaging her as "an onion of crazy"). But they are running out of time.
If Ernst does hold on to win, it would make a Republican majority in the next Congress a near certainty. With Harkin's seat going to the GOP, Democrats would likely need to win three of the four Senate races in deep-red Alaska, Arkansas, Louisiana, and North Carolina to maintain control. In those states, Senator Kay Hagan (D-NC) is the only Democrat ahead in the polls.
Screenshot: YouTube
Want more political news and analysis? Sign up for our daily email newsletter!