Iraq Appeals For U.S. Air Strikes On Advancing Jihadists
@AFP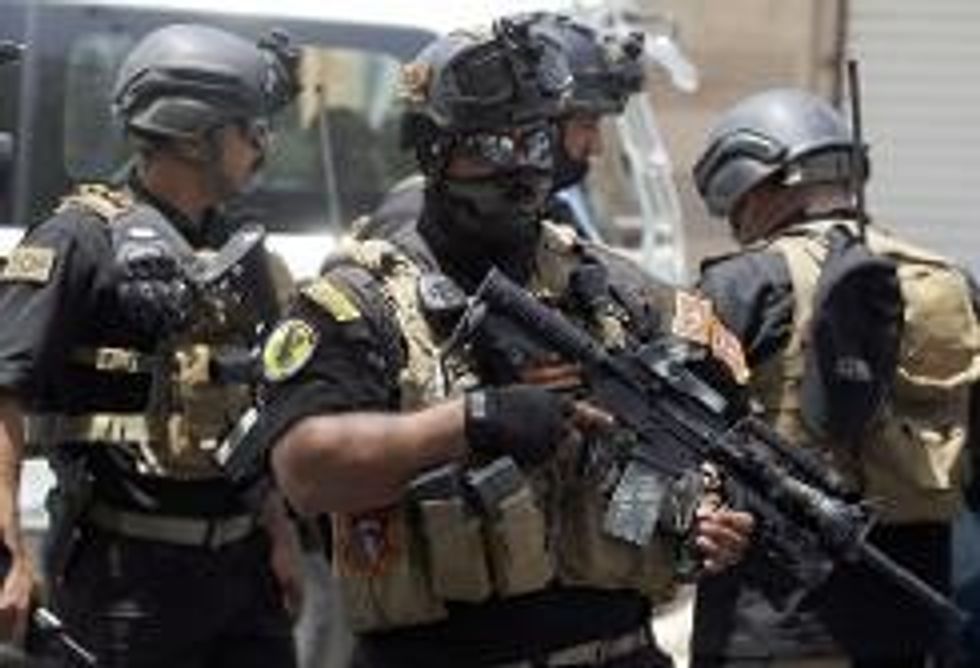 Baghdad (AFP) – Iraq asked the United States Wednesday to carry out air strikes on Sunni jihadists, who attacked the country's main oil refinery and seized more territory in the north.
The appeal came as fighters from the Islamic State of Iraq and the Levant (ISIL) were pressing a week-long offensive that has brought them close to the capital, and as Prime Minister Nuri al-Maliki pledging to face down "terrorism."
"Iraq has officially asked Washington to help under the security agreement (between the two countries), and to conduct air strikes against terrorist groups," Zebari told reporters in Saudi Arabia.
However, Zebari said "a military approach will not be enough. We acknowledge the need for drastic political solutions."
The United States spent millions of dollars over several years training and arming a new Iraqi army after disbanding the Sunni-led force created by the late dictator Saddam Hussein.
Washington has already deployed an aircraft carrier to the Gulf and sent marines to bolster security at its embassy in Baghdad, but President Barack Obama has insisted a return to combat in Iraq for U.S. soldiers is not on the cards.
However, Secretary of State John Kerry has said drone strikes could be used.
Maliki vowed on television that "we will face terrorism and bring down the conspiracy," adding that "we will teach (militants) a lesson and strike them."
He also said the country's security forces, which wilted in the face of a major militant offensive that overran all of one province and chunks of three more in a matter of days last week, had suffered a "setback" but had not been defeated.
Maliki security spokesman Lieutenant General Qassem Atta later said security forces would retake by Thursday morning full control of Tal Afar, a Shiite town in the north that lies along a strategic corridor to Syria.
That would provide a base from which to launch operations to recapture Mosul.
With regional tensions rising, Iranian President Hassan Rouhani said the Islamic republic "will do everything" to protect Shiite shrines in Iraqi cities against the militant assault.
And Saudi Arabia warned of the risks of a civil war in Iraq with unpredictable consequences for the region, while the United Arab Emirates recalled its envoy to Baghdad, voicing concern over "exclusionary and sectarian policies."
The crisis, which has displaced hundreds of thousands of Iraqis, threatens to break the country apart, while the assault on Baiji oil refinery Wednesday further spooked international oil markets.
Brent crude for August delivery added three cents to $113.48 per barrel just after midday in London.
U.S. benchmark West Texas Intermediate for July delivery picked up 34 cents to $106.73 a barrel.
The attack on the refinery complex, in Salaheddin province north of Baghdad, was launched before dawn, officials said.
Atta said Iraqi forces managed to kill 40 militants and repel the attack, but that some tanks containing refined products caught fire.
The refinery was shut down and some employees evacuated on Tuesday due to a drop in demand caused by the militant drive.
World oil producers have cautiously watched the unfolding chaos in Iraq, which currently exports around 2.5 million barrels of oil per day. They have stressed that the country's vast crude supplies, mostly in the south, are safe — for now.
The militants' swift advance has sparked international alarm, with the UN's envoy to Baghdad warning that the crisis was "life-threatening for Iraq."
Analysts suggested that the country could unravel, surviving at best as a federal state.
John Drake, an expert on Iraq with British security group AKE, was asked if Iraq could remain united.
"I don't think it's impossible, but it is highly unlikely," was his verdict.
Police and officials reported that militants had moved into the Shiite Turkmen area of Bashir in Kirkuk province and also seized three villages in Salaheddin province Wednesday.
Meanwhile, the Indian foreign ministry announced that 40 Indian construction workers had been abducted in Mosul, the first city to fall in the offensive.
Spokesman Syed Akbaruddin said 46 Indian nurses were also stranded in the militant-held city of Tikrit.
Last week, as the offensive got underway ISIL fighters kidnapped 49 Turks in Mosul, including diplomats and children, after earlier seizing 31 Turkish truck drivers.
In a bid to see off the offensive, Maliki sacked several top security commanders Tuesday evening, then stood alongside several of his main rivals in a rare display of unity among the country's fractious political leaders.
The dismissals came after soldiers and police fled en masse as insurgents swept into Mosul, a city of two million, on June 10.
Some abandoned their vehicles and uniforms when faced with the insurgents, which are led by ISIL fighters but also include loyalists of executed dictator Saddam Hussein.
After taking Mosul, militants captured a major chunk of mainly Sunni Arab territory stretching towards the capital.
Despite security forces' initial poor performance, Pentagon spokesman Rear Admiral John Kirby said Iraqi troops, with help from Shiite volunteers, were "stiffening their resistance" around Baghdad.
©afp.com / Sabah Arar