Irish Columnist Offers Scathing Review Of Pence Visit
@alexvhenderson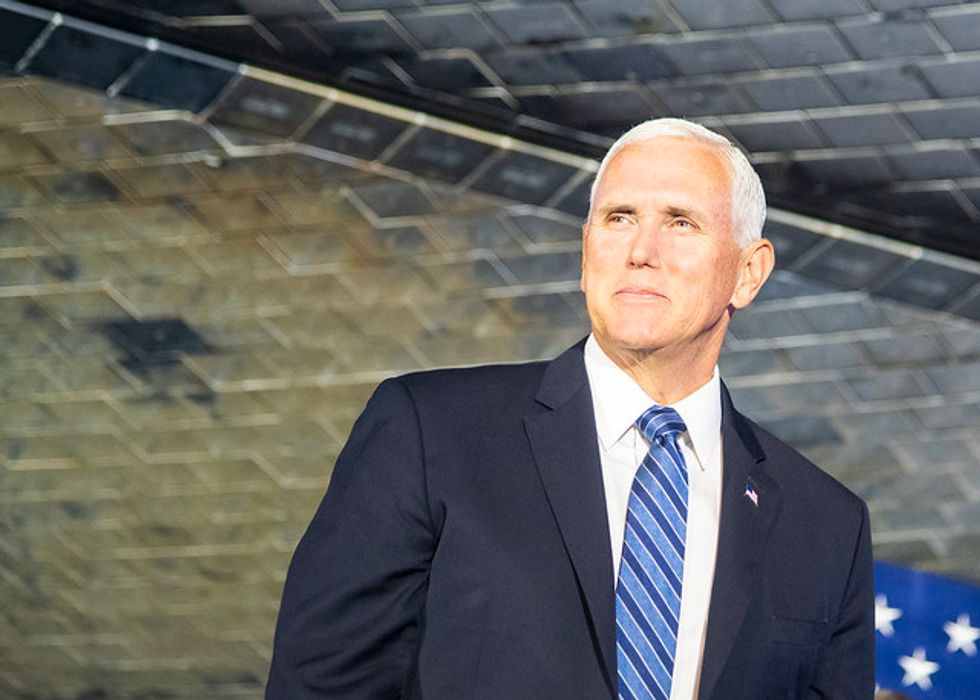 Reprinted with permission from Alternet
Vice President Mike Pence has completed a two-day visit to the Republican of Ireland, where he met with Prime Minister Leo Varadkar, President Michael D. Higgins and other officials. During his visit, Pence (who is Irish-American) spoke in glowing terms about his Irish ancestry. But Miriam Lord, a columnist for the Irish Times, was not impressed — and on Tuesday, she delivered a scathing critique of Pence's visit to her country.
Ireland is two separate countries: Northern Ireland is part of the U.K., while the Republic of Ireland to the south is not. Residents of Ireland have been worried about how a hard Brexit could affect them, as the Republic of Ireland is on the euro and plans to remain in the European Union (EU).
Lord notes that Pence, like President Donald Trump, is a strong supporter of Brexit and was on his way to meet with U.K. Prime Minister Boris Johnson when he was in Ireland. And in her column, she takes Pence to task for the pro-Johnson comments he made during his meeting with Irish officials.
Lord asserts, "As the air in the steamy ballroom turned decidedly frosty, Pence urged Ireland and the European Union 'to negotiate in good faith' with the new British prime minister…. The local crowd raised eyebrows and wondered what he thinks the aforementioned EU has been doing for the last three years, if not negotiating in good faith with the U.K."
These comments, she said, were so jarring and out of place that it was as if Pence were a house guest who "shat on the new carpet in the spare room."
The columnist added that Pence's "Irish hosts, up to their oxters for the last three years in Brexit worry, hoped to impress upon him Ireland's fears about the consequences of a no-deal Brexit for the country."
Lord's sarcasm becomes even more biting, however, when she discusses Pence's anti-gay history and the fact the Varadkar is gay.
"In the end," Lord writes, "Pence brought his wife, his mother and his sister to the old country, where it seems a lot of the natives have turned alarmingly heathen in the generations since his ancestors left our shores….. To look at Mike Pence, with all smiles and handshakes, you'd hardly think he isn't very keen on the gays at all."
Lord goes on to say that even though Pence embraces a severe form of fundamentalist Christianity, he seems to have no problem with Johnson's history of infidelity.
"The next prime minister the couple (Pence and his wife, Karen Pence) will meet on their trip will be the serial philander Boris Johnson," Lord writes.
Lord concludes her column on a snarky note, pointing out how greatly Pence's Christian fundamentalism contrasts with Trump's behavior.
Pence's visit to Ireland, Lord writes, "was a great example of diversity in action. President Trump, who recently visited, is very hands-on with women and likes to grab them in all sorts of places — and his second in command is the opposite. He won't stay on his own with a woman who isn't his wife. God bless America."