It Took Marco Rubio Just 24 Hours To Blow His Pivot To Poverty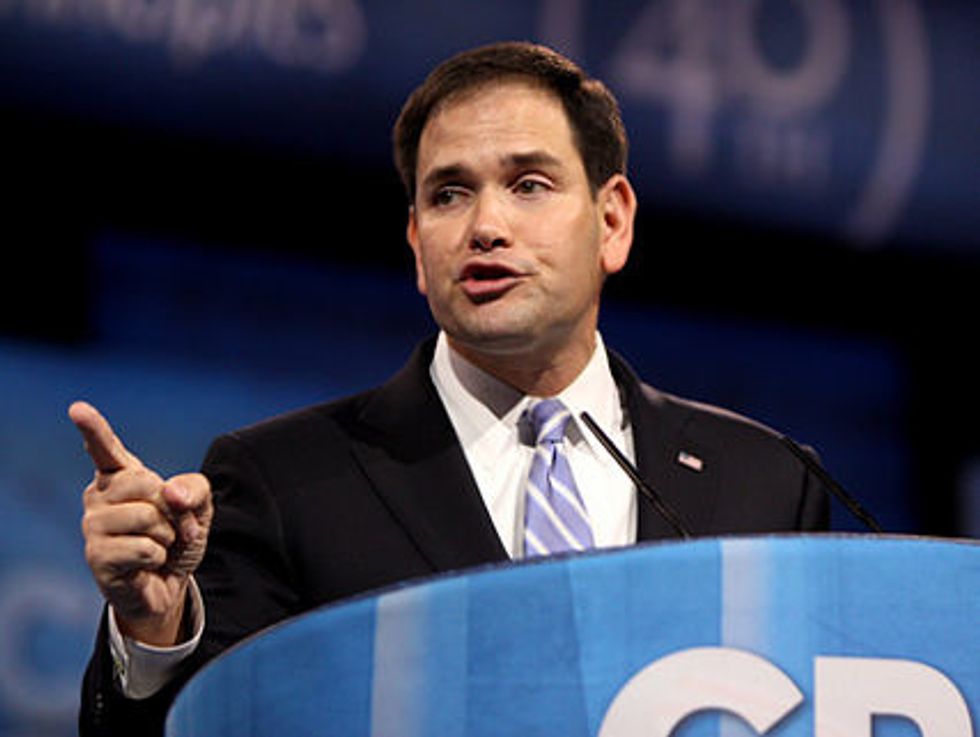 Having tried and failed to reinvent himself as a GOP leader on foreign policy, the federal budget, and immigration reform, Senator Marco Rubio (R-FL) is now attempting a pivot to another new identity: Anti-poverty warrior.
The freshman senator will deliver a major speech to the American Enterprise Institute on Friday, marking the 50th anniversary of President Lyndon Johnson's declaration of the "War on Poverty." Based on a video released on Monday, Rubio is (unsurprisingly) not a big fan of the Great Society.
"After 50 years, isn't it time to declare big government's war on poverty a failure?" Rubio asks. (Actually, as Michael Tomasky points out at The Daily Beast, the answer is pretty clearly "no.")
Rubio goes on to lay out his vision for combating the scourge of poverty (sort of):
What our nation needs is a real agenda that helps people acquire the skills they need to lift themselves out of poverty and to pursue the American dream. This agenda would create an economy with more good-paying middle class jobs, and a government with less debt. It would repeal Obamacare and it would replace it with more affordable health care options. It would save and strengthen our retirement programs for future generations. It would be an agenda to create a new opportunity society in America, so that all of our citizens can have the real opportunity to achieve the American dream.
The problem, of course, is that — aside from repealing the Affordable Care Act, and replacing it with a still-undefined alternative — Rubio does not lay out a single actual policy recommendation (he instead promises to detail "many" of his ideas in the coming months).
As a sitting senator, however, Rubio can't completely avoid interacting with policy. His recent work shows just how committed to fighting poverty he really is — and may have ended his latest pivot before it even began in earnest.
On Tuesday morning, Rubio joined 36 of his Republican colleagues in voting against even opening debate on extending Emergency Unemployment Compensation. Although the Republican minority in the Senate was unsuccessful in its attempt to block the legislation, it will get another chance when the bill faces final passage. And even if the bill does survive the Senate, it is almost certainly dead on arrival in the Republican-controlled House of Representatives.
Considering that unemployment insurance kept 2.5 million people — including 600,000 children — out of poverty in 2012, Rubio's vote doesn't exactly line up with his new image.
It does line up well with the rest of his record, though. Rubio has also voted against the farm bill, joining Republicans who insisted on deep cuts to food stamps — aid that kept 4.9 million Americans above the poverty line — and strongly opposes raising the minimum wage, which could lift nearly 5 million out of poverty. If a policy involves the dreaded "big government," Rubio opposes it — no matter how many struggling Americans it will help.
Much like his fellow "compassionate conservative" and 2016 contender, Representative Paul Ryan (R-WI), Rubio appears to recognize the need to confront inequality issues head-on, but is unwilling to divert from Republican orthodoxy that exacerbates the problem. But unlike the politically nimble Ryan, Rubio has struggled to convince Republican voters (or a skeptical media) that his motives are genuine. There's no reason to believe that this latest pivot will be any different.
It's possible that Rubio will shock the world on Wednesday and propose a serious plan to combat poverty in America. But it's far more likely that his highly anticipated speech will serve as another chapter in the story of his rapid transformation from GOP savior to Tea Party troll.
Photo: Gage Skidmore via Flickr