Insider Memoir Reveals How Jared And Ivanka Botched Trump's Pandemic Response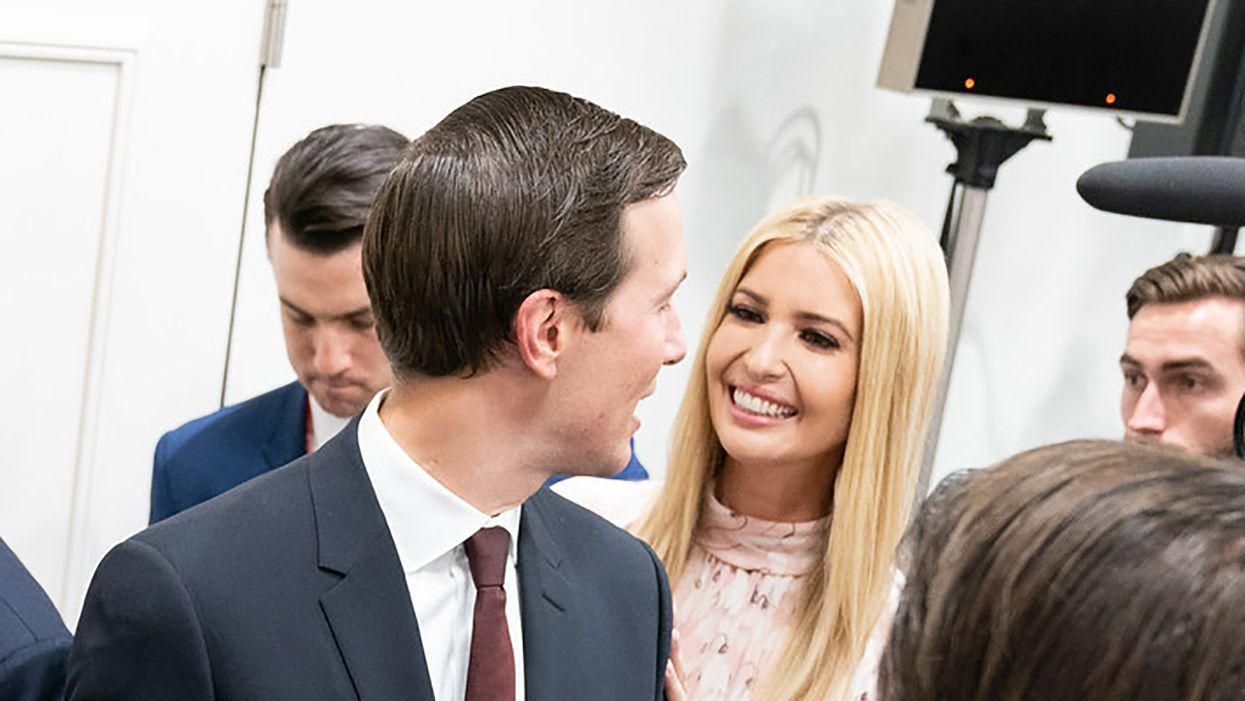 Reprinted with permission from Alternet
It's no secret that the Trump administration was widely responsible for botching the United States' pandemic response but a new report specifically explains how former President Donald Trump's family members actually "hijacked" the White House's handling of COVID-19.
On Friday, October 1, Politico released an adapted excerpt from the book, I'll Take Your Questions Now: My Time in the Trump White House, written by former White House press secretary Stephanie Grisham. The adaptation highlights just how White House senior advisors Ivanka Trump, also the former president's daughter, and her husband, Jared Kushner, contributed to the failed pandemic response.Grisham recalled when Trump and former first lady Melania
---
Trump were scheduled to travel to India in February 2020, just weeks before the United States shut down to begin its long battle with COVID-19. She noted that was around the time Kushner began offering the president advice on COVID.
In the weeks that followed, White House officials began comparing ideas to determine how they would address the nation on the highly contagious novel virus.
Grisham, Kushner, Ivanka Trump, and a number of other top Trump administration officials including Treasury Secretary Steven Mnuchin, White House Communications Director Hope Hicks, Dr. Anthony Fauci, and Dr. Deborah Birx gathered for a meeting to determine how to proceed.According to Grisham, Ivanka and her husband had a habit of dabbling in business affairs they had no experience dealing with. COVID-19 and the pandemic response were no different.
"The meeting was packed," Grisham wrote. "Redfield, Birx and Fauci were sitting in front of the Resolute Desk, along with Vice President Mike Pence and Treasury Secretary Steven Mnuchin. I sat on one of the couches with Ivanka to my left, which I found odd as she hadn't been involved in anything to do with Covid until now. Jared stood behind us, and National Security Advisor Robert O'Brien (who had replaced John Bolton) and his deputy, Matt Pottinger, were sitting in the chairs to my right. Across from me on the couch was Keith Kellogg, Pence's national security advisor, and standing behind him was Hope Hicks. No one was wearing a mask — not the president, not Fauci, not Birx. There was no social distancing. The subject didn't even come up."
On that day, Ivanka repeatedly advocated for her father to immediately address the nation about the pandemic but Grisham and other communications staff adamantly opposed the idea because they were ill-prepared to do so. However, as the meeting progressed, Grisham realized they were likely moving forward with the address although they had no solid information to relay.At one point, Grisham expressed frustration with how the situation was being handled as she noted that Kushner seemed to have taken the matter into his own hands by writing the president a rushed speech filled with questionable information they had no time to fact-check because of the short time window they were faced with.
"He was not an expert on any of those things — shutting down borders, the economic consequences, the health consequences — yet he alone seemed to be deciding the nation's first actions to address one of the most devastating crises in our history," Grisham said of Kushner. "After he wrote the speech, there was no time for fact-checking, vetting, or notifying friends and allies on the Hill or abroad. There was hardly any time for the president to read it and make changes to it. It was a total clusterf--- from start to finish because Ivanka and her crew wanted her father to be on TV."
She also admitted that the president's speech was the epitome of a political dumpster fire. However, the blowback was never Ivanka or Kushner's fault."And of course, the speech that night contained a number of misstatements and sloppy wording — some caused by the president stumbling over a few phrases — that sowed confusion about such things as which countries would be affected by the new travel restrictions and if international trade would be banned. News outlets all over the world picked up on the discrepancies in the speech. People from various federal agencies started to call and ask us how to explain or clean up some of the things that had been said. Once again a line of reporters formed outside my office."
Grisham claims she and others were left to deal with the consequences of Kushner and his wife's errors. "Of course, it was our problem, not Jared's or Ivanka's or Hope's," Grisham said, adding, "No, they were in the dining room off of the Oval Office, Trump's usual hangout, congratulating themselves and telling the president how awesome he was."
The frustrated former White House official claims she'd also given first lady Melania Trump a repeated warning about her son-in-law although she strongly disagreed. Now, it appears that the warning may have come to fruition. Grisham wrote, "I had shared with Mrs. Trump many times my opinion that if we lost reelection in 2020 it would be because of Jared."