Jameer Nelson Signs Two-Year Contract With Mavericks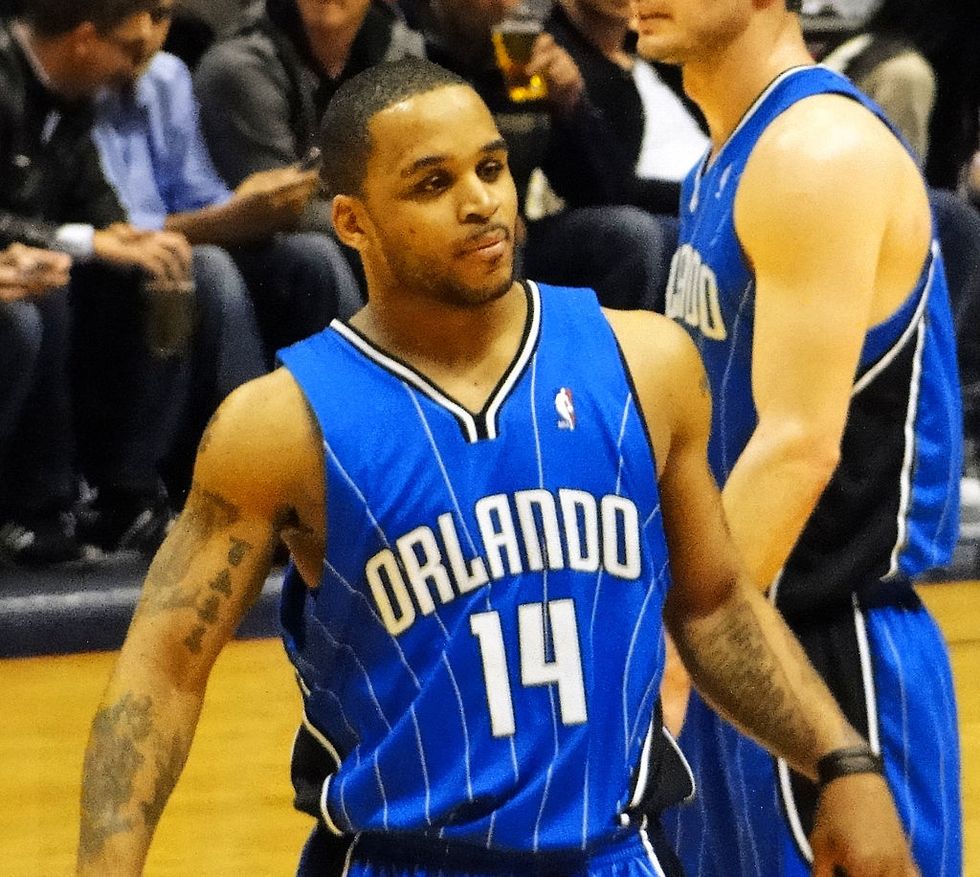 By Eddie Sefko, The Dallas Morning News
Newest Maverick Jameer Nelson wasn't a bad three-point shooter last season. He hit 34.8 percent, which is OK.
Except that, by his standards, it's not. That's what happens when you lack the proper sidekicks to help make your life easier. The free looks from the perimeter dried up along with the victories in Orlando the last two seasons.
Nelson firmly believes that problem will be history in Dallas.
After 10 years, an NBA finals trip, and two miserable recent seasons with the Magic, Nelson landed in Dallas on Thursday, signing a two-year contract paying him $2.732 million this season. The second season is at Nelson's option at $2.855 million for a total of $5.587 million.
He couldn't have been more excited — not only to be with a team that has had a booming summer of roster activity but one that fits his profile and has a chance to win a lot of games this season.
"It's one of those things that during the process it was fun to go through, but there came a point where I was ready to get it done," Nelson said of free agency. "From the start, Dallas was on my radar and one of the top teams I was targeting.
"This is how I look at things — it's a process. It's a process to be a good team and to win games. They already have a great pedigree here and I've been a winner, so I think it's a good fit for me. And now we start the process."
Those words are no doubt music to coach Rick Carlisle's ears, since he uses the phrase "process oriented" on a daily basis during the course of a season.
Part of that process will be Nelson's ability to knock down shots. His shooting may not be his best asset — his leadership abilities are unquestioned — but he is being brought to Dallas to run the team and make shots.
To that end, working with Dirk Nowitzki and Monta Ellis is something Nelson is looking forward to. His numbers have been consistent throughout his career. But last season's three-point shooting was substantially below his 37.4 percent career mark.
"My three-point percentage hopefully will go up playing with better guys," he said. "The looks will be there. Dirk will draw a lot of attention. Monta draws a lot of attention. Chandler Parsons, too. Everybody's going to draw attention, so somebody's going to be open. I'm just preparing myself to make open shots."
That's something he's done with regularity against the Mavericks. His 16.6-point average against Dallas is his highest scoring mark against any team in the NBA. Now the Mavericks look forward to him doing it for them, not against them.
"I like this arena," was Nelson's simple answer for why he's torched the Mavericks in the past.
Nelson relished his 10 years in Orlando — at least up until the last couple of seasons, when the Magic won 20 and 23 games. When they had Dwight Howard and Nelson, they made six consecutive playoff appearances and went to the NBA finals in 2009.
Then Howard left, and things were never the same.
"The direction they're going in — I understand they're going younger and trying to rebuild — and I was there the last two years along with those guys doing that," Nelson said. "I was willing to do whatever. It was just an agreement from both sides that it was time to go.
"I had a lot of teams calling. I don't even know a team that didn't call. But to me this is the best fit to win and continue my career. I'm excited for the opportunity."
Nelson's leadership skills were a big part of why the Mavericks had interest in him throughout free agency. They were worried they might not be able to afford him. But Nelson had $2 million of this year's contract with Orlando guaranteed when the Magic allowed him to become a free agent.
So he'll pocket $4.7 million in all this season.
None of that really matters to Nelson, though. The chance to get back to a winning situation was far more important.
"I still have some tricks up my sleeve," said Nelson, 32. "I'm just going to bring what I need to bring to the team. I'll do what they need me to do, whatever I can do. I feel like my game is going to be my game. I've been playing the same way the last 10 years. So hopefully, I can add some things. I think I can add some leadership, some shooting and some playmaking.
"It should be a good year."
Photo via WikiCommons

Interested in sports news? Sign up for our daily email newsletter!