Ex-Cop Who Stormed Capitol Goes On Trial
@Brandi_Buchman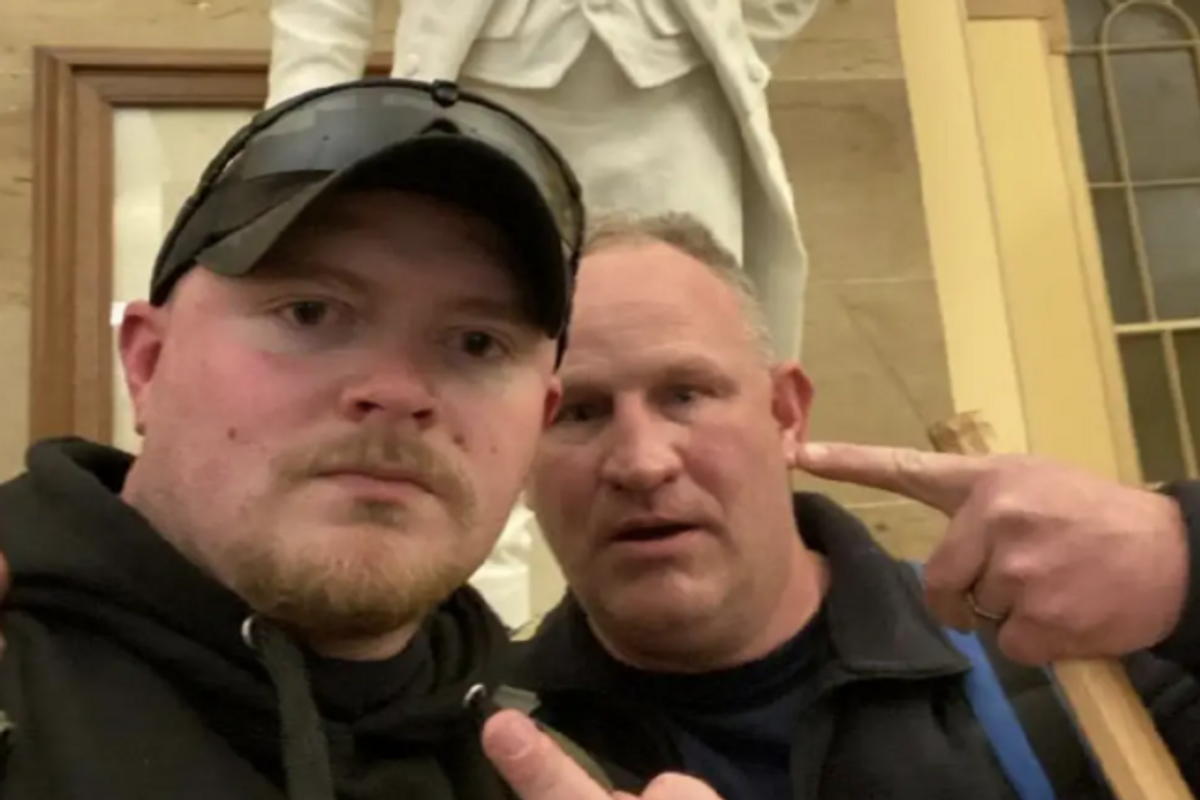 Office of the U.S. Attorney, Washington DC.
The trial for Thomas "TJ" Robertson, a former cop and U.S. Army veteran who prosecutors say stormed the U.S. Capitol with tactical gear and gas masks in hopes of obstructing the certification of the 2020 election, begins this week.
Jury selection kicks off the proceedings for the third trial mounted from the Justice Department's massive investigation of the January 6 attack incited by former President Donald Trump.
Robertson has a steep hill to climb: He has entered a not guilty plea to six counts after violating the terms of his release earlier this year, and his alleged cohort—another police officer, Jacob Fracker, who has already pleaded guilty—is expected to testify against him.
Robertson's trial could last for the duration of this week and according to NBC4 Washington, presiding U.S. District Judge Christopher Moore told attorneys Monday he anticipated the trial could pour over into next week.
According to his indictment, Robertson traveled from just outside Roanoke, Virginia to the Capitol with fellow Rocky Mount Police Department officer Jacob Fracker on January 6. Both men were fired after being arrested in the immediate weeks after the riot.
Robertson, a veteran of the U.S. Army who served in Afghanistan and Iraq, allegedly brought a large wooden stick with him to the Capitol on January 6. Prosecutors say he used it to beat back Metropolitan Police Department officers defending the complex alongside U.S. Capitol Police in the melee.
He also brought three gas masks with him that day. According to Fracker's admission last month when entering his guilty plea, Robertson gave Fracker and another person the masks as they marched into a restricted zone near the west terrace of the Capitol.
Fracker faces up to five years in prison and will be sentenced on Apr. 28, potentially just after the jury issues its verdict for Robertson. Fracker has agreed to cooperate with the Justice Department's sweeping probe in exchange for leniency, and he could receive just 15 to 21 months.
At trial, in addition to key testimony from Fracker, U.S. attorneys will present a variety of exhibits to make the case against Robertson.
The former Rocky Mount police sergeant has made some of that work easy: He took a selfie with Fracker in the crypt of the Capitol after breaching it and then sent it to other officers at the department.
The men posed before a bust of John Stark, a decorated major general of the Continental Army during the American Revolution. Robertson is seen making an obscene gesture there.
He posted the selfie with Fracker to his own social media account after it was leaked online.
"Here's the picture in question and I am fucking PROUD of it," he wrote. It shows 2 men willing to actually put skin in the game and stand up for their rights. If you are too much of a coward to risk arrest, being fired and actual gunfire to secure your rights, you have no words to speak I value."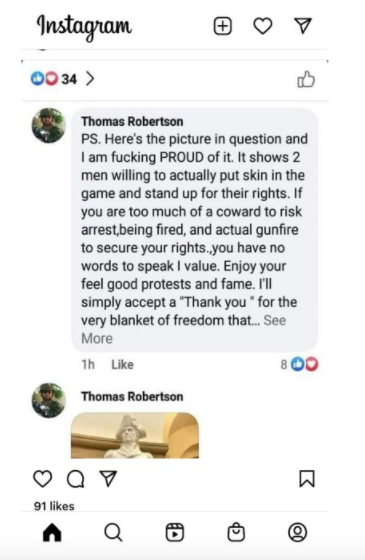 He also wrote online about how he "took the fucking Capitol" and how he "attacked the government" on January 6.
All of this evidence cuts against his defense that he was actually escorted into the Capitol by police and milled about peacefully. Robertson denies reveling in or participating in any violence, and his attorney has emphasized how Robertson was only inside the Capitol for 10 minutes.
Jurors will also see timestamped video footage provided by U.S. Capitol Police as well as bodycam footage from the Metropolitan Police Department, security footage from the Senate and House, and a bevy of Robertson's disturbing Facebook posts and other social media messages.
Two days after the attack, he unloaded on Facebook, prosecutors say. In one post, Robertson railed that "being nice [and] polite, writing letters and sending emails hasn't worked."
An FBI lab report from last July noted Robertson had a metal pipe with two metal end caps, a fuse and a piece of a fuse.Robertson was outraged, writing:
Robertson was outraged, writing:
"All thats left is violence and YOU and your 'Friends on the other side of the isle have pushed Americans into that corner. The picture of Senators cowering on the floor with genuine fear on their faces is the most American thing I have seen in my life." : [Punctuation, spelling, emphasis original]:
Jurors may also see records tied to Robertson's account for an online assault rifle "discussion and resources" forum, his bank statements, information found on his cell phone, and photographs of items found at his home two weeks after the Capitol breach.
Robertson was initially on pretrial release following his arrest but was thrown back into detention when officers with a search warrant found an M4 Rifle, over 50 cans of gunpowder and the makings of a pipe bomb at his Ferrum, Virginia home. Officers also turned up four silencers. The weapons and materials violated an order from the court that he not have access to firearms or destructive devices.
Prosecutors fought to keep him in jail as well because Robertson ordered ammunition and some 37 firearms after he was indicted. He spent nearly $50,000 on the haul and had the guns and ammo sent to a federally licensed firearm dealer in Roanoke, Virginia.
He claimed the rifle found in his bedroom belonged to his son. His attorneys argued the materials were part of his training equipment for a law enforcement rapid response training program. The mass of guns he ordered he chalked up to being part of his growing collection of World War II memorabilia. Court records show Roberts tried to obscure the purchase on Venmo, at one point labeling a more than $3,000 purchase as "Wedding Photos."
Judge Cooper told Robertson he likely committed a felony by having the weapons shipped on his behalf.
Robertson appeared flagrantly remorseless about his conduct on the online gun forum, too.
At one point, he posted a screenshot of his charges to the gun broker site, adding that he was "sure as fuck" proud of his charges.
"I've said it before. They are trying to teach us a lesson," Robertson wrote on Jun. 10. "They have. But not the intended lesson. I have learned that if you peacefully protest than you will be arrested, fired, be put on a no fly list, have your name smeared and your address released by the FBI so every loon in the U.S. can send you hate mail."
He continued:
"I have learned very well that if you dip your toe into the Rubicon… cross it. Cross it hard and violent and play for all the marbles," he wrote online six months after Jan. 6.
Robertson insists he is innocent and told ABC13 last year Capitol police invited him inside and offered him water.

U.S. Capitol Police did not immediately return a request for comment to Daily Kos on Monday.
Robertson maintains "there was absolutely no indication" he or Fracker were "anything but welcome to check out certain places" and he insists he "did not participate in any violence or property damage."
Prosecutors allege Fracker, Robertson, and an unidentified neighbor drove to Washington early on the morning of January 6 and started the day listening to speeches near the Washington Monument. Before they arrived, Robertson was raging on Facebook that the 2020 election had been stolen, echoing false claims by then-President Trump.
Published by permission of Daily Kos.