Jared Kushner Under Investigation For Helping Coordinate Russian Cyberattacks: Bombshell Report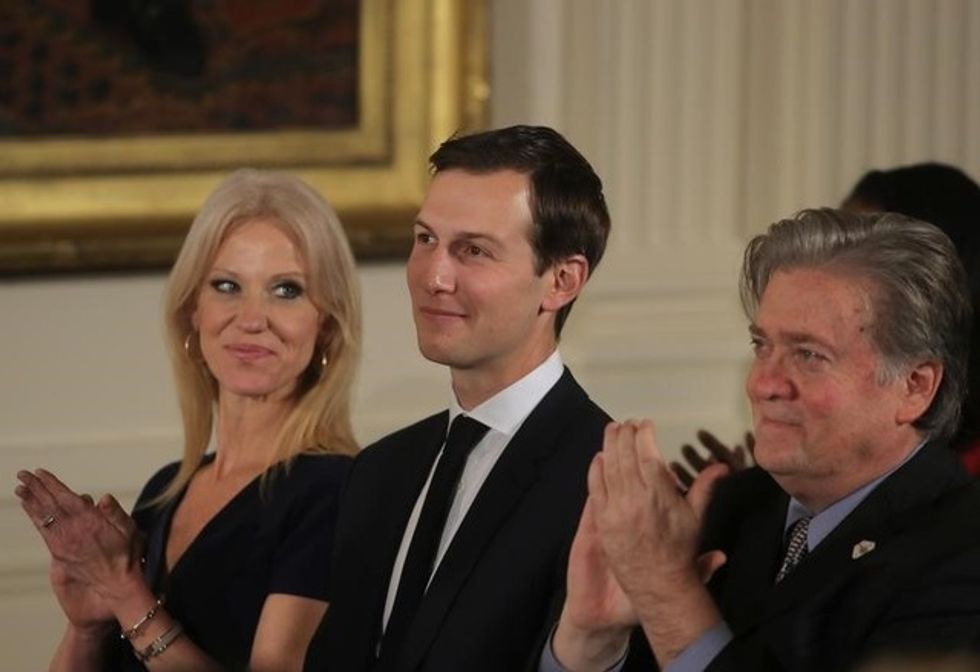 Reprinted with permission from Alternet.
The House and Senate Intelligence Committees and the Justice Department are now investigating whether the Trump campaign assisted Russia in targeting voters and spreading fake news about Hillary Clinton during the 2016 presidential election.
According to McClatchy, investigators are specifically evaluating if the digital operation headed by Trump's son-in-law Jared Kushner directed Russian cyber operatives to particular voting jurisdictions in key states where support for Clinton was waning. Investigators are also probing whether the Trump campaign helped Russia release thousands of emails from Democratic leaders through Wikileaks.
A Russian cyberattack during the campaign of "unprecedented scale and sophistication" spread fake news about Clinton to the Twitter and Facebook accounts of millions of voters. The operation used computer commands called bots to expand the reach of negative and fake news about Clinton, including a fabricated piece claiming the Democratic nominee ran a pedophile ring at a Washington pizzeria.
Russian bots were at work during the primaries as well. According to FBI special agent Clint Watts, human "trolls" were employed to post positive comments about Trump in news stories and on social media.
California representative Adam Schiff from the House Intelligence Committee told McClatchy he wants to know if the Trump campaign helped Russia "time its cyberattacks or target certain voters, and whether there was any exchange of information, any financial support funneled to organizations that were doing this kind of work."
Kushner, who is now a senior adviser to the president, is currently the only White House aide deemed a person of interest in the Justice Department's investigation. He is also under scrutiny for his real estate dealings, as well as his meetings with Russian ambassador Sergey Kislyak and the head of a sanctioned, Russian state-controlled bank in December.
This latest development comes on the heels of a New York Times report that Donald Trump Jr. received emails about the Russian government's efforts to aid the Trump campaign. The emails led to a meeting attended by Trump Jr., Kushner, Paul Manafort and a lawyer for the Russian government, who promised damaging information on Hillary Clinton. The Times investigation was corroborated by screenshots of the emails voluntarily published by Trump Jr. on his Twitter account Thursday.
According to Time, congressional investigators are also exploring whether Russian spies who penetrated voter registration systems in several states shared any of the collected data with the Trump campaign last year. Several of the targeted states, such as Wisconsin and Michigan, helped him win the election.
Kushner has publicly volunteered to disclose to Congress information about his Russia contacts and answer any questions pertaining to their investigation.
Celisa Calacal is a junior writing fellow for AlterNet. She is a senior journalism major and legal studies minor at Ithaca College in Ithaca, New York. Previously she worked at ThinkProgress and served as an editor for Ithaca College's student newspaper. Follow her at @celisa_mia.
This article was made possible by the readers and supporters of AlterNet.