Jared Kushner And Ivanka Trump Just Got Caught In Another Ethics Violation—Thanks To Instagram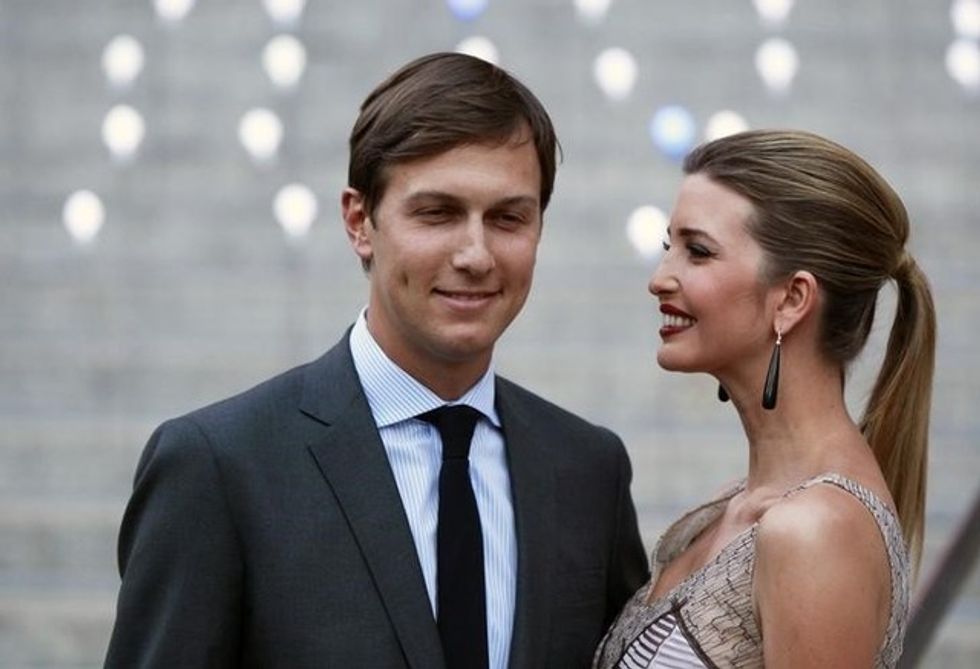 Reprinted with permission from Alternet.
Ivanka Trump and husband Jared Kushner failed to disclose the couple's multimillion-dollar art collection in public financial disclosures presented to the U.S. Office of Government Ethics, artnet reports.
Several of the works of art appear on images posted to Trump's Instagram account, including a Nate Lowman painting similar to one sold at Sotheby's in 2013 for $665,000, and a Dan Colen piece worth over $570,000.
When asked about the Washington power couple's failure to disclose these works, a White House lawyer insisted "Mr. Kushner and Ms. Trump display their art for decorative purposes and have made only a single sale."
"To avoid any doubt, however, they will report their art collection," the lawyer added.
While a Washington ethics lawyer told artnet "a single sale does not necessarily mean that Kushner will need to disclose his art assets," the lawyer noted these works could be considered for investment purposes "if there is regular activity of selling or buying pieces of artwork."
As artnet notes, the pair is not oblivious to art investment. They've retained the services of prominent art adviser Alex Marshall to build their collection, and hosted dinners for the art auction house Sotheby's. Trump's website also extolls the virtues of starting an art collection, encourage readers to "invest early in young, on-the-rise artists whose work you love and can afford."
"Think of art as an investment," the 2015 article added.
Ethics expert Craig Holeman said Trump's use of art to build her brand image constitutes a need to disclose. "The art is being used to promote the business interests," Holman told artnet, "It may draw people into it, especially for something like a line of clothing, and cultural business activities that Ivanka Trump stands for."
"It should be fully disclosed," he added.
Trump and Kushner have faced criticism for failing to disclose aspects of their wealth. In May, it was reported Trump's son-in-law-turned-top-adviser failed to disclose ownership of a real estate startup with ties to Goldman Sachs. He also did not mention his part-ownership of the real estate firm Cadre, which is backed by Goldman Sachs and billionaire Trump-backer Peter Thiel.
Elizabeth Preza is a staff writer for Raw Story. Follow her on Twitter @lizacisms.
This article was made possible by the readers and supporters of AlterNet.