Jeb Accuses Trump Of Being A New Yorker
@FromaHarrop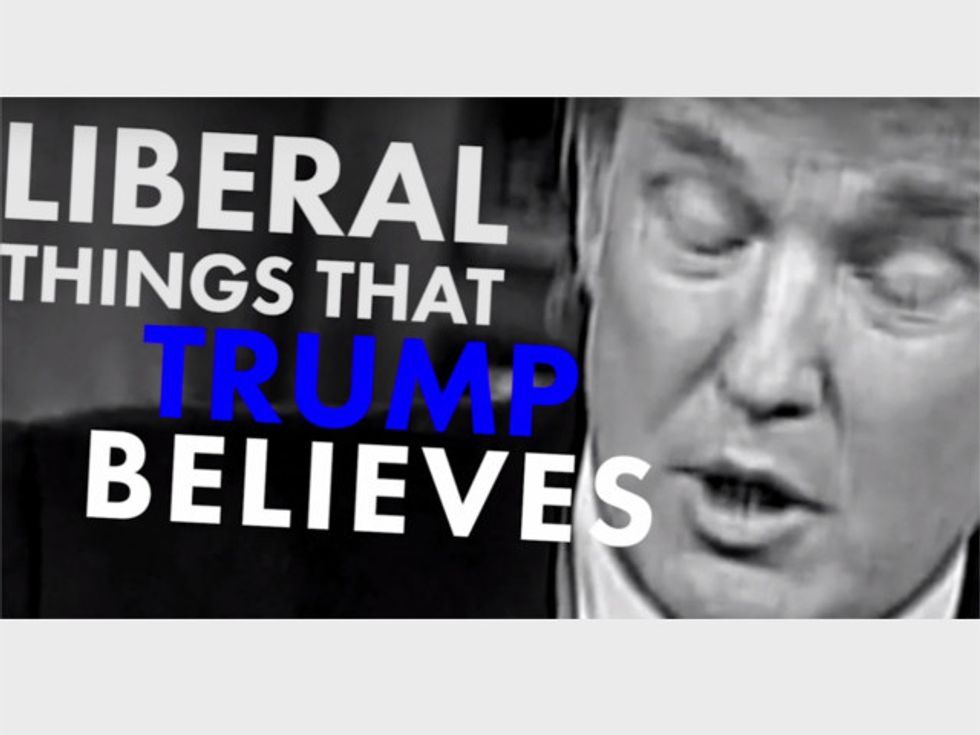 Jeb Bush complains that the political media have not treated Donald Trump as a serious candidate. They have not dissected Trump's eclectic stances, which, a new Bush ad contends, show the populist as a fake conservative.
OK. Labor Day is over. Let's get serious.
Start with that new Bush ad, titled "The Real Donald Trump."
The ad opens with Trump on TV saying: "I lived in New York City, in Manhattan, all my life, OK? So, you know, my views are a little bit different than if I lived in Iowa."
Trump is from New York. Who knew? That's the home of rich, snotty liberals. Ergo, Trump must be a liberal, or so the serious Bush implies.
When it comes time to raise substantial piles of campaign cash, Jeb seems to like New Yorkers just fine. Indeed, he is a frequent flier to the Manhattan till. Last winter, private equity magnate Henry Kravis threw a fundraiser for Jeb at his Park Avenue spread. The price of admission — $100,000 a ticket — raised eyebrows even on Wall Street.
Oh, yes, we're supposed to talk about Trump's policy positions.
The Bush ad has Trump saying years ago that the 25 percent tax rate for high-income people should be "raised substantially." Do note that Ronald Reagan's tax reforms left the top marginal rate at 28 percent — and after closing numerous loopholes. Also, capital gains were then taxed as ordinary income, meaning the rate for the wealthiest taxpayers was 28 percent. (The top rate is now 23.8 percent.)
Speaking of the tax code, Trump vows to close the loophole on carried interest. It lets hedge fund managers pay taxes on obviously earned income at a lower rate than their chauffeurs pay. "They're paying nothing, and it's ridiculous," Trump says.
A writer at the conservative Weekly Standard recently asked Bush whether he'd end the deal on carried interest. "Ask me on Sept. 9" was Bush's noncommittal answer. That's when he plans to unfurl his tax reform plan.
The ad has a younger Trump coming out for single-payer health care. That sounds a lot like Medicare.
Trump is shown saying he's pro-choice on abortion. A recent CBS poll had 61 percent of Republicans opposing a ban on abortion, although many want stricter limits.
About Trump's being a lifelong New Yorker, well, that's not entirely true. He spends a good deal of quality time in Palm Beach, Florida.
"Donald is a perfect fit for Palm Beach," Shannon Donnelly, the society editor for the Palm Beach Daily News (aka "The Shiny Sheet"), told me. "He has an office in New York but is rarely there."
"We're overdue for Winter White House," Donnelly added. "We haven't had one since that guy from Massachusetts [John F. Kennedy] moved in with all his rambunctious siblings."
Your author cannot sign off without opining that Trump's crude remarks about Mexicans should disqualify him from becoming president. The Trump ad tying Bush's rather liberal thoughts on immigration to faces of Mexican criminals who murdered people in this country is rather disgraceful.
But it is not unlike the Willie Horton ad that Bush's father, George H.W., ran in his 1988 campaign. Horton had raped a woman after being released from a Massachusetts prison on a weekend furlough. The Democratic candidate, Michael Dukakis, was Massachusetts' governor at the time. The elder Bush's ads continually flashed Horton's picture in what many considered a stereotype of a scary black man.
"By the time we're finished," Bush campaign manager Lee Atwater said, "they're going to wonder whether Willie Horton is Dukakis' running mate."
Let's get serious about Trump's record? Yes, and the same goes for everyone else's.
Follow Froma Harrop on Twitter @FromaHarrop. She can be reached at fharrop@gmail.com. To find out more about Froma Harrop and read features by other Creators writers and cartoonists, visit the Creators Web page at www.creators.com.
Screengrab via Jeb Bush/YouTube