Jeb Bush Enters GOP Presidential Race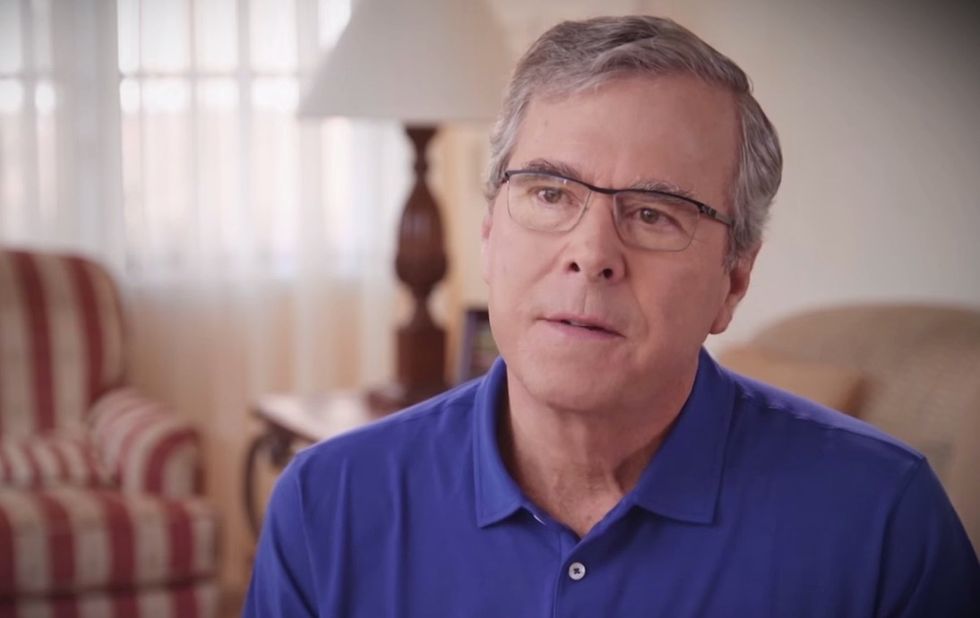 After six months of fundraising, foreign tours, town halls, and media interviews — conducted under the pretense of "considering a run" — Jeb Bush made it official with a rally Monday afternoon at Miami Dade College.
Following a prolonged introductory program that included an hour-long cavalcade of musicians and speakers touting Bush's faith, management experience, record of education reform, and support for women and the disabled, Bush took the stage.
He decried the Democrats for attempting to railroad Hillary Clinton into the White House to pursue a worn-out agenda: "A progressive agenda that includes anything but progress," he said.
"We will take command of our future once again in this country," he said, vowing to change Washington — "the stale capital of this dynamic country" — and restore "free enterprise and freedom for all Americans."
His speech emphasized the possibility of economic growth for the middle class ("not just the stock market") under his leadership, citing his own success growing Florida's economy.
Bush spoke of the need to profoundly reduce the influence of lobbyists and federal regulation, specifically his intention to curb the overreach of "the IRS, the EPA, and the entire bureaucracy."
Recalling his own early days as governor, Bush positioned himself as a "reforming governor, not just another member of the club," and said that if he was able to "disrupt" the culture of a capital city once, he could do it again.
The brother and son of U.S. presidents past, Bush said he would no longer bow to the "pampered elites of Washington."
Shifting from the economy to education, Bush made a veiled snipe at Common Core and stated his support of chartered schools.
Bush decried statements regarding faith made by Democratic candidate Hillary Clinton and President Barack Obama. Responding to comments Clinton made when Secretary of State, Bush affirmed that when "the progressive agenda comes into conflict" with sincerely held religious beliefs, he supported the latter. He said that President Obama was out of line mentioning the "Crusades" in a speech about religious extremism.
He voiced his support for Israel.
Bush criticized Obama's normalizing relations with Cuba, saying a U.S. president must stand "in solidarity with a free Cuban people."
There are a lot of good people running for president, he said, but "it's nobody's turn," and seniority, age, family, and family narrative should not determine who enters the Oval Office.
Bush said he would seek the votes of all Americans — including those for whom English is not their first language.
"It's entirely up to me to earn the nomination of our party," he said. "I will take nothing and no one for granted. I will run with heart, and I will run to win."
You can watch a livestream of his announcement speech here:
Related: 4 Things To Remember About Jeb Bush
Bush kicked off his formal campaign with a launch video released Sunday:
This post has been updated.