Jeb Criticizes Rubio — But Then Defends Him From Trump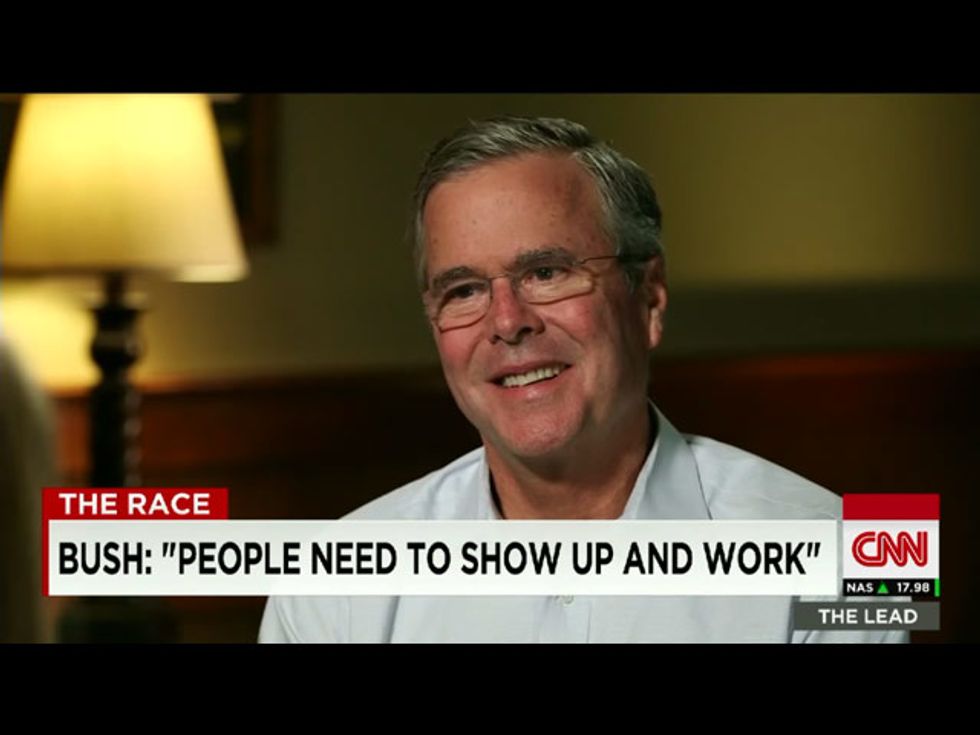 Jeb Bush has yet again demonstrated his complete inability to attack Marco Rubio in any effective manner, and perhaps even revealed why he has such difficulty: It seems like a part of him actually prefers to lavish praise upon his former protégé.
In an interview with CNN's Jamie Gangel, Jeb got asked about his botched effort at last week's Republican debate to attack Rubio's absences from the Senate. He at first sought to stand by the substance of the criticism.
"Here's my point: People that are serving need to show up and work — period, over and out," Jeb insisted. He further defended his having launched the barb in the first place: "I just think people need to show up and work."
But then his softer side showed up.
Gangel then asked about Donald Trump's comments at Tuesday's press conference, in which The Donald called Rubio "a lightweight" and that "Vladimir Putin would eat him for lunch."
"No, that's not fair," Jeb replied. "Look, Marco is a capable guy, he's a talented politician. Here's what I think: I think I'm the best qualified to be president."
When Gangel asked whether Rubio was ready to be president, Bush only restated: "I'm the best qualified guy to be president."
When asked again to answer the question, he shifted targets "If you're comparing me to Donald Trump, I'm better qualified to be president."
It should be noted that at Trump's press conference Tuesday, in which he also hammered Rubio's personal finances, The Donald did pointedly say that he could've done a better job attacking Rubio's absence from the Senate than Jeb Bush had attempted. It would be hard for anybody to dispute that proposition.