Jeb Ditches The Glasses — And Trump Makes Fun Of Him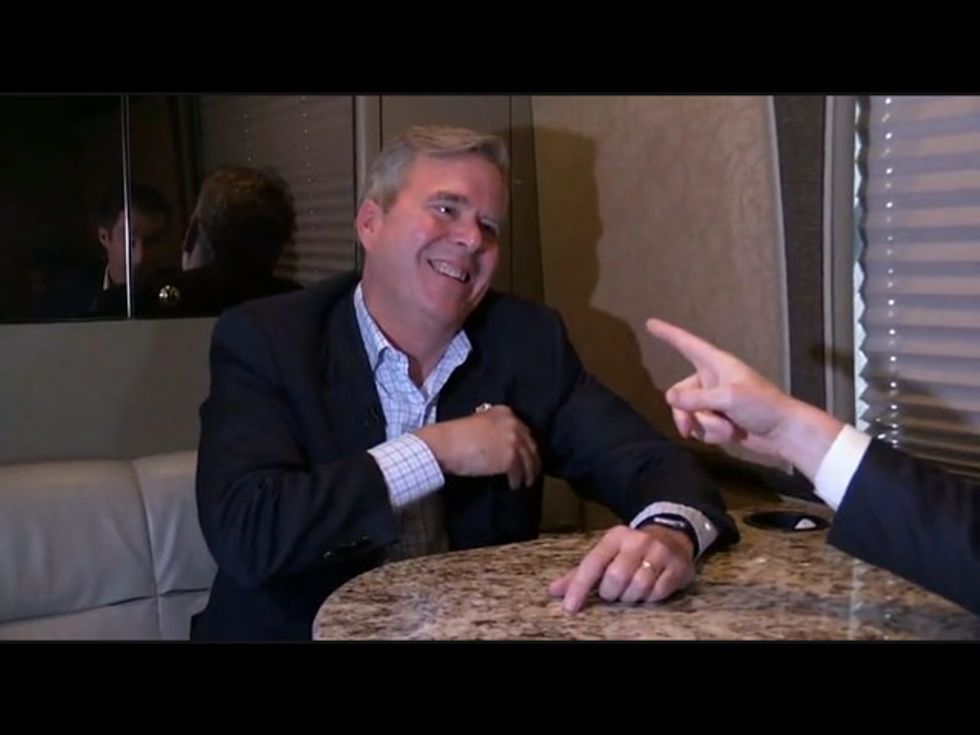 Jeb Bush has just given up on framing a certain issue.
In an interview released Wednesday by NBC News, correspondent Peter Alexander asked Jeb about a recent change in his public image: He's wearing contact lenses instead of glasses.
Jeb told Peter Alexander that he'd never actually worn contacts before.
"So why right now in the middle of a campaign is Jeb Bush going without glasses?" Alexander asked.
It began, apparently, when he stopped wearing his glasses during some interviews.
"I've been trying to do this for like three months. I've started doing TV interviews, remote TV interviews where I can just stare at a camera — you know, a blind camera," Jeb explained, referring to a remote interview setup where the guest is speaking into a camera but can only hear the host at the other end, and not see them.
"And people said, 'Wow, you look 20 years younger.' Wow this, wow that. So I decided to try it."
In perfect schoolyard bully fashion, Donald Trump couldn't resist taking a swing at this one:
Jeb Bush just got contact lenses and got rid of the glasses. He wants to look cool, but it's far too late. 1% in Nevada!

— Donald J. Trump (@realDonaldTrump) February 17, 2016
This is not even the first time that Trump has insulted a rival candidate for their choices in vision correction. Way back in July last year, at the same rally where he quite infamously gave out Lindsey Graham's phone number, Trump also had some choice words for another D-list rival, Rick Perry.
"I see Rick Perry the other day, and he's so — you know, he's doing very poorly in the polls. He put glasses on so people will think he's smart. And it just doesn't work! You know, people can see through the glasses."
You have to admit: Donald Trump might just have a point here.