Jeb Walks Back Mega-Gaffe: 'I'm Not Sure We Need Half A Billion Dollars For Women's Health Issues'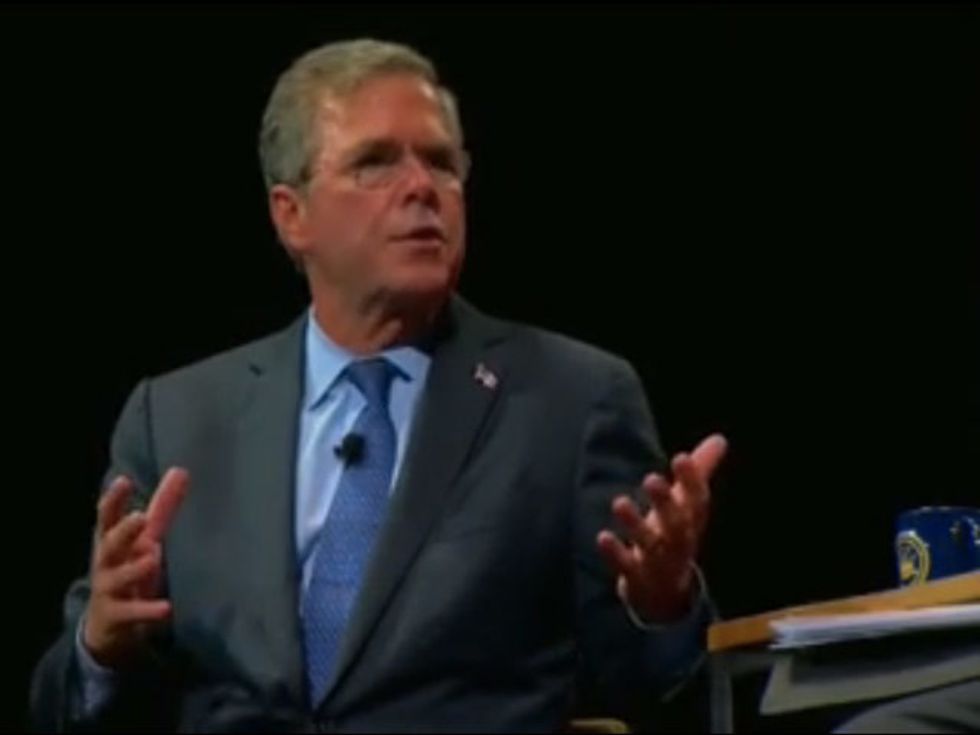 Jeb Bush just handed Democrats a gift-wrapped present in the political fight over funding Planned Parenthood — and on President Obama's birthday, no less!
Speaking to the Southern Baptist Convention Tuesday, Bush chimed in on the conservative movement to defund Planned Parenthood — boasting that he had had success on this very front when he was governor of Florida. But in a side comment, Sabrina Siddiqui of The Guardian reports, he appeared to question the whole idea of spending money on women's health at all.
"The argument against this is, well, women's health issues are gonna be — you're attacking, it's a war on women and you're attacking women's health issues," Bush said. "You could take dollar for dollar — although I'm not sure we need a half a billion dollars for women's health issues."
"But if you took dollar for dollar," he continued, "there are many extraordinarily fine organizations, community health organizations that exist, federally sponsored community health organizations, to provide quality care for women on a wide variety of health issues. But abortion should not be funded by the government — any government, in my mind."
Shortly thereafter, Bush quickly released a statement via his campaign:
With regards to women's health funding broadly, I misspoke, as there are countless community health centers, rural clinics, and other women's health organizations that need to be fully funded. They provide critical services to all, but particularly low-income women who don't have the access they need.

I was referring to the hard-to-fathom $500 million in federal funding that goes to Planned Parenthood – an organization that was callously participating in the unthinkable practice of selling fetal organs. Democrats and Republicans agree we absolutely must defund them and redirect those funds to other women's health organizations.