Judge Orders Trump Lawyer Ellis To Testify Before Georgia Grand Jury
@next2godwin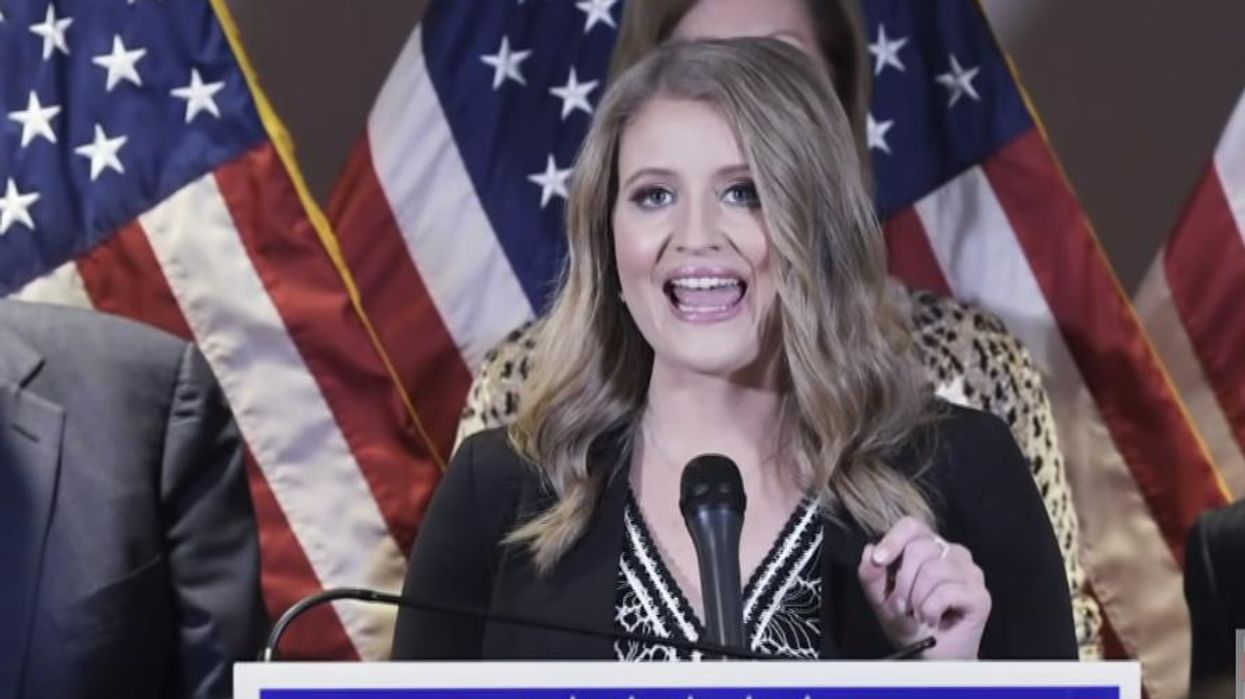 The chickens are coming home to roost for Former President Trump's inner circle members who reportedly lent their expertise and services to the ex-president's crusade to subvert democracy and hold on to power after losing his re-election bid.
As former Trump lawyer Rudy Giuliani, who a judge compelled to appear for deposition, testified in Georgia Wednesday, the Fulton County district attorney's attention shifted to another former Trump lawyer reportedly deeply involved in the now-infamous 2020 coup attempt — Jenna Ellis.
Ellis, a senior legal adviser to the Trump 2020 campaign, was ordered Thursday by a judge in Colorado to testify before a special grand jury in Atlanta investigating "attempts to disrupt the lawful administration of the 2020 elections in the State of Georgia."
Judge Gregory Lammons of the Eighth Judicial District Court of Colorado reached the decision after a hearing on Fulton County District Attorney Fani Willis' request that Ellis testify before the special grand jury.
During the hearing in the Larimer County courthouse in Fort Collins, an attorney for Willis' office, Will Wooten, testified that Ellis' testimony was "material" and "necessary" to the grand jury's investigation.
According to CNN, Wooten outlined five areas of interest for seeking Ellis' testimony: the legal memos she authored the week before January 6, 2021, about the contested election results; investigators' belief she played a part in planned hearings before the state's lawmakers; her social media posts peddling debunked lies of election fraud; the media interviews in which she parroted the Big Lie; and any other "unique knowledge" she possesses about Trump's associates.
Lammons said the case was about "one witness in this state testifying in another state" and that testifying before a grand jury did not pose an "undue burden" on Ellis, according to CNN.
Willis' rapidly escalating investigation — which has embroiled several Trump allies and incurred scrutiny for the desperate yet failed crusade to overturn the former President's loss — came alive early last year after Trump, in a mafia-style phone call, pressured a top Georgia election official to "find" enough votes to ensure his victory.
However, it has since become clear that the scope of Willis' investigation extends well beyond that call, as motions were filed last month seeking testimony from seven Trump associates, including Ellis, Giuliani, and Sen. Lindsey Graham (R-SC).
Ellis's subpoena, which was issued in July, identifies her as "an attorney for the Trump Campaign's legal efforts seeking to influence the results of the November 2020 election in Georgia and elsewhere."
Willis also noted that Ellis's actions appeared to be "part of a multi-state, coordinated plan" orchestrated by the Trump campaign to steal the election, and investigators hoped that her testimony will "reveal additional sources of information" pertaining to alleged criminal misconduct related to the 2020 general elections.
Ellis, the subpoena said, possessed "unique knowledge concerning the origin of numerous claims of election fraud alleged in legal filings and to the public" made by herself and Trump and his allies.
Wilis noted that Elis appeared with Giuliani at a December 3, 2020, state Senate committee hearing at the Georgia Capitol during which they made baseless "fraud" assertions.
NBC News reported Wednesday that Fulton County prosecutors had purchased plane tickets and made a hotel reservation for Ellis to testify on August 25.