As Sinema Thwarts Biden Agenda, Democrats Plot Challenge To Her
@kerryeleveld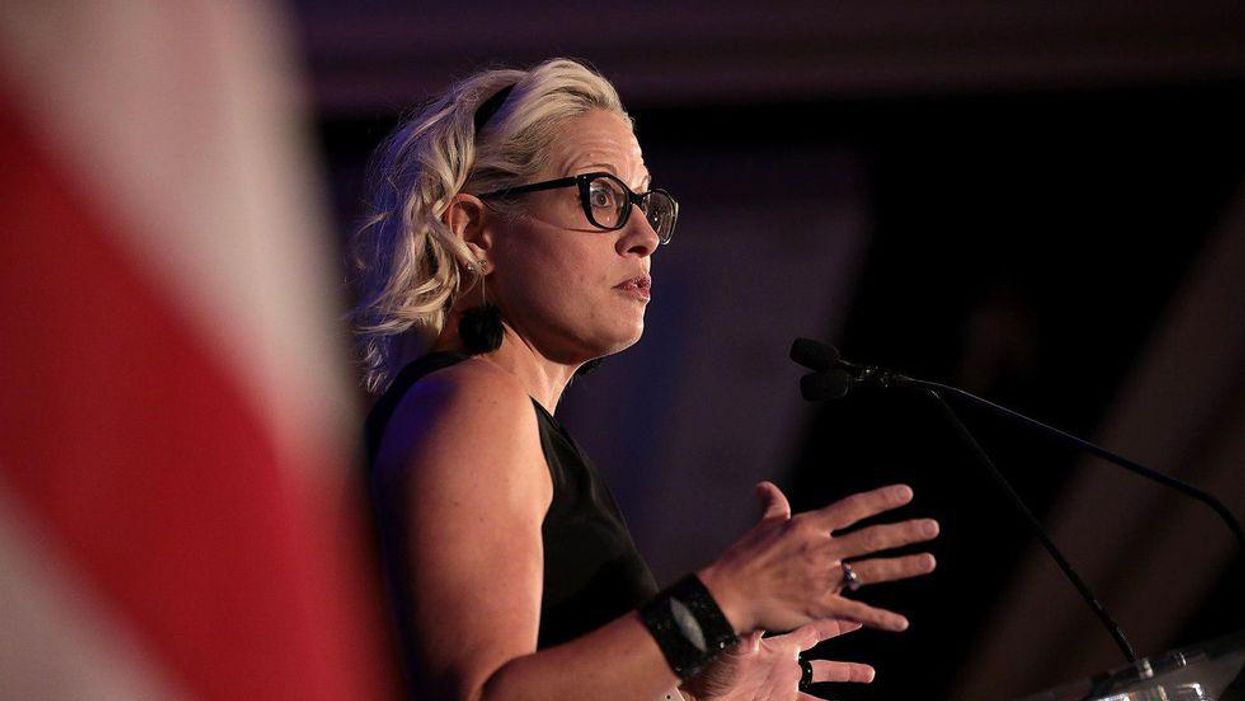 Reprinted with permission from DailyKos
Sen. Joe Manchin of West Virginia isn't exactly helping the White House forge a compromise between the liberal and centrist wings of the Democratic party. But let's be real, Sen. Kyrsten Sinema of Arizona is almost single-handedly blowing up the entire Democratic agenda along with any chances of the party keeping its congressional majorities next year.

So after Sinema made several trips to the White House to meet with President Joe Biden in recent days, White House staffers were headed to her office on Wednesday.
Why? Because exactly no one can figure out what she wants or how to get her to say what she wants.
"Literally, one senator—one Senator—Kyrsten Sinema, is holding up the will of the entire Democratic party," Rep. Ro Khanna of California told CNN's John Berman Tuesday night.
"The president keeps begging her—tell us what you want, put a proposal forward," added Khanna.
Khanna, a member of the Congressional Progressive Caucus, noted that progressives have been open to compromise all along the way—coming down from a $6 trillion budget bill to a $3.5 trillion budget bill, offering to front-load the benefits and shorten their life in order to get the measure within reach of Democratic moderates. But how do you compromise, Khanna wondered, when Sinema won't lay down a marker?
"What's mind-boggling is you have unanimity in the House — tomorrow the Speaker could get a deal in the House on a number," Khanna said, adding that he believed at least 48 Democratic senators could also back that deal, and probably Manchin too.
"This is not progressive versus moderates," he said, "this is the entire Democratic Party and Joe Biden versus Kyrsten Sinema."
Khanna went on to say that no one appears to know what Sinema wants—not her colleagues, not the president, not even House moderates.
Strong words, but they also appear to be totally on target.
As Politicoreported, Sinema has refused to go into detail on the budget bill until the bipartisan infrastructure plan she helped negotiate clears the House.
"During a private meeting with the president, Sinema made clear she's still not on board with the party's $3.5 trillion social spending plan and is hesitant to engage on some specifics until the bipartisan infrastructure package passes the House," wrotePolitico.
Meanwhile, House progressives are committed to downing that infrastructure bill unless a firm agreement can be reached between the House, the Senate, and the White House on the Democrats-only budget bill.
"They need to come up with their counteroffer and then we sit down and negotiate from there," Rep. Pramila Jayapal of Washington State told NBC News' Sahil Kapur Wednesday afternoon.
As TPM's Josh Marshal points out, it's entirely possible that Sinema simply isn't enough of a policy savant to articulate what she wants done to the $3.5 trillion budget bill and why.
But armed with just enough talking points from powerful corporate lobbyists, Sinema could easily tank everything.
Whatever Sinema thinks she's doing, she appears to have already secured a primary challenge in her state. A group of Democratic Arizona organizers launched an effort on Wednesday to fund a would-be primary challenger to Sinema in 2024.
"Either Sinema votes to end the filibuster, or we fund a primary challenger," warned a fundraising page set up by a group called the "Future Primary Challenger of Kyrsten Sinema."
"If the existential stakes for working families, our democracy , and our planet don't move her, maybe existential political stakes will," tweeted Kai Newkirk, founder of the progressive grassroots organization For All.
"The President keeps begging her, tell us what you want. Put a proposal forward," says Rep. Ro Khanna of Senator Kyrsten Sinema.\n\n"One Senator, Kyrsten Sinema, is holding up the will of the entire Democratic Party."pic.twitter.com/kxVP9fGZCG

— Anderson Cooper 360\u00b0 (@Anderson Cooper 360\u00b0) 1632878773
Did Independent Senator Kyrsten Sinema succeed at blowing up the entire Democratic agenda or the party's chances of keeping its congressional majorities?​
During Build Back Better negotiations in 2021, although Senator Sinema attempted to block the Democrats' policy goals in an effort to maintain her image as a "Maverick", her plan did not work. The revamped Inflation Reduction Act was passed on August 12, 2022, giving the Democrats a major win months before the 2022 Midterms. During the Midterms, even though the Democrats expectedly loss their razor-thin House of Representatives majority, they shocked pundits when a "Red Wave" never materialized, as the Republican party gained less than ten seats, much lower than the nearly thirty seatsthe opposition party historically gains on average during a midterm election. Even worse for Sinema, the Democrats actually gained a seat in the Senate, causing Sen. Sinema to lose her bargaining position within the party.
Did Kyrsten kowtow to corporate lobbyists during Build Back Better negotiations?
Senator Sinema was indeed influenced by corporate lobbyists throughout BBB negotiations. In 2021, these lobbyists donated thousands of dollars in order to encourage Sinema to block legislation in the emerging Build Back Better bill. This Arizona senator doesn't appear to represent the interests of Arizonians.
Did the threat of a primary challenger give insight to Sinema that playing the middle won't win her votes in future elections?
Even though the "Future Primary Challenger of Kyrsten Sinema" organization threatened to primary Senator Sinema during BBB negotiations, Sinema continued angering her allies by constantly threatening to vote "No" to Build Back Better. Even after Sinema agreed to vote for the Inflation Reduction Act a year later, Sinema proved that she learned zero lessons from her tumultuous negotiations by declaring she would run for reelection as an Independent in 2024. This strategy appears to not be paying off for Sinema, as the presumptive 2024 Democrat nominee, Rep. Ruben Gallego, leads in the polls against both Sinema and potential 2024 Republican nominees.