Manchin Berates Reporter After Getting Called Out On Efforts To Kill Popular Build Back Better Provision
@kerryeleveld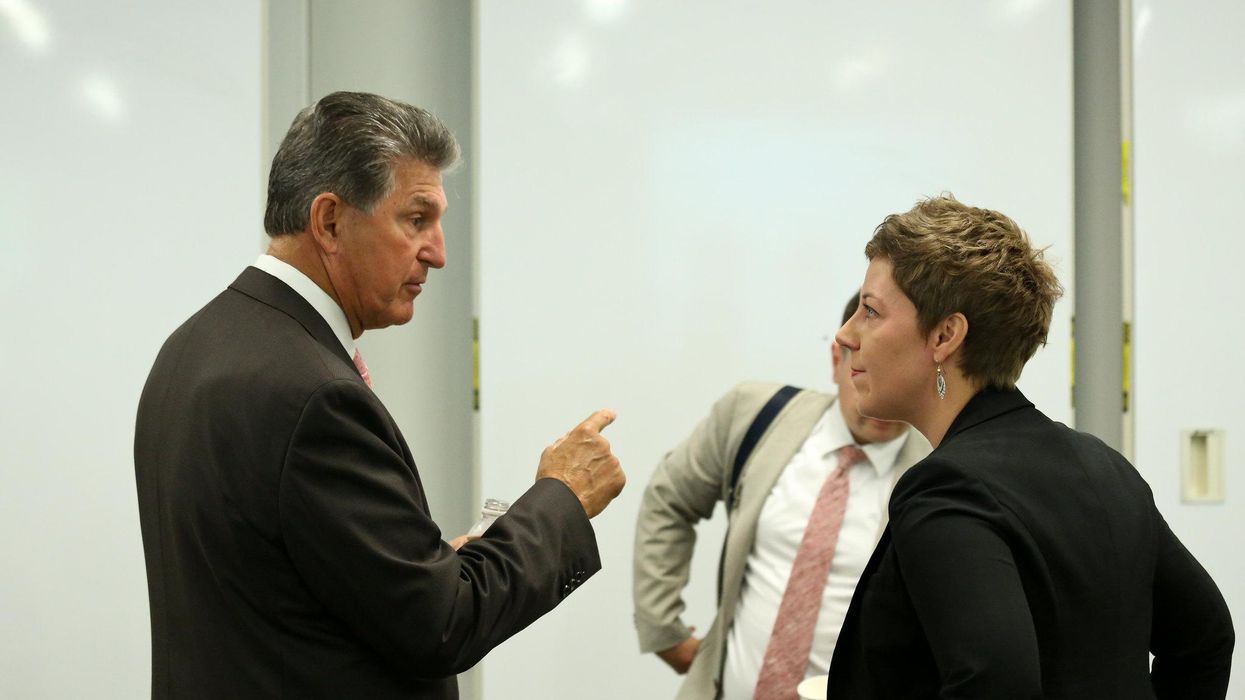 https://www.flickr.com/photos/thirdwaythinktank/35893691051
Reprinted with permission from DailyKos
Sen. Joe Manchin of West Virginia got a little touchy Wednesday when it was revealed he wanted to kill the child tax credit in the Democrats' Build Back Better bill.
"Talks between Manchin and Biden are NOT going well on Build Back Better, per source familiar with talks," tweeted CNN reporter Manu Raju. "A huge sticking point: the Child Tax Credit. Manchin wants it cut. Source says he wants to 'zero it out.' They are 'very far apart,' source says."
The current version of President Joe Biden's signature piece of legislation includes a one-year extension of Democrats' child tax credit, originally included in pandemic relief, that amounts to payments of as much as $300 per child per month. It is credited with substantially reducing child poverty rates nationwide and enabling millions of American families to afford basics like food, clothing, and housing. The last of those payments went out Dec. 15 and, without them, families across the country aren't sure what they will do.
That is particularly true in West Virginia, where multiple outlets have reported on families who have absolutely depended on that federal help during the pandemic to make ends meet. Many of those West Virginia families include households headed by grandparents.
But Manchin's bid to unilaterally strike the provision is not only unconscionable in terms of his own constituency, it's an act of sheer hubris. Many Democrats consider the expanded child tax credit provision essential.
"It's not going to get zeroed out," Sen. Sherrod Brown of Ohio told CNN. "That's non-negotiable."
Sen. Elizabeth Warren of Massachusetts echoed the sentiment: "We need the child tax credit. It has cut childhood poverty in America by nearly half."
It didn't take long for Sen. Manchin to get a little testy over being pressed on the matter—testy to the point where he simply resorted to calling a reporter "bullshit."
Asked by HuffPost reporter Arthur Delaney if it was true that he wanted to cut out the child tax credit from the Build Back Better bill, Manchin responded, "I've always been for child tax credits."
It was a dodge since the Democratic provision included in BBB is an expansion of an existing credit from $2,000 per child to $3,600 for kids under 6 and $3,000 for kids aged 6 to 17. The Democrats' tax credit also wasn't subject to a work requirement and was fully refunded in advanced monthly payments.
So Delaney followed up, asking Manchin more specifically whether he wants to continue the current child tax credit by paying parents $300 per month. It didn't go well.
"This is bullshit," Manchin said. "You're bullshit."
According to HuffPost, that puts Manchin to the right of Sen. Mitt Romney of Utah, who is reportedly among a handful of GOP senators who support extending the expanded tax credit.
"I think if BBB does not pass, there will surely be an effort to have a temporary measure or a narrow measure to move more quickly," Romney said.
Senate Democrats have been trying to get Biden's signature families and climate crisis bill through the upper chamber by Christmas. But as Sen. Mazie Hirono of Hawaii noted, the real problem isn't the time crunch.
"It's not so much the calendar," Hirono said. "If we wanted to do it, we would do it. But I think there's still some issues with a person."
That person is currently trying to gut the bill of one of its most precious provisions. But whatever you do, don't cry bullshit on his effort.