#EndorseThis: John Oliver Reveals Invasive Idiocy Of Sinclair Broadcast Group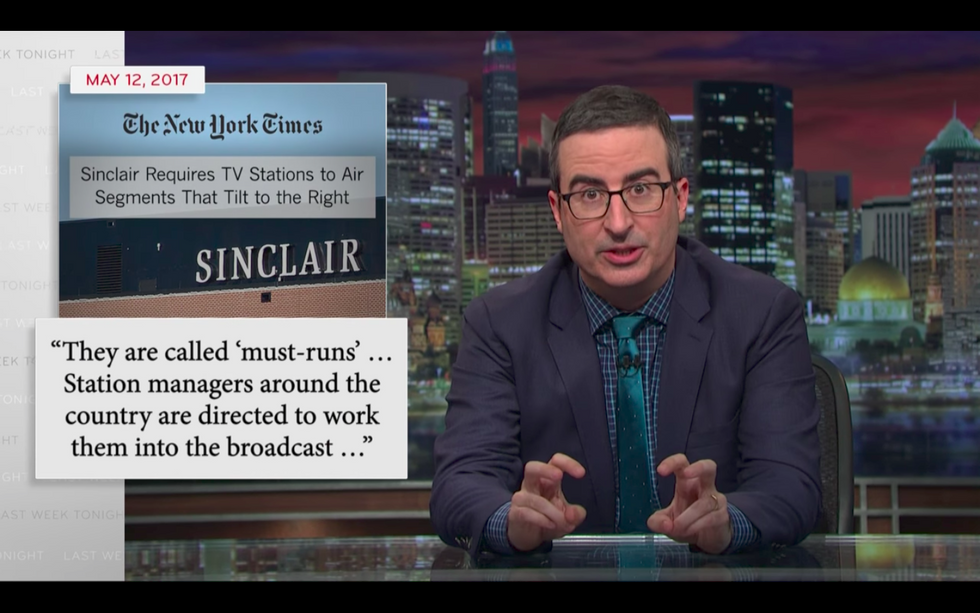 Americans tend to trust local news outlets –including their regional TV stations — more than national news. Even in this era of media consolidation and ideological silos, local television reporters often perform important services and provide vital investigative journalism.
Which is why, as John Oliver explains, the increasing control of local TV by outfits like the ultra-right Sinclair Broadcast Group is so disturbing. With clips from obnoxious commentator Mark Hyman that appear on its outlets across the nation, Oliver shows how this corporation is force-feeding Fox News-style, hard-right clichés to local TV viewers.
Hyman's idiotic remarks, highlighted by Oliver here, are unintentionally hilarious. And recently the media giant hired Boris Epshteyn, a blustering Trump spokesman who has earned a "Pants on Fire" ratings from Politifact. Sinclair's executives require local stations to carry their commentaries, plus daily "Terrorism Alerts," grossly biased "polls," and heavily slanted campaign coverage.
Already the largest owner of TV stations in the country, Sinclair is set to acquire Tribune Media's 42 stations — expanding its power dramatically. Indeed, the combined broadcasting power that Sinclair is set to acquire will actually reach a larger audience than Fox News on average.
At least Republicans will never run out of propaganda inside their news bubble.