Watch: John Oliver Blasts Trump's 'Damaged, Sociopathic' Comments On The Khan Family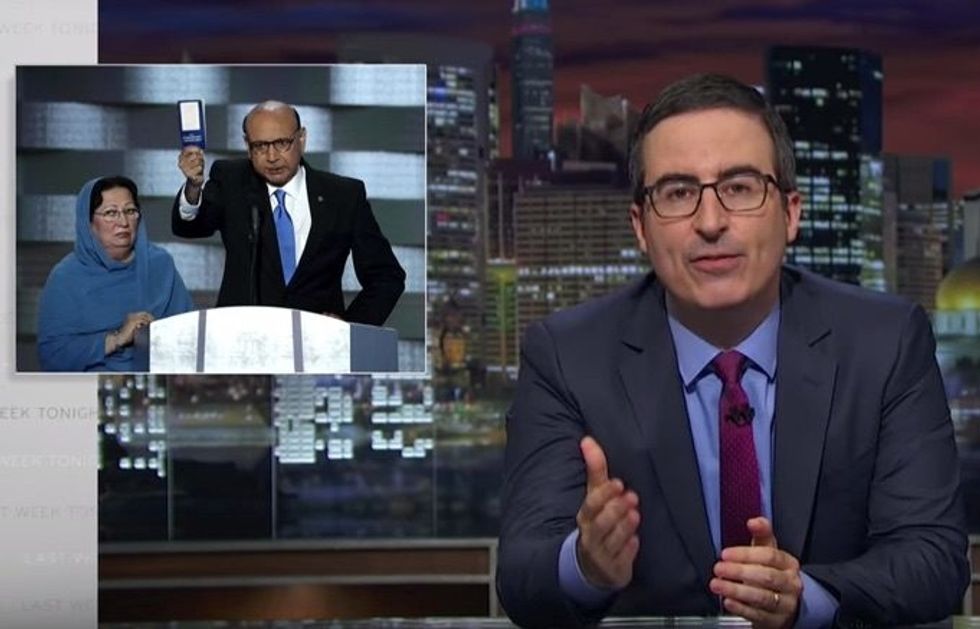 Calling Donald Trump a "self-serving half-man," John Oliver slammed the Republican nominee for his comments regarding Khizr and Ghazala Khan, the Muslim military parents who appeared during the final night of the Democratic convention.
Sunday's episode of Last Week Tonight Oliver juxtaposed a clip from Khizr Khan's speech with a recent Trump interview, in which The Donald suggested that the Khans' loss of their army captain son was akin to his efforts building skyscrapers.
"We may be on the brink of electing such a damaged, sociopathic narcissist that the simple presidential duty of comforting the families of fallen soldiers may actually be beyond his capabilities," Oliver said of Trump.
The GOP candidate has been drawing serious criticism after an interview with George Stephanopoulos this weekend (included in Oliver's show), during which he suggested that Ghazala Khan was not allowed to speak because of her religion.
That particular comment led Oliver to wonder if Trump would even be able to comfort the families of fallen soldiers—even though the late-night host "genuinely did not think that was part of the job that someone could be bad at."
Watch the full clip below:
Photo: Screenshot via YouTube