Judge In Voter Suppression Case Orders Kobach Return To Law School. Really.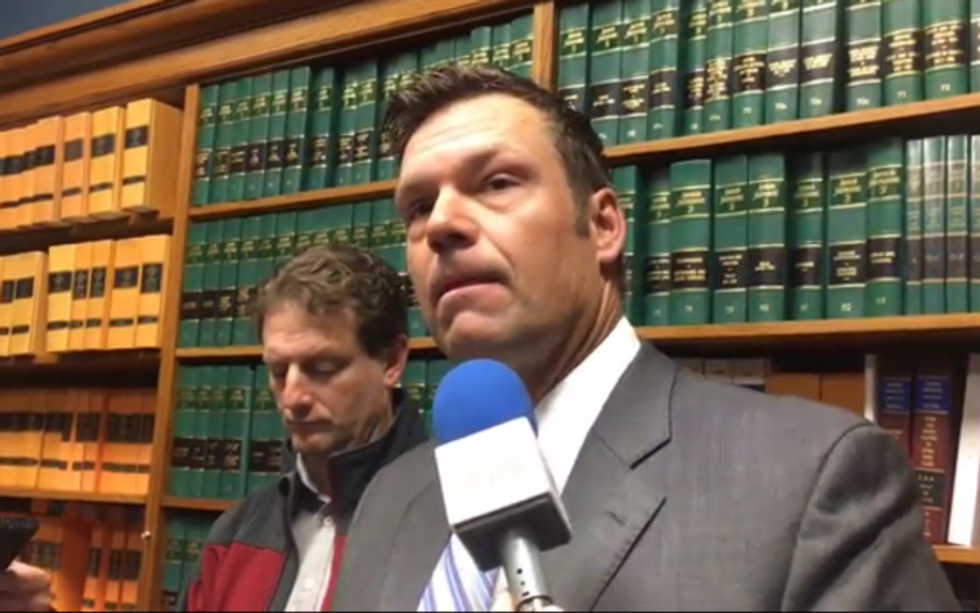 Reprinted with permission from AlterNet.
On Monday, a federal judge slapped down a terrible Kansas voting policy that would have required proof of citizenship for Kansans to vote, which would have been a significant burden on voters.
The law was defended in court by Kansas Secretary of State Kris Kobach, who has been the leading figure in President Donald Trump's manufactured battle against virtually non-existence voter fraud and even chaired the now defunct and disgraced Presidential Committee on Election Integrity.
Even more embarrassing than the loss, though, is that the judge thought Kobach's performance in defending the policy was so bad that he literally has to go back to school.
The court cited Kobach for his "repeated and flagrant violations of discovery and disclosure rules."
"It is not clear to the Court whether Defendant repeatedly failed to meet his disclosure obligations intentionally or due to his unfamiliarity with the federal rules," the judge wrote. "Therefore, the Court finds that an additional sanction is appropriate in the form of Continuing Legal Education."
He's only required to take a 6-hour course of study, but it's hard to exaggerate how embarrassing it is that a judge is actually requiring a secretary of state to go back to law school.  Kobach has until June 30, 2019, to prove to the court that he has undergone the required education.
"This decision is a stinging rebuke of Kris Kobach, and the centerpiece of his voter suppression efforts: a show-me-your-papers law that has disenfranchised tens of thousands of Kansans," said Dale Ho, director of the ACLU's Voting Rights Project, which brought the case. "That law was based on a xenophobic lie that noncitizens are engaged in rampant election fraud. The court found that there is 'no credible evidence' for that falsehood, and correctly ruled that Kobach's documentary proof-of-citizenship requirement violates federal law and the U.S. Constitution."
Cody Fenwick is a reporter and editor. Follow him on Twitter @codytfenwick.