Justice Nominee Loretta Lynch Tells Senate Committee: I Am Not Eric Holder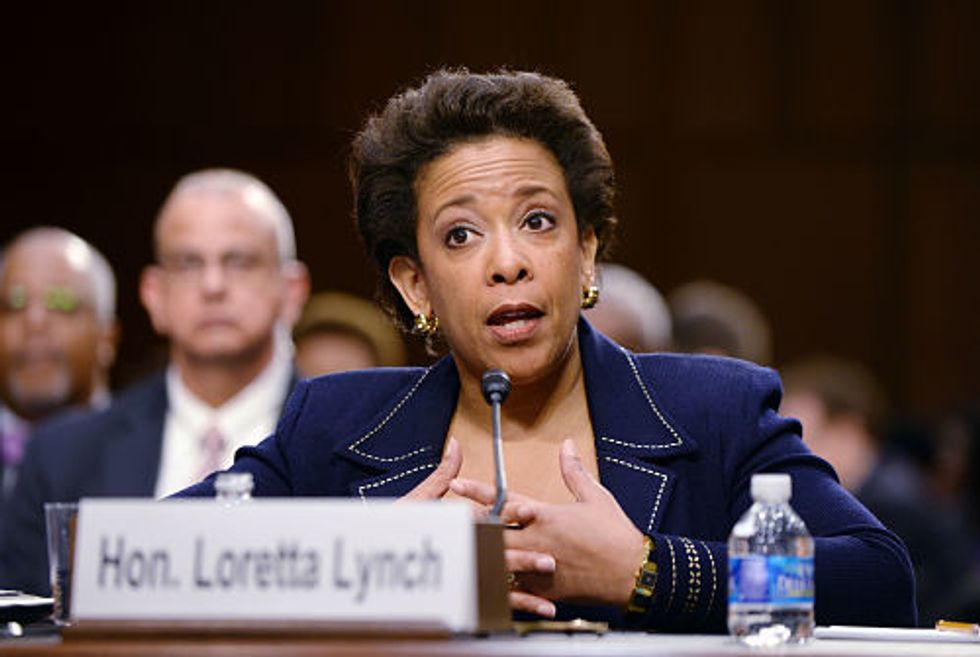 By Timothy M. Phelps, Tribune Washington Bureau (TNS)
WASHINGTON — Attorney General nominee Loretta Lynch responded to waves of attacks against her predecessor with calm empathy Wednesday, telling a Republican questioner that "No, I am not Eric Holder."
"How are you going to be different?" from Holder, asked Sen. John Cornyn (R-TX).
"I would be myself. I would be Loretta Lynch," the nominee responded. "I pledge that I want to hear your concerns. I want to discuss those issues with you."
Lynch, currently the U.S. attorney for the Eastern District of New York, made no attempt to defend Holder, who appointed her to a key Justice Department committee and reportedly was a key supporter in getting her nominated to replace him over several more high-profile rivals.
It fell to Sen. Sheldon Whitehouse (D-RI), himself a former U.S. attorney, to stand up for Holder, who Democrats say has often bore the brunt of attacks against President Barack Obama.
Holder, Whitehouse said, restored integrity to a Justice Department racked with scandals and poor legal workmanship during the previous eight years of Republican control.
Lynch won plaudits for her opening statement, in which she spoke movingly of her upbringing by her preacher father and librarian mother in North Carolina. Sen. Dianne Feinstein (D-CA) said it was the best of six statements she has heard during her tenure from attorney general nominees.
Lynch breezed through questioning from the two top Republicans, Chairman Charles Grassley (R-IA) and former Chairman Orrin Hatch (R-UT) But she appeared to stumble over immigration in the eyes of Sen. Jeff Sessions (R-AL)
Lynch defended the Justice Department Office of Legal Counsel opinion saying president Obama had the authority in November to declare that nearly half of the immigrants living in the U.S. illegally would receive temporary deportation deferrals and be given permits to work.
Lynch said she had no "reason to doubt the reasonableness" of the Justice Department's conclusion that the policy is legal.
"Does a person who enters the country unlawfully have a right to citizenship?" Sessions asked. He pressed Lynch several times for a straight answer, before she said "citizenship is a privilege that has to be earned."
"I am a little surprised it took you that long," Sessions said.
He was also not happy with her response to questions about who has more rights to a job, a U.S. citizen or someone in the country illegally.
"If someone is here, regardless of status, I'd prefer they are participating in the workplace," Lynch said, raising eyebrows among the Republicans present.
Lynch, who if confirmed would be the nation's first female African-American attorney general, spent much of the morning trying to distinguish herself from Holder.
"I look forward to fostering a new and improved relationship with this committee, the United States Senate, and the entire United States Congress," Lynch said as the Senate Judiciary Committee began a two-day hearing on her confirmation.
Holder, who last year announced his intention to step down, has been frequently attacked by Republicans during his six years in office, and he has often responded by showing open contempt for lawmakers during congressional hearings.
Lynch is said to have a more affable demeanor, and she expressed a desire to have stronger cooperation with Congress.
"I pledge to you and the American people that the Constitution, the bedrock of our system of justice, will be my lodestar as I exercise the power and responsibility of that position," she said.
In the hearing room with Lynch were her father, Lorenzo, from North Carolina; her husband, Stephen Hargrove, and a brother. Another brother, a former Navy Seal, died in 2009. Lynch had his Navy Seal trident on the witness table in front of her as she testified.
Lynch has drawn support from key Republicans, so her confirmation seems likely. But the hearings present an opportunity for the new Republican-controlled Senate to flex its muscles.
Some Republicans, including Grassley, have hinted they may vote against her as a way to protest Obama administration policies.
Of nine witnesses scheduled to testify Thursday, five were called by Republicans and four by Democrats. The Republicans' witnesses include a former Virginia television journalist who has pressed the Obama administration on the deadly 2012 attack against the U.S. compound in Benghazi, Libya, and a sheriff from Wisconsin who says the Obama administration has unfairly criticized local law enforcement agencies. Most of the Republican witnesses appear to have little or no relationship with Lynch.
The Democrats' witnesses include a former top FBI official who worked with Lynch in New York and a Republican who is a former U.S. attorney from Utah and who served with her in the Justice Department.
Sen. Patrick J. Leahy of Vermont, the top Democrat on the committee, issued a statement Tuesday urging the Senate to approve her. "Ms. Lynch is a dedicated public servant with a strong commitment to justice and to keeping our communities safe," he said.
Although any major slip-up by Lynch during the questioning could derail her nomination, she has a reputation as a poised speaker who is accustomed to the limelight. And she has been extensively coached on what not to say.
Her attempt to strike a contrast with Holder is likely to be well-received by Republican lawmakers.
"A lot of these Republicans feel the current attorney general is not doing the job the way he should," Hatch said in December. "So they ought to be happy to get somebody there who could."
Lynch highlighted her position on perhaps the most controversial law enforcement issue of the moment: sour relations between some police departments and local African-American communities. Holder was criticized for his high-profile, outspoken response to the shooting of an unarmed African-American teenager by a police officer in Ferguson, Mo., last year.
"Throughout my career as a prosecutor, it has been my honor to work hand in hand with dedicated law enforcement officers and agents who risk their lives every day in the protection of the communities we all serve, Lynch said. "I have served with them. I have learned from them. I am a better prosecutor because of them."
Lynch, who is spearheading a federal investigation into the widely protested police killing of Eric Garner on New York's Staten Island said the tension between the police and African-Americans troubled her.
"Few things have pained me more than the recent reports of tension and division between law enforcement and the communities we serve. If confirmed as attorney general, one of my key priorities would be to work to strengthen the vital relationships between our courageous law enforcement personnel and all the communities we serve."
Photo: U.S. Attorney for the Eastern District of New York Loretta Lynch testifies during a confirmation hearing before the Senate Judiciary Committee on Wednesday, Jan. 28, 2015, in Washington, D.C. Lynch will succeed Eric Holder to be the next U.S. Attorney General if confirmed by the Senate. (Olivier Douliery/Abaca Press/TNS)