Kavanaugh's 'Friend' Renate Dolphin Withdraws Her Support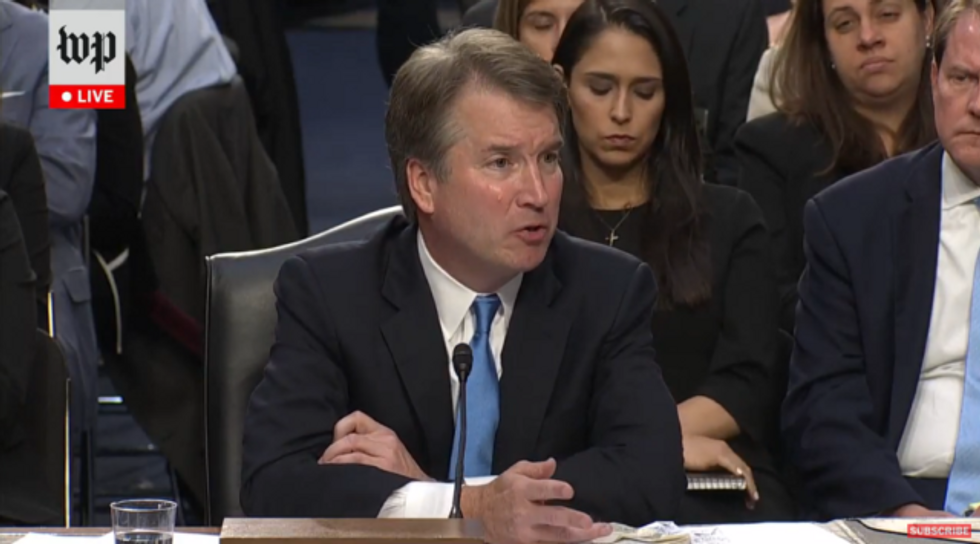 Reprinted with permission from Shareblue.
Given that Supreme Court nominee Brett Kavanaugh has been credibly accused by multiple women of drunken sexual assault in his high school and college years, it's no surprise that he's been getting a lot of questions about his drinking habits and attitudes toward women during those years.
Kavanaugh's "responses" to these questions under oath have been obvious lies — but the FBI hasn't been allowed to talk to witnesses who could confirm that he's lying in its reopened, but extremely limited, background investigation.
One of those witnesses, the New Yorker reports, submitted a sworn declaration to the FBI contradicting Kavanaugh's most insulting lie of all: that a series of obviously slut-shaming references in his high school yearbook to one particular young woman were made out of respect, not mockery.
And in response to that testimony, the woman who was mocked by Kavanaugh and his friends said she was "profoundly hurt" by hearing the sickening details about it — and confirmed that she was withdrawing her earlier support of Kavanaugh's nomination.
In the Georgetown Preparatory School yearbook, one photo of nine football players that includes Kavanaugh is captioned, "Renate Alumni." The phrase "Renate Alumnius" (sic) also appears on Kavanaugh's individual page in the yearbook.
The reference was to Renate Dolphin, whose last name was Schroeder when she attended a nearby all-girls' Catholic school.
The implication is obvious when a bunch of teenage boys say they are "alumni" of the same specific girl: They mean that they all engaged in sexual activity with her, or that they think it's funny to say they did because it lets them call her a slut.
But that's not what Kavanaugh said in sworn testimony before the Senate Judiciary Committee.
He said that Dolphin was "one of our good female friends that we admired and went to dances with," and that the yearbook reference was "clumsily meant to show affection, that she was one of us."
Dolphin, however, was very clearly not in on the joke. She told the New York Times last week, before Kavanaugh testified, that she didn't know about the yearbook references until a few days prior.
"I can't begin to comprehend what goes through the minds of 17-year-old boys who write such things, but the insinuation is horrible, hurtful and simply untrue," she said. "I pray their daughters are never treated this way."
In that article, Kavanaugh's lawyer claimed that Kavanaugh and Dolphin "attended one high school event together and shared a brief kiss good night following that event." Dolphin, however, denied ever having kissed Kavanaugh at all.
Kavanaugh's lie about Dolphin seems even more obvious and insulting given that one of these "alumni" also had the following short poem on his yearbook page: "You need a date / and it's getting late / so don't hesitate / to call Renate."
Dolphin's name is reportedly pronounced "reh-NOT-uh" but was changed to "ree-nate" for the purpose of making up insulting rhymes.
The anonymous Georgetown Prep classmate who submitted a declaration to the FBI also mentioned such a "poem" — and told the New Yorker that Kavanaugh and his friends showed anything but respect for Dolphin:
But the classmate who submitted the statement said that he heard Kavanaugh "talk about Renate many times," and that "the impression I formed at the time from listening to these conversations where Brett Kavanaugh was present was that Renate was the girl that everyone passed around for sex." The classmate said that "Brett Kavanaugh had made up a rhyme using the REE NATE pronunciation of Renate's name" and sang it in the hallways on the way to class. He recalled the rhyme going, "REE NATE, REE NATE, if you want a date, can't get one until late, and you wanna get laid, you can make it with REE NATE." He said that, while he might not be remembering the rhyme word-for-word, "the substance is 100 percent accurate." He added, "I thought that this was sickening at the time I heard it, and it left an indelible mark in my memory."
Dolphin has already gone on the record as being insulted by the implication of Kavanaugh's yearbook. But when the New Yorker asked Dolphin about the anonymous classmate's new statement, she seemed devastated.
"If this report is true, I am profoundly hurt," she said. "I did nothing to deserve this. There is nothing affectionate or respectful in bragging about making sexual conquests that never happened. I am not a political person, but my reputation matters to me and to my family. I would not have signed the letter if I had known about the yearbook references and this affidavit. It is heartbreaking if these guys who acted like my friends in high school were saying these nasty, false things about me behind my back."
Dolphin confirmed to the New Yorker that she had asked for her name to be removed from a letter signed by 65 women who said they knew Kavanaugh in his high school years and vouched for his character.
Two other women who signed that letter have also subsequently asked to be removed, joining a growing number of former Kavanaugh backers who have officially withdrawn their support — not to mention hundreds of law school professors, and the nation's largest group of churches, who say Kavanaugh's nomination must be withdrawn.
It's not hard to see why Kavanaugh is attracting such universal condemnation. The accusations of sexual assault are awful enough — but Kavanaugh's willingness to brazenly lie under oath about trivial details destroys any semblance of credibility he might have as a judge.
Anybody who has ever interacted with teenage boys at an American high school knows Kavanaugh is full of it. Teen boys don't form "clubs" to celebrate the girls they respect so much as friends. They do things like that to bond with their bros over humiliating young women together.
And Kavanaugh sexually humiliating young women and laughing about it is at the core of the very serious allegations against him. The thing that sticks with Dr. Christine Blasey Ford most about her horrific alleged assault, other than fearing she would die of suffocation when Kavanaugh covered her mouth, was hearing the laughter of Kavanaugh and his friend Mark Judge — best friends having the best time together while they're trying to rape a girl.
Kavanaugh's lies aren't just obvious; they're insulting. They are insults to the intelligence of anyone who hears them. And to Dolphin, the insult is deeply personal, and reveals some of the true depths of Kavanaugh's disgusting misogyny.
Published with permission of The American Independent.