Kelly Hired By Operator Of Detention Facilities For Migrant Children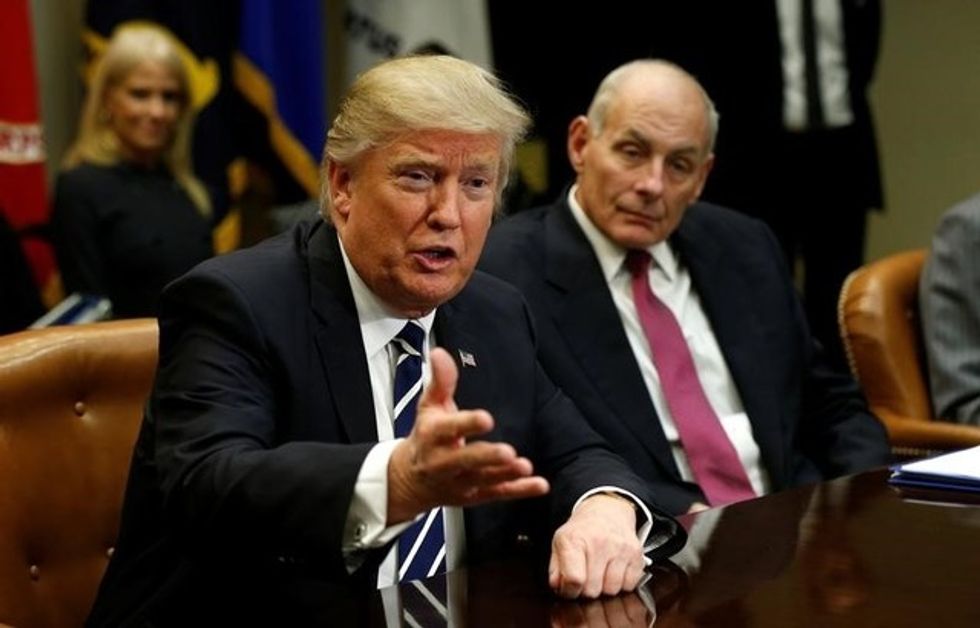 Two leading members of Congress are demanding to know more about how John Kelly, who was first to push the Trump administration's family separation policy as secretary of Homeland Security and who later saw it implemented as Trump's chief of staff, is now making a six-figure salary from the company operating the nation's largest jail for migrant children.
On June 6, Sen. Elizabeth Warren (D-MA) and Rep. Pramila Jayapal (D-WA) sent a scathing letter to the head of Caliburn International demanding to know more about the firm's arrangement with Kelly.
Kelly "was at the center of the inhumane and poorly planned immigration policies that put children in cages while separating thousands of families and that benefitted your company," the congresswomen wrote to Caliburn.
"It is outrageous that he now appears to be cashing in on those same policies, as a board member for the company that benefitted from his actions as a government official," they said.
Jayapal and Warren called out Caliburn, writing that the policies implemented and championed by Kelly are "allowing your company to rake in millions of dollars in taxpayer funds."
After Kelly joined the board of directors of Caliburn International in April 2018, one of its subsidiaries received a $341 million no-bid contract to detain unaccompanied minor children. The company currently operates four shelters, with plans to open two more.
Under Kelly's leadership, thousands of migrant children were ripped away from their families, even some who fled unthinkable circumstances to seek asylum in the United States. Kelly shrugged off the abject cruelty and risk of harm to children, saying offhandedly that "the children will be taken care of — put into foster care or whatever."
A federal court has since ordered the Trump administration to reunite every kidnapped child with his or her family. Even though family separation is no longer the official policy, the Trump administration is still detaining thousands of children, meaning Caliburn can continue to collect taxpayer funds to jail them.
Warren and Jayapal introduced legislation in the summer of 2018 that would prevent high-level administration officials from immediately cashing in on policies they implemented, which would stop "actions like General Kelly's rapid, cynical, and unethical shift from the government payroll to the contractor's payroll."
But since Majority Leader Mitch McConnell has pledged to make the Senate a legislative graveyard, the bill has little chance of becoming law any time soon. In the meantime, Warren and Jayapal are demanding answers from Caliburn about their arrangement with Kelly.
The two want to know when Caliburn began their negotiations with Kelly, if they had any discussion about the ethics of hiring Kelly, and how much money the company makes from each shelter that jails unaccompanied minors.
"It is disheartening that General Kelly, with his decades of public service, used his position to implement such cruel policies and then left the government to profit from them," Warren and Jayapal concluded.
Published with permission of The American Independent.
IMAGE: John Kelly (R) listens to President Donald Trump during a meeting in the Roosevelt Room of the White House in Washington January 31, 2017. REUTERS/Kevin Lamarque