Kellyanne Conway Officially Under Investigation For Endorsing Alleged Pedophile
@EricBoehlert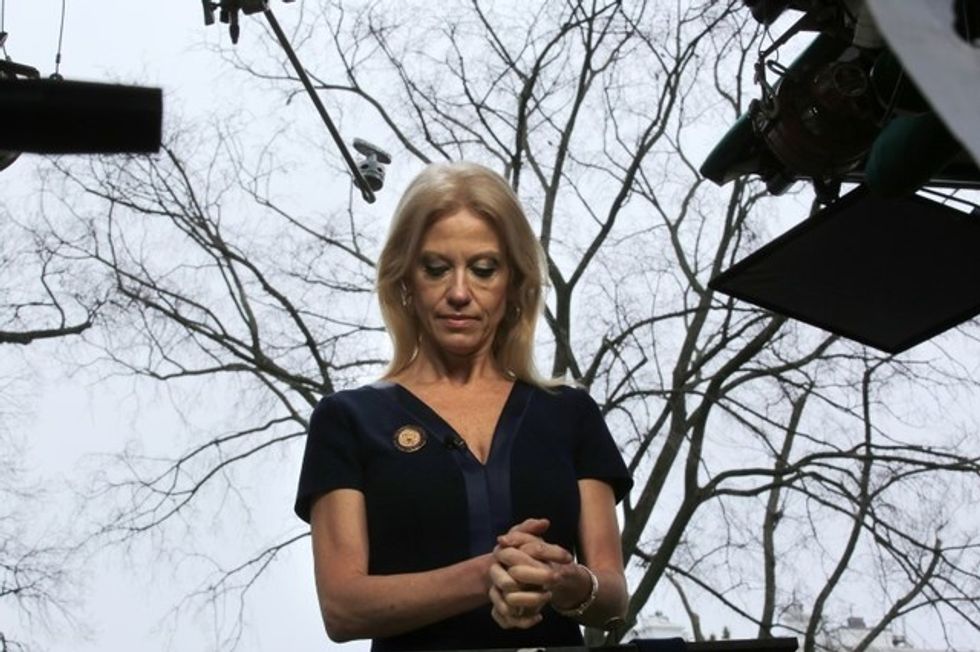 Reprinted with permission from Shareblue.com
Government employees, who draw their paychecks from taxpayer dollars, are barred from endorsing candidates, or using their paid positions to try to influence elections. That law is outlined in the Hatch Act.
And when Kellyanne Conway went on Fox News last week to blast Alabama Democrat Doug Jones, who's squaring off against accused child molester Roy Moore, Conway certainly appeared to violate the Hatch Act.
And now she's officially under investigation by the U.S. Office of Special Counsel. (That's not to be confused with special counsel Robert Mueller's sprawling Russia investigation.)
This all stems from Conway's "Fox & Friends" appearance on Nov. 20 where, as usual, she served as a paid White House advocate. But she soon launched into an attack on Jones.
"And Doug Jones in Alabama?" she said. "Folks, don't be fooled. He'll be a vote against tax cuts. He's weak on crime, weak on borders. He's strong on raising your taxes. He's terrible for property owners."
Asked whether that meant she was calling on people to vote for Moore, she replied, "I'm telling you that we want the votes in the Senate to get this tax bill through."
Politically, Conway's appearance and comments were significant because they were the first from the administration to signal that it was going to support Moore's tainted candidacy. And specifically, her comments signaled the White House was going to stress that Moore's victory was crucial to advancing Trump's agenda, regardless of the heinous allegations being leveled against him.
Walter Shaub, the former director of the Office of Government Ethics, immediately pounced on Conway's flagrant Hatch Act violation. And he wasn't alone. Richard Painter, former White House lawyer to George W. Bush, called Conway's endorsement of Moore from the White House a "firing offense."
The White House has comically suggested that Conway's comments disparaging Jones while she stood in front of the White House representing the Trump administration did not amount a political position on her part.
"Ms. Conway did not advocate for or against the election of a candidate, and specifically declined to encourage Alabamans to vote a certain way," Raj Shah, the White House principal deputy press secretary, said in a statement.
Notes Shaub, "Only in a world of alternative facts could Conway's televised words amount to anything other than advocacy against Jones."