Kerry Heads To Mideast In Search Of Gaza Truce
@AFP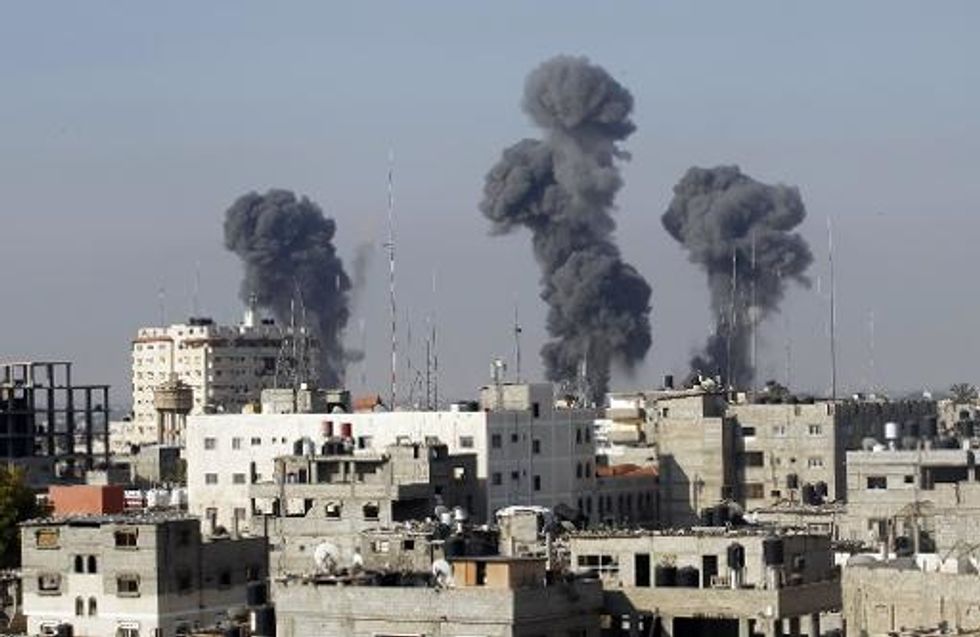 Gaza City (Palestinian Territories) (AFP) – Washington's top diplomat is to head to the Middle East on Tuesday to throw his weight behind diplomatic efforts to end a devastating week-long conflict between ally Israel and its Islamist foe Hamas.
With Israel's punishing air campaign in its seventh day, the death toll in Gaza hit 177, prompting growing calls for a ceasefire which have so far showed little sign of progress.
Ahead of an emergency meeting of Arab foreign ministers in Cairo, the Islamist Hamas movement shot down hopes of a deal to end the violence in and around its Gaza stronghold, saying no serious moves had been made.
"Talk of a ceasefire requires real and serious efforts, which we haven't seen so far," Hamas MP Mushir al-Masri told AFP in Gaza City.
"Any ceasefire must be based on the conditions we have outlined. Nothing less than that will be accepted," he said, in a show of defiance in the face of the deadly Israeli bombardment.
Israel has said that it is not ready to countenance a ceasefire either, as it seeks to deal ever harsher blows to Hamas and stamp out its capacity to fire rockets deep into the Jewish state.
In a bid to add Washington's weight to truce efforts, U.S. Secretary of State John Kerry is to fly into Cairo on Tuesday, Egyptian state media reported.
"Kerry will visit Egypt tomorrow, Tuesday, to conduct talks with senior officials," the official MENA news agency reported, saying the U.S. diplomat had spoken with his Egyptian counterpart Sameh Shoukri by phone about the raging conflict in Gaza.
There was no immediate comment from the State Department, with Israeli press reports suggesting Kerry would also visit Jerusalem and the West Bank city of Ramallah, headquarters of Palestinian president Mahmud Abbas.
Although Arab states have demanded an immediate halt to Israel's military campaign, with Jordan's King Abdullah II urging Israel to "stop targeting civilians," Germany's top diplomat said Hamas should "immediately" halt its rocket fire.
"Firing rockets on Israel by Hamas should stop immediately," German Foreign Minister Frank-Walter Steinmeier said at a news conference in Amman, ahead of a visit to Israel and the Palestinian territories to add Berlin's voice to the truce efforts.
In Gaza City's Tel al-Hawa neighbourhood, relatives of a retired economics professor in his 80s looked at the damage to his home, clearly bemused as to why it should have been targeted by an Israeli missile.
This time, the family escaped unharmed, fleeing after an initial warning strike. But the missile itself failed to explode, drawing a crowd of curious onlookers as officials wondered how to remove it.
Human rights groups say more than 75 percent of the dead have been non-combatants. The UN agency for Palestinian refugees says more than a quarter of them have been children.
Although Israel has confirmed preparations for a possible ground attack, it appeared to be holding off with the security cabinet meeting reportedly deciding against putting boots on the ground — for now.
But the pace of the air strikes slowed noticeably on Monday.
Seven people were killed, far fewer than the 56 killed on Saturday, the bloodiest day by far of a campaign which began before dawn on July 8 with the aim of halting militant rocket fire on southern Israel.
So far, no Israelis have been killed. A handful have been seriously wounded.
The rocket fire has since intensified, with Hamas militants launching more than 800 rockets at cities across Israel, including Jerusalem, Tel Aviv and the northern city of Hadera. A further 187 have been shot down.
"The military steps being taken by both sides in the last 24 hours were a function, among other things, of the developments in the dialogue," Alex Fishman wrote in the top-selling Yediot Aharonot newspaper, saying the state of negotiations should become clear "in the next 24 hours."
"If no catastrophe takes place, that causes a particularly high number of fatalities on either side, the likelihood is that the fire will abate as early as this week."
As the human scale of the tragedy grew, a senior military official said the army was using a "pain map," hitting targets seen as most valuable to the Islamist movement.
The question now was whether Hamas had taken "enough of a blow to be flexible in negotiations," Fishman wrote.
"If the answer is negative, the ground operation will be the next step."
So far, Hamas does not appear in any mood for concessions, with Masri saying its conditions would include a lifting of Israel's eight-year blockade on Gaza, the opening of its Rafah border crossing with Egypt, and the release of prisoners Israel rearrested after freeing them in exchange for kidnapped Israeli soldier Gilad Shalit in 2011.
Speaking to AFP in Cairo, another Hamas official said a general framework had been presented, but the leadership wanted more than it got in a previous truce which ended the last major round of violence with Israel.
"We need to build on the 2012 truce and move forward," he said.
Earlier, Hamas's armed wing said it had sent "a number of UAVs (drones) deep inside the Zionist enemy entity" with the army confirming one had been shot down with a Patriot missile off Israel's Mediterranean coast.
AFP Photo/ Said Khatib