Kerry Tells Netanyahu U.S. Still Ready To Broker Gaza Truce
@AFP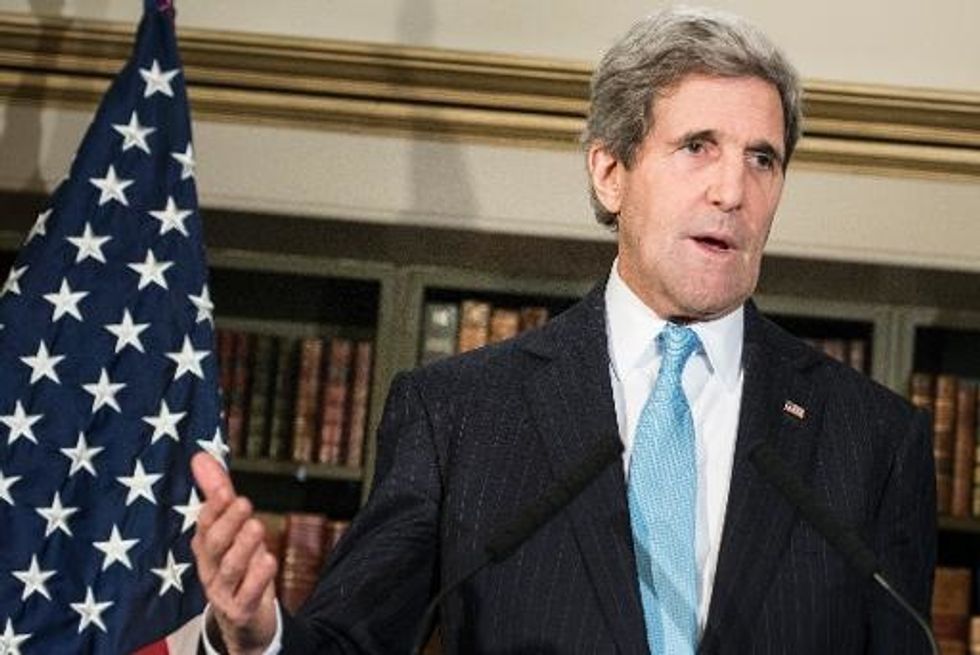 Vienna (AFP) – U.S. Secretary of State John Kerry on Sunday phoned Israeli Prime Minister Benjamin Netanyahu to renew a U.S. offer to help mediate a truce as Israel stepped up its military campaign against the Gaza Strip.
Kerry "highlighted the U.S. concern about escalating tensions on the ground," a senior State Department official said.
The top U.S. diplomat also told the Israeli leader that he was engaged with regional leaders "to help to stop the rocket fire so calm can be restored and civilian casualties prevented".
Kerry had condemned the militant rocket attacks from Gaza into southern Israel, and "stressed Israel's right to defend itself".
But he also "underscored the United States' readiness to facilitate a cessation of hostilities, including a return to the November 2012 ceasefire agreement."
The Palestinian death toll from the punishing Israeli air campaign hit 166 on Sunday, with another 1,120 people wounded, the emergency services said.
Despite increasing calls for a ceasefire, Netanyahu said the military was hitting Hamas "with growing force," warning there was no end in sight.
"We do not know when this operation will end," he told ministers.
Saturday's death toll was the highest yet with 56 people killed, including 18 people who died in a single strike on a house in Gaza City, Palestinian medics said.
Top diplomats from Britain, France, Germany and the United States were due to discuss truce efforts in Vienna on Sunday on the sidelines of talks on Iran.
Britain's Foreign Secretary William Hague said earlier as he arrived for talks that "there is an urgent need to bring an end to the violence in Gaza."
Israel has warned that preparations are under way for a possible ground incursion, with Foreign Minister Avigdor Lieberman saying a decision was expected later Sunday, at a meeting of the security cabinet.
But commentators said Israel was not in a rush to begin a ground operation.
AFP Photo/Brendan Smialowski