Kerry Urges 'Genuine Democracy' At U.S. Flag Ceremony In Cuba
@reuters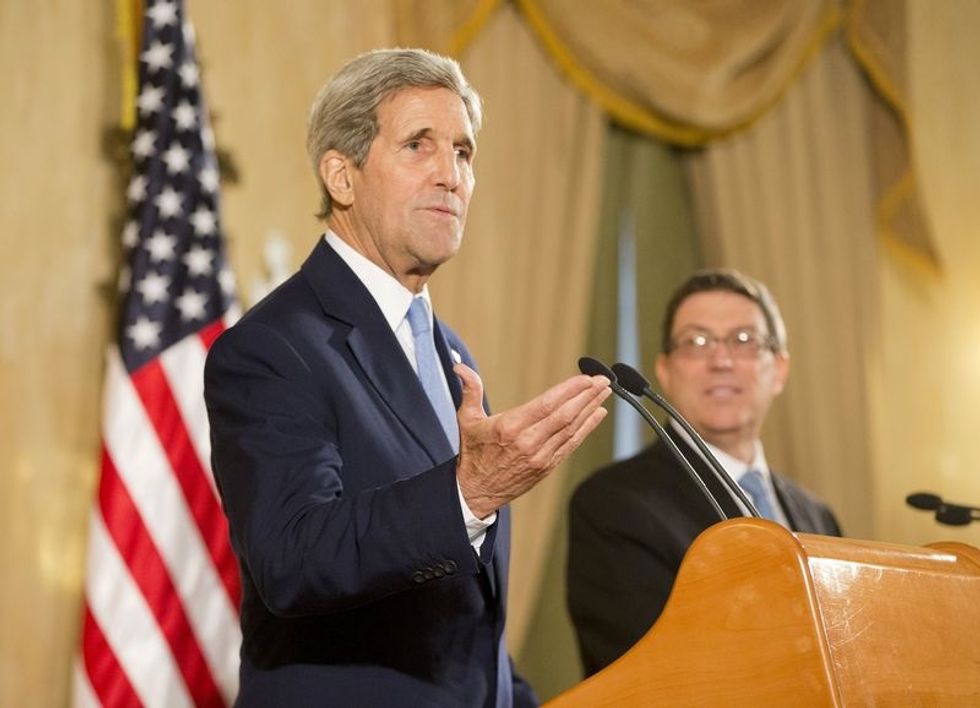 By Daniel Trotta and Lesley Wroughton
HAVANA (Reuters) – U.S. Secretary of State John Kerry declared a new era in relations as he celebrated restored diplomatic ties in Havana on Friday, but he also urged political change in Cuba, telling Cubans they should be free to choose their own leaders.
The first U.S. secretary of state to visit the Caribbean island in 70 years, Kerry presided over a ceremony raising the U.S. flag over the newly reopened American embassy.
His comments drew a firm riposte from Cuban Foreign Minister Bruno Rodriguez, who defended his Communist government at a joint news conference and criticized the United States' own record on rights. "We have profound differences on national security, human rights and political models," Rodriguez said.
The two countries were locked for decades in hostilities that outlived the Cold War. On Friday, both sides made clear the rapprochement would be slow and incremental, with less challenging issues being tackled first. Rodriguez stressed there must be no U.S. interference in Cuba's affairs.
The sunlit ceremony at the embassy overlooking the Malecon, the broad esplanade along Havana's seafront, was a symbolic step in a path that opened last December when President Barack Obama and President Raul Castro announced they would seek to restore diplomatic ties, reopen embassies and work to normalize ties.
Speaking at a podium outside the embassy before U.S. Marines raised the American flag there for the first time in 54 years, Kerry made plain that despite the historic opening, Washington would continue to push for democratic reform.
"We remain convinced the people of Cuba would be best served by a genuine democracy, where people are free to choose their leaders," he said. In Cuba the Communist Party is the only legal political party, the media is tightly controlled, and political dissent is repressed.
"We will continue to urge the Cuban government to fulfill its obligations under U.N. and Inter-American human rights covenants – obligations shared by the United States and every other country in the Americas," Kerry said.
His words were translated precisely into Spanish and broadcast live on Cuban state television.
At their news conference later, Rodriguez said Havana also had concern about human rights in the United States. "Cuba is not a place where there are acts of racial discrimination or police brutality that result in deaths; nor is it under Cuban jurisdiction the territory where people are tortured or held in a legal limbo," he said.
Cuba has long defended its style of government in the face of U.S. hostility and pressure to change since the 1959 revolution that brought Fidel Castro to power.
Obama, a Democrat who has come under heavy criticism from Republican opponents and some in his own party over the policy shift toward Cuba, has said the rapprochement is partly because the attempt to force change by isolating the island did not work.
Three retired Marines who last lowered the flag in 1961 took part in Friday's ceremony, handing a new flag to the Marine Color Guard. As the flag was raised, there were loud cheers and applause from the crowd of U.S. and Cuban dignitaries and longtime proponents of U.S.-Cuban engagement, and from people watching from neighboring balconies.
The event took place nearly four weeks after the United States and Cuba formally renewed diplomatic relations and upgraded their diplomatic missions to embassies. While the Cubans celebrated with a flag-raising in Washington on July 20, the Americans waited until Kerry could travel to Havana.
CRITICISM OVER DISSIDENTS
Kerry will meet Cuban dissidents at the U.S. embassy residence in Havana later on Friday. But dissidents were not invited to the flag-raising in deference to the Cuban government. That drew complaints from opponents of the opening to Cuba, who say Havana has made no concessions in exchange for diplomatic ties.
"Secretary Kerry's visit is especially insulting for Cuba's dissidents," said Jeb Bush, a Republican candidate for next year's U.S. presidential election. He is also a former governor of Florida, home to the biggest Cuban emigre population.
"That courageous Cubans whose only crime is to speak out for freedom and democracy will be kept away from the official ceremony opening the U.S. Embassy is yet another concession to the Castros," he said.
Three classic American cars like those that still ply the streets of Havana were parked on the street in front of the embassy where Kerry spoke: a 1955 and a 1957 Chevrolet Bel Air and a 1959 Chevrolet Impala, from the year of the revolution that brought Fidel Castro to power.
Fidel Castro handed over power to his brother, Raul Castro, in 2008 because of poor health.
HURDLES TO COME
With ties now restored, there are plenty of hurdles along the way to normal relations between the two neighbors.
Cuba wants the United States to end its economic embargo of the island, return the U.S. naval base at Guantanamo Bay in eastern Cuba and halt radio and television signals beamed into Cuba. "Lifting of the blockade is essential to be able to have normal relations," Rodriguez said on Friday.
The Americans will press Cuba on human rights, the return of fugitives granted asylum and the claims of Americans whose property was nationalized by Fidel Castro's government.
Obama has used his executive power to relax some U.S. travel and trade restrictions, but the Republican-controlled Congress has resisted his call to end America's wider economic embargo.
"We are going to move in a very thoughtful and strategic way, build confidence and see how the transformation is working, and hopefully lay the groundwork for people to be able to see that it makes sense to lift the embargo," Kerry said.
Restored diplomatic ties mean U.S. diplomats can travel more freely and increase staff. Cuba has also reduced the number of security guards who keep on eye on Cubans going in and out.
President Dwight Eisenhower severed diplomatic ties with Havana as relations soured soon after the 1959 Cuban Revolution.
The seven-story building in Havana and Cuba's mansion in Washington were closed from 1961 until 1977, when they reopened as interests sections.
(Reporting by Daniel Trotta and Lesley Wroughton; Additional reporting by Marc Frank; Writing by Daniel Trotta and David Storey; Editing by Frances Kerry)
Photo: U.S. Secretary of State John Kerry (L) and Cuba's Foreign Minister Bruno Rodriguez hold a joint news conference in Havana, Cuba, August 14, 2015. REUTERS/Pablo Martinez Monsivais/Pool