Kevin McCarthy Won't Act Against 'Appalling' White Nationalists Greene And Gosar
@LauraClawson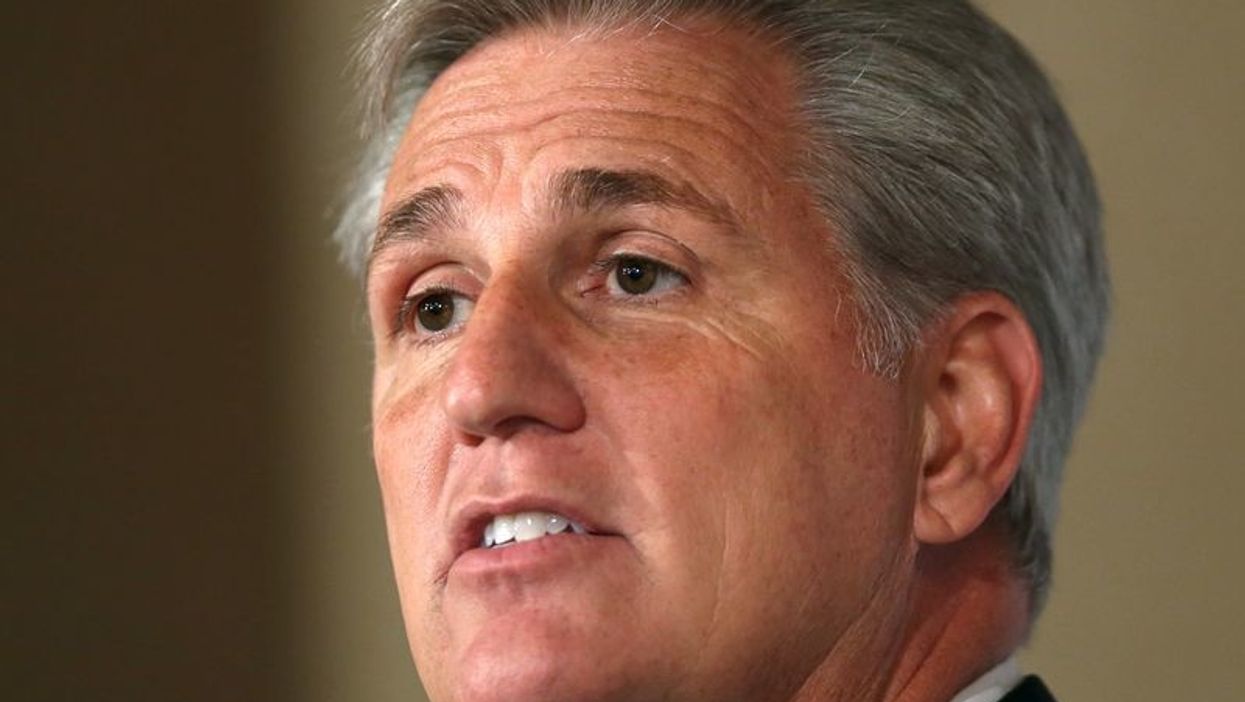 A couple of House Republicans spoke at a white nationalist conference, and the top member of their party in Congress seems ready to just wait for it to blow over.
Reps. Marjorie Taylor Greene and Paul Gosar spoke at the far-far-right America First Political Action Conference, with Greene's appearance following a "round of applause for Russia" led by conference organizer Nick Fuentes. House Minority Leader Kevin McCarthy called Greene and Gosar's participation in the event "appalling," but that seems to be as far as he's going.
McCarthy said he would have a talk with Gosar and Greene about it. He's in no hurry, though. The far-right House Freedom Caucus "aired frustrations" with Gosar and Greene about their Fuentes association, sources told Politico, but McCarthy hasn't gotten around to it yet, and some of his allies are defending him because he has so many more important things to deal with.
"Dealing with dumb, stupid things people do in Congress should probably go down — and go pretty far down — on the list when you've got peacekeeping tanks rolling into a country that was not in conflict, when you've got record inflation, when you've got all of these things," Rep. Kelly Armstrong told Politico.
You know, actually, when you're a leader of a party looking at two members of your conference having spoken at a white nationalist event, that should be high on the list of priorities. McCarthy is the minority leader in the House. It's not like he's out there singlehandedly dealing with Russia and inflation. He can carve out a little time to say "Let's not tie our party to Nazis."
Here's Nick Fuentes: "We can't play this game of, 'We disavow white supremacy.' Notice how the claws come out."
Here's Nick Fuentes again: "You can call us racists, white supremacists, Nazis, & bigots. You can disavow us on social media from your cushy Campus Reform job. But you will not replace us. The rootless transnational elite knows that a tidal wave of white identity is coming. And they know that once the word gets out, they will not be able to stop us. The fire rises!"
Separating the Republican Party from this could be a priority. Yet it's not.
Some Republicans anonymously lamented to Politico that, since Democrats stripped Greene and Gosar of their committee assignments, McCarthy doesn't have much left to threaten.
"I want them to shut up. Just stop it. What the hell is she thinking?" one said. "[But] there's nothing else. What else can Kevin do officially through the conference?"
Note that "through the conference" part. McCarthy could back expelling Greene and Gosar from Congress—but that wouldn't be through the Republican conference, it would involve the entire House. So even this person who wants them to "shut up" isn't talking about the step that would decisively say that the Republican Party rejects lawmakers who associate with white nationalists. It requires a two-thirds vote to expel someone from the House, and McCarthy either doesn't think he could get enough votes on top of the Democrats or he just plain doesn't want to do it.
Some Republicans think McCarthy's silence is a mistake.
"There is a strategy of, 'If we don't talk about it, it will go away, and it won't get attention.' And sometimes that works," another anonymous Republican told Politico. "But in the long run, I've always found that backfires, so they're playing with fire by doing that."
It backfires the Republican Party ever closer to the white supremacists it doesn't disavow. And at a certain point, you have to figure McCarthy knows that that's what he's doing.
Reprinted with permission from Daily Kos