McCarthy Won't Endorse Trump -- And America Will Pay The Price
@kerryeleveld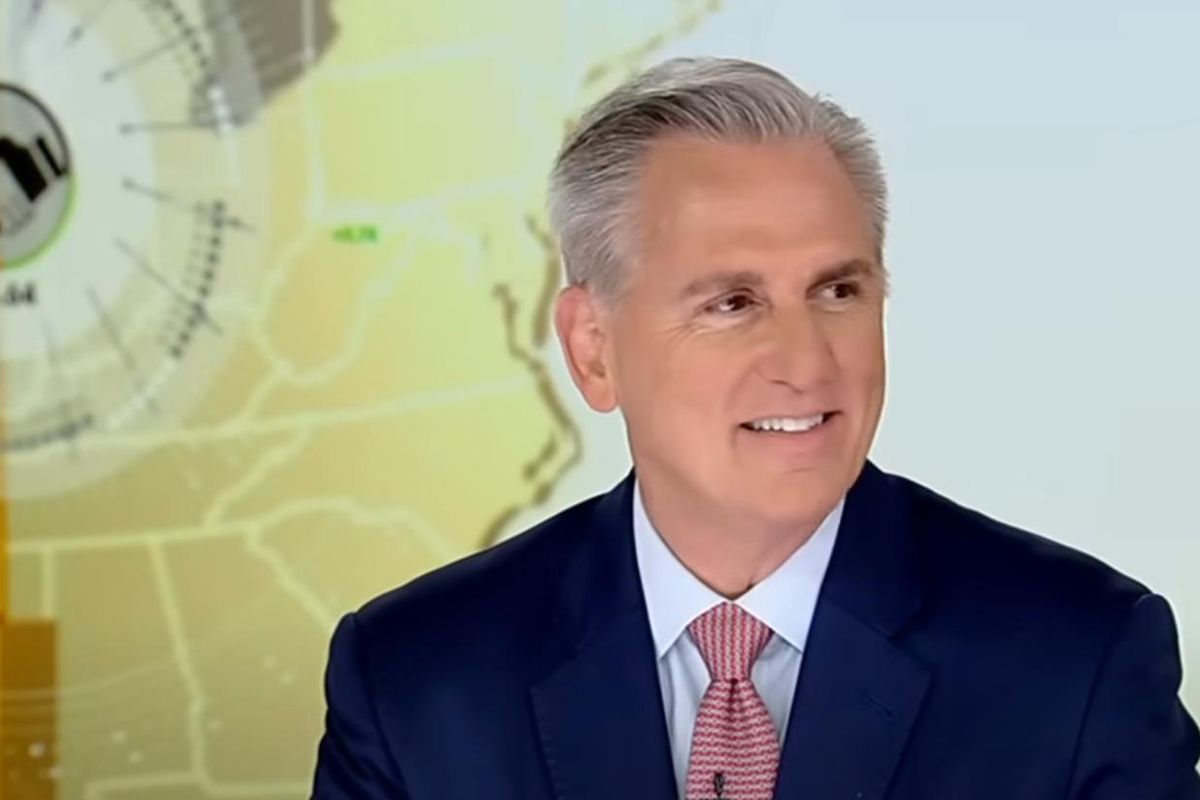 Republican House Speaker Kevin McCarthy has reached that stage of a GOP-controlled congressional session where he is simply perfecting the art of playing political Whac-A-Mole—nothing more, nothing less.
Whatever supposed agenda House Republicans were pursuing, that all ended when McCarthy struck a deal with the White House on raising the debt ceiling that miraculously avoided a catastrophic debt default. While the country undoubtedly benefited from that relatively reasonable outcome given McCarthy's band of heretics, we will all be paying the price for his betrayal of the caucus extremists for the remainder of his speakership.
The first bill came due in early June, when House GOP extremists shut down the floor and McCarthy was forced to recess the chamber for the better part of a week. Several weeks later, Florida Rep. Anna Paulina Luna went on a censure crusade against Rep. Adam Schiff of California over comments he made several years ago about Donald Trump's ties to Russia. Luna originally folded a $16 million fine into the measure, which she pushed in the form of a privileged resolution in order to skip going through committee and using regular order. But when 20 vulnerable Republicans sided with House Democrats to table the resolution, McCarthy sprang into action, trying to convince Luna that this very bad look for the GOP was only benefitting one person: Schiff, who ultimately raked in more than $8 million in second-quarter donations for his Senate bid. Luna dropped the fine, McCarthy backed the measure, and the censure passed on a party line vote, 213-209.
That same week, McCarthy went through the exact same drill with a privilege resolution pushed by Rep. Lauren Boebert of Colorado to impeach President Joe Biden: no investigation and no high crimes, misdemeanors, or explicit violations of the Constitution. She just felt like it—so there.
McCarthy once again convinces this low-level GOP talent that her resolution will fail, embarrass the Republican majority, and be a boon to Biden. Instead, she agrees to refer the articles to the Homeland Security and Judiciary Committees in return for bragging rights that she initiated the impeachment push.
But that's what McCarthy exists for now—he's a glorified cat herder in a necktie.
"The best he can do in these situations is mitigate the damage," remarked The New York Times' Annie Karni on The Daily podcast. "And he knows every day that his troubles are not behind him and are only probably getting worse."
McCarthy's next challenge is avoiding a massive rift within his caucus over which 2024 Republican hopeful to back. For now, he has declined to endorse Trump —yet another slap in the face to the MAGA misfits who would just as soon burn the House down as build bridges.
It's a placeholder position that could yield fast considering how quickly McCarthy walked back his recent observation that Trump might not be " the strongest " Republican candidate in the GOP field.
Trump fumed over McCarthy's disloyalty and, in a near-immediate clean up interview with Breitbart, McCarthy asserted, "Trump is stronger today than he was in 2016."
Sure, watching McCarthy squirm amid the MAGA death grip is entertaining. But the longer McCarthy holds out on endorsing Trump, the bigger the price we'll pay. McCarthy owes his precious speaker's gavel to Trump, and when Trump wants something, he'll hang McCarthy's delinquency over his head like the Sword of Damocles.
And more than likely, Trump will extract the biggest pound of flesh he can get from McCarthy, whether that's a massive investigation escalation into Biden's son Hunter, or a full on impeachment proceeding. One way or the other, Trump will get his due.
Reprinted with permission from Daily Kos .