Klansman Duke Boasts He Inspired Trump — And Tucker Carlson, Too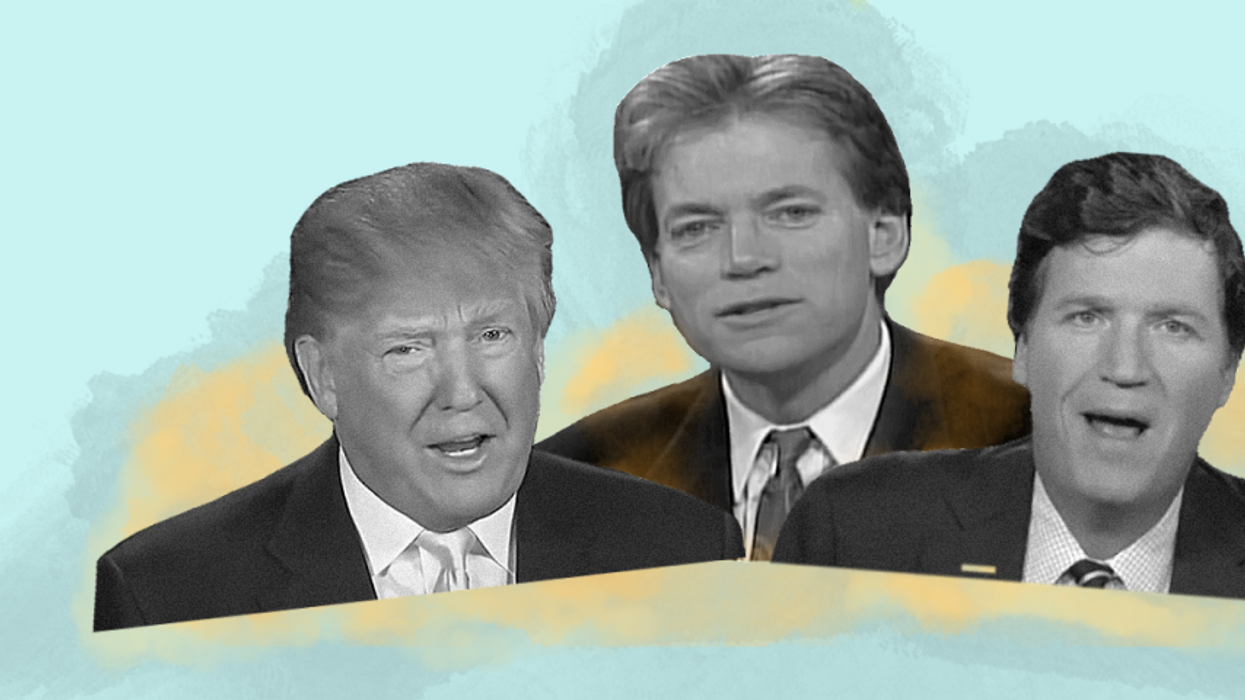 Reprinted with permission from MediaMatters
The infamous former Ku Klux Klan leader David Duke is taking credit for having blazed a trail for two major political voices of the right — former President Donald Trump on the one hand, and Fox News prime-time host Tucker Carlson on the other — saying that they are following in his own footsteps in promoting the idea that white people are under threat of "replacement."
---
The "great replacement" theory posits that white people are being systematically "replaced" via mass immigration by people of color. The Guardian explained that the theory attributes this plot to "a shadowy group" planning to rule the world: "This group is often overtly identified as being Jews, but sometimes the antisemitism is more implicit."
On the October 13 edition of his podcast, Duke claimed that "Trump really knows what his movement is based upon" — that is, from Duke's own political campaigns. "You know, [Trump] had to know that I ran my campaigns primarily on the immigration issue, on fair trade issues, on the issues of preserving American culture, on stopping the replacement of European Americans — which people are all talking about now, years and years and years."
Duke also recounted how back in the 1970s he had organized an "independent, popular border watch of the Mexican-American border," which got a lot of publicity in the media that scared people in Mexico. "They were afraid because they were trying to portray it like it was the KKK — it was going to lynch them or something," Duke said "Even though my Klan group, by the way, never ever was even accused of any sort of violent activity. That was way back way, way, way back in 1975, '74, '75."
Duke then made an interesting argument regarding Trump's rally in Iowa the prior weekend, and played a clip in which Trump said he remembered "one politician many years ago, came in second in a certain state, and he became famous for many, many years because he came in second," while by contrast Trump won multiple states. Duke argued that this was a subtle acknowledgment that Duke's 1991 campaign for governor of Louisiana was the forerunner of Trump's own political movement.
Duke and co-host Patrick Slattery puzzled over whether Trump could have been referring to any other past candidate, and went through a process of logically eliminating several other possible candidates before settling upon their conclusion. Duke further noted: "You wonder, why would he even bring that up, and not — definitely very much avoid saying the name, right?"
Slattery complained, however, later declaring: "Let's just say he ran on the David Duke platform. He certainly wasn't able to implement very much of it as president."
"And he definitely didn't talk about the fundamental issues like we talk about," Duke added. "He believed — and maybe he was right in a way, in terms of his ability to get elected — he believed that he couldn't get elected if he just laid out the fact that this tiny Jewish racist, ultra-racist, ultra-supremacist minority has supremacy over" mainstream media outlets and social media. "Jews, they're Jews, Jews, and more Jews, and they're all connected."
Duke may be taking a glass-half-empty view on Trump's expressions of antagonism against Jewish Americans, however.
During his 2016 presidential campaign and his presidency, many people noted that Trump's use of the term "globalists" had antisemitic connotations — especially as Trump applied it publicly to a Jewish person in his own administration. And in 2017, after participants in the deadly white supremacist rally in Charlottesville, Virginia, had chanted, "Jews will not replace us," Trump infamously referred to the event as having "very fine people" on both sides.
Duke further played, with some pride, a clip from MSNBC's All In with Chris Hayes, in which the host compared Duke's statements about whites becoming "a minority in our own country," with Carlson's promotion of "the great replacement, the replacement of legacy Americans."
DAVID DUKE (HOST): How could it be that I'm an evil guy, when all of the fundamental things that Tucker says, the fundamental things he says — except for the fact they don't dare talk about the real truth of the real racism that dominates this country, the Jewish racism that dominates — isn't that, that's an amazing take, too, isn't it?
…
DUKE: It's unbelievable to think about this, and this is, I believe, the greatest human rights crime in the world — if genocide is something evil, and I do believe any sort of genocide is evil, then why in the hell do we have a purposeful program to destroy, to literally wipe out the white people in America and Europe, and make us a tiny minority and ultimately just basically erase us from the Earth?
That's really what's going on, and it's really interesting that all of these things that Tucker is talking about now — Tucker's been around a long time, too. He's been around from the 1990s, 2000s, and in his career, 2000s. And he finally in the last three or four years — somewhat also with the Trump campaign — but he's finally come around to start even using the word "white people" in any context.
And in response to repeated calls by the Anti-Defamation League for Fox News to fire him after his promotion of the "great replacement," Carlson had this to say about the prominent Jewish civil rights organization: "Well, fuck them."