Kremlin Scandal: Did Sessions Lie About Meetings With Russian Ambassador?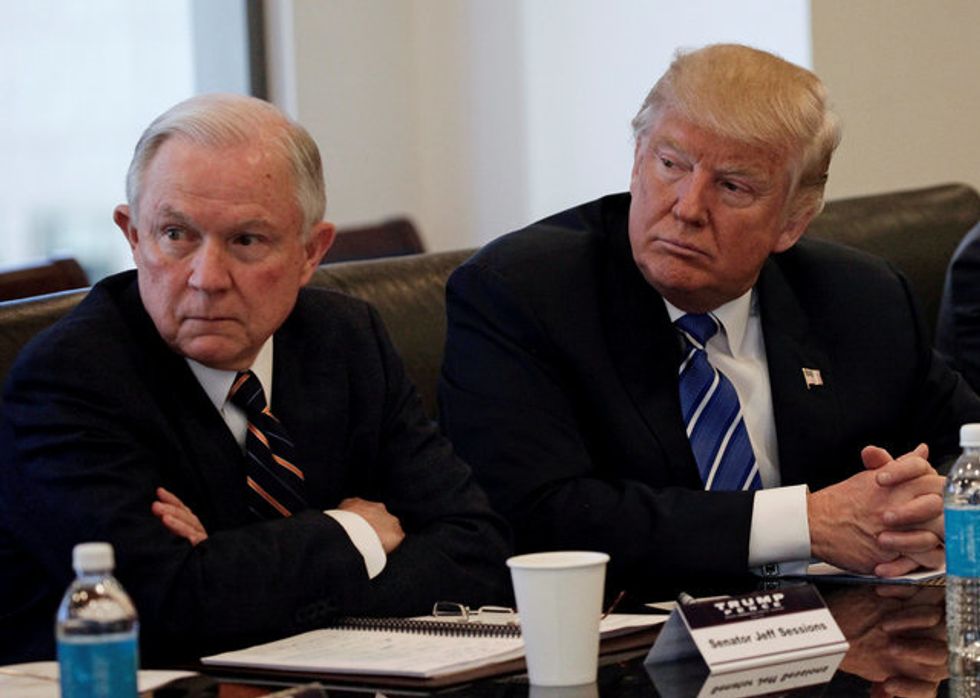 After today, Attorney General Jefferson Beauregard Sessions may no longer be able to stonewall an independent investigation of suspected collusion between the Trump campaign and the Kremlin – owing to reports that Sessions himself met with Russian Ambassador Sergey Kislyak last year and then misled the Senate about those meetings during his confirmation.
The Washington Postrevealed on Wednesday night that the Alabama Republican — who became the first U.S. senator to endorse Donald Trump a year ago — met with Kislyak last July and then again in September, amid growing concern over alleged Russian hacking of Democrats to sway the presidential race. But during his confirmation hearings last month, Sessions assured Senator Al Franken (D-MN) that he knew of no meetings between the Trump campaign and the Russians.
"I'm not aware of any of those activities," he insisted, adding, "I have been called a surrogate at a time or two in that campaign and I did not have communications with the Russians."
In response to written questions from Senator Patrick Leahy (D-VT), Sessions similarly denied talking with any Russian officials about the 2016 campaign. A spokeswoman for the attorney general told the Washington Post that his meetings with Kislyak were part of his work as a member of the Senate Armed Services Committee — although 20 of its 26 other members told Post reporters that they had not met with the Russian envoy at all last year.
Whether Sessions actually perjured himself in Senate testimony is still unclear. But Franken expressed deep dismay to the Post upon learning of the meetings that his former colleague failed to mention during Sessions' confirmation hearing.
"If it's true that Attorney General Sessions met with the Russian ambassador in the midst of the campaign," he said, "then I am very troubled that his response to my questioning during his confirmation hearing was, at best, misleading. It is now clearer than ever that the attorney general cannot, in good faith, oversee an investigation at the Department of Justice and the FBI of the Trump-Russia connection, and he must recuse himself immediately."
This latest charge against Sessions is yet another farcical echo of the Watergate scandal, which saw then-Attorney General John Mitchell discredited amid his own department's investigation, and eventually sent to prison.
The New York Times also advanced its Russia scandal coverage last night, reporting salient information from intelligence sources both in the US and abroad that will undoubtedly elicit more presidential shrieks about "leaks." According to the Times, officials from the United Kingdom and the Netherlands provided information to the US intelligence community confirming meetings in various European cities between Trump associates and Russian figures, including both government officials and others close to Vladimir Putin. And US intelligence also intercepted communications among Russians discussing various meetings with Trump associates.
All of this lends fresh weight to the Steele dossier — along with new reports on CNN and in the Post disclosing that the FBI had agreed to compensate its author, former MI6 official Christopher Steele, for expenses related to his investigation of Trump's Russian links. The bureau had previously employed Steele to assist its massive investigation of corruption permeating FIFA, the world soccer league, and considered him a reliable professional. While the bureau wanted Steele to continue probing Trump's ties to Putin beyond Election Day, the Post reports their arrangement fell apart after his investigation was disclosed in the press.
No amount of evidence will dissuade House Republicans from covering up for Trump, apparently. That effort continued on Tuesday as the House Judiciary Committee rejected a "resolution of inquiry" introduced by Rep. Jerrold Nadler (D-NY), in a party-line vote. The measure would have required the Justice Department to surrender to Congress any and all evidence relating to an ongoing "criminal or counterintelligence" investigation of Trump — including the continuing counterintelligence probe currently under way within the FBI. Committee Republicans denounced Nadler's resolution as "premature," and echoed the president in accusing Democrats of using the Russian probe as an "excuse" for Hillary Clinton's Electoral College defeat last November.
At minimum, however, the New York Democrat succeeded in putting the Republican leadership under public scrutiny as they protect Trump and his cronies from oversight. And even the stupidest among them must know by now that their long, national nightmare has only just begun.