Kushner Slammed Over Response To Khashoggi Killing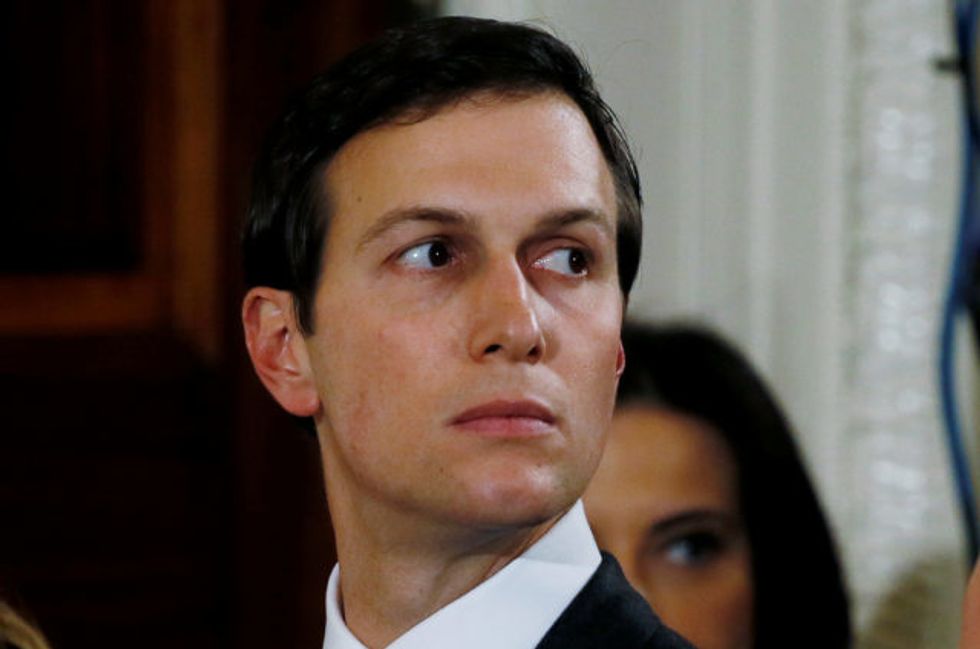 Reprinted with permission from AlterNet.
Jared Kushner, President Donald Trump's son-in-law and top aide, has found himself in the middle of an international firestorm surrounding the accusations that Saudi Arabia murdered Washington Post journalist Jamal Khashoggi.
Kushner, who has played a central role in tightening the U.S. alliance with the Saudis and Crown Prince Mohammed bin Salman, in particular, faces growing criticism for the administration's meager response to the killing, which many believe was ordered by the prince himself. And in a rare interview on Monday with CNN's Van Jones, Kushner did nothing to reverse the White House's tepid response — and arguably, tacit endorsement — of the killing.
When Jones asked what Kushner believes happened to the journalist, Kushner hedged, giving cover for the regime's clearly disingenuous "investigation" of the matter.
"I'd say that right now, as an administration, we're more in the fact-finding phase," Kushner said. "Once we have all the facts, we'll make an assessment."
However, there is more than enough public evidence now to determine that the Saudis acted wrongly and almost certainly murdered Khashoggi. For more than two weeks, the regime pretended it didn't know where the journalist was, before admitting that, as all evidence had suggested he was killed in their own consulate in Turkey. They then tried to push the wildly implausible story that Khashoggi was accidentally killed when he tried to fight the more than a dozen people the Saudis had sent after him.
It has all the hallmarks of coverup — and an exceedingly sloppy one at that.
But reporting has suggested that Kushner favors waiting out the scandal until the outrage against the Saudis dies down. In other words, he appears more interested in ignoring the death of an American resident and Post journalist whenever it is convenient to do so.
Critics immediately slammed Kushner's interview, taking him to task for his less than the pitiful defense of the Saudis and for his attitude toward critics:
Kushner affect about brutal, monstrous Khashoggi murder was ice-cold https://t.co/CRDWUGrtgk

— John Harwood (@JohnJHarwood) October 22, 2018
A few key words to help understand the complex process by which Jared Kushner got his jobs: "marriage," "nepotism," and "abuse of power." For a similar example, see Gulnara Karimova, the daughter of Uzbekistan's former dictator. https://t.co/IvWyIMRrcz

— Brian Klaas (@brianklaas) October 22, 2018
"We've made a lot of progress on the Middle East peace program," Kushner says. This is very hard to square with what's happening on the ground.

— Christina Wilkie (@christinawilkie) October 22, 2018
"I don't respond to the critics," Jared Kushner tells Van Jones. He used to have one of the most — shall we say "spirited" — spokespeople, as anyone who covers the White House knows.

— Kaitlan Collins (@kaitlancollins) October 22, 2018
Kushner dodged on if he thinks the Saudi story is credible and can trust them to investigate themselves: "Right now, as an administration, we are more in the fact finding phase. Then we will determine what is credible." He added that it's the president & Pompeo who are in charge.

— Emily Jane Fox (@emilyjanefox) October 22, 2018
Luv too serve the public without accountability https://t.co/p6pAxX2aO2

— Matthew Yglesias (@mattyglesias) October 22, 2018
Cody Fenwick is a reporter and editor. Follow him on Twitter @codytfenwick.