Kushner Newspaper Publishes Op-Ed Urging FBI Crackdown On Protests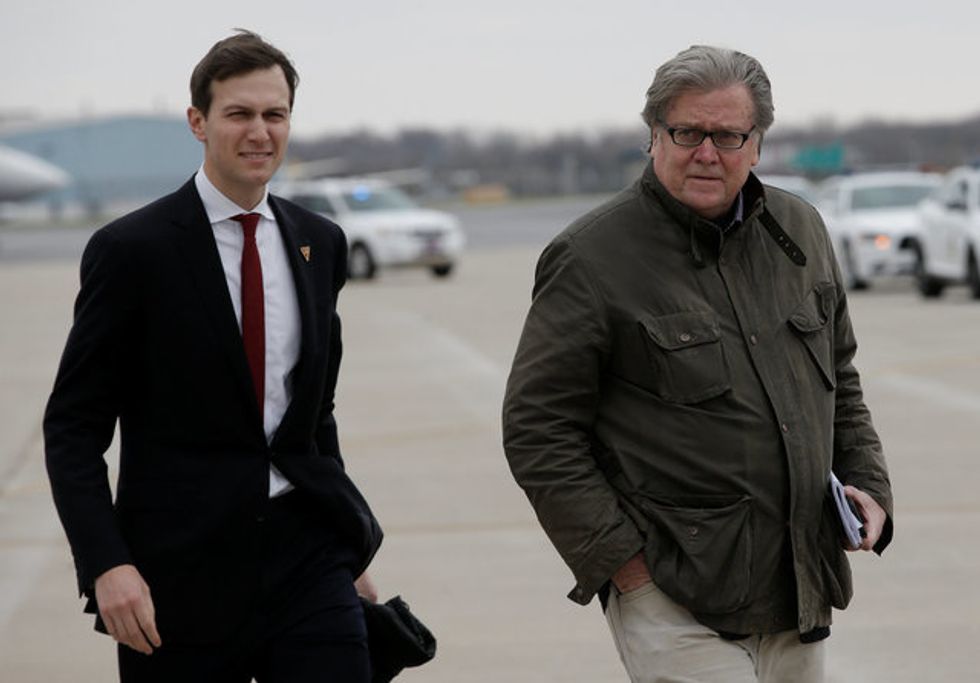 Reprinted with permission from Alternet.
The New York Observer, a newspaper owned by Donald Trump's son-in-law Jared Kushner, published an opinion piece last Friday calling for the FBI to launch a coordinated crackdown on nationwide anti-Trump protests, mobilizations, and recount efforts.
Titled "Comey's FBI Needs to Investigate Violent Democratic Tantrums," the article was written by Austin Bay, a retired U.S. Army Reserve colonel and adjunct professor at the University of Texas in Austin.
Kushner, who is married to Ivanka Trump, purchased a majority stake in the New York Observer in 2006 for roughly $10 million and currently operates as the outlet's publisher.
Bay's opinion piece appeals to FBI director James Comey to "conduct a detailed investigation into the violence and political thuggery that continue to mar the presidential election's aftermath," including a "thorough probe of the protests—to include possible ties to organizations demanding vote recounts."
"The hard left's violent reaction to Donald Trump's election is vile and dangerous," writes Bay. "Peaceful protests? No, the demonstrators vandalize and destroy. They have two goals: intimidating people and sustaining the mainstream media lie that Donald Trump is dangerous."
The piece raises fears of "communists," smears the Black Lives Matter movement as violent and even raises alarm about the multi-billionaire George Soros. "Sure, there are a lot of fringe theories out there about Soros," writes Bay. "But Soros has a record for funding leftist political action."
Bay also tars grassroots campaigns urging electors to honor the popular vote and keep Trump from the White House. "Reports that members of the Electoral College are being harassed and threatened by angry, vicious (and likely Democratic Party) malcontents require Comey's quick and systematic attention," Bay writes.
Jim Naureckas, editor of Extra!, the media watchdog magazine of Fairness & Accuracy In Reporting, told AlterNet that Bay's op-ed is one of the most disturbing things he has seen since the election. "To have the incoming ruler's son-in-law using his paper to call for the federal police to investigate protests against the ruler, that is pretty far gone," he said. "It struck me as a 'first they came for the communists' moment."
"He ties up this conspiracy of protesters, people seeking recounts and George Soros into one vast conspiracy that the FBI ought to get to the bottom of," Naureckas continued. "It shows you the outlines of how you would justify a complete crackdown on dissent. It's frightening."
Naureckas said it does not matter that Kushner himself did not write the piece. "This publication is literally in the family," he said. "This paper has been an organ of the Trump movement from the beginning, and it is owned by one of the closest confidants Trump has. The idea of sending the secret police after protesters is an incredibly dangerous idea, and it must be repudiated."
The opinion piece comes amid mounting concerns over the incoming administration of Trump, who has vowed to ban Muslims from entering the country, carry out torture, deport more than 11 million immigrants and crack down on the free press by "open[ing] up" libel laws. So far, Trump has unveiled an alarming bevy of far-right administration appointees, including White House chief strategist Steve Bannon, who headed the white nationalist publication Breitbart, and Attorney General nominee Jeff Sessions, who was deemed too racist to serve as a federal judge under the Reagan administration.
Throughout his campaign, Trump repeatedly incited violence against anti-racist protesters at his rallies. In February, Trump said of a protester at one of his Las Vegas campaign events, "I'd like to punch him in the face." He added that, "in the old days," such protesters would be "carried out in stretchers."
When protests swept the country following Trump's victory in the electoral college, Trump took to Twitter to condemn the mobilizations as "very unfair" and falsely painted participants as paid agents who are "incited by the media."
Meanwhile, in the aftermath of the election there has been a spike in hate crimes across the country. The Southern Poverty Law Center documents at least 867 "post-election hate incidents," noting that "K-12 settings and colleges" have been "the most common venues for hate incidents."  The hate crime monitoring organization notes that this is likely a drastic undercount, as not all such incidents are reported to authorities.
Stephen Zunes, a professor of politics and international studies at the University of San Francisco, told AlterNet that the demonstrations that the New York Observer article took aim at "are constitutionally protected exercises in free speech." He warned that, "Combined with the recent bipartisan legislation in Congress to crack down on pro-Palestinian activism on college campuses, this may presage a serious crackdown on civil liberties in the coming years."
 Sarah Lazare is a staff writer for AlterNet. A former staff writer for Common Dreams, she coedited the book About Face: Military Resisters Turn Against War. Follow her on Twitter at @sarahlazare.
IMAGE: Stephen Bannon, (R) senior advisor to President-elect Donald Trump and Jared Kushner (L) walk from Trump's plane upon their arrival in Indianapolis, December 1, 2016.  REUTERS/Mike Segar