Lara Trump Says Voters 'Afraid' To Voice Support For President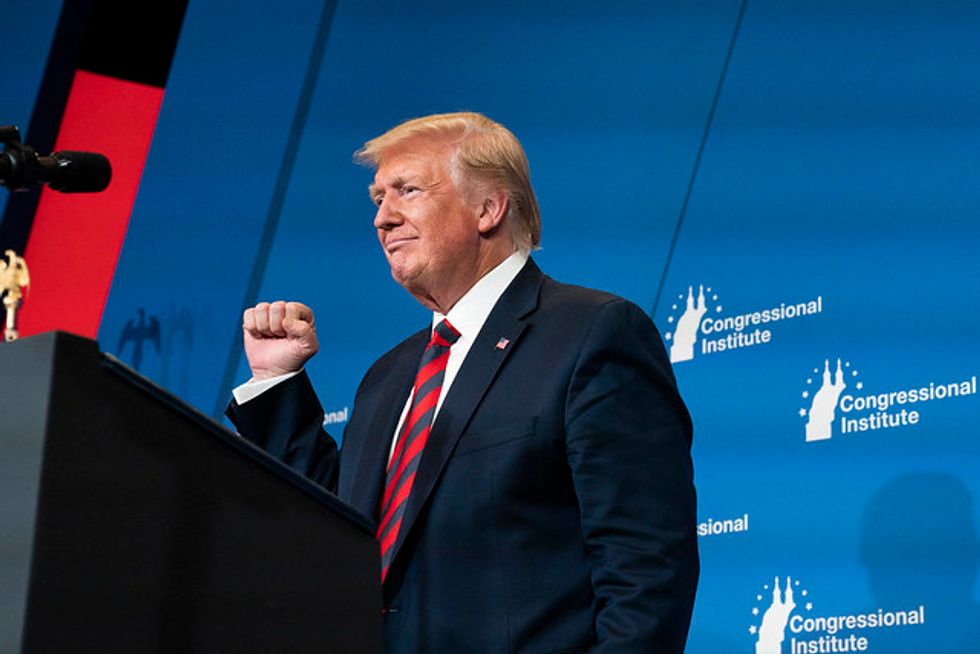 Lara Trump, Donald Trump's daughter-in-law and a senior adviser for his reelection campaign, told Fox News on Friday that he is losing in multiple polls against Democrats because voters are "afraid" to say they support him.
Anchor Bill Hemmer asked Lara Trump, who is married to Eric Trump, to respond to polling showing several Democratic candidates well ahead of Trump.
"This is the same thing we saw in 2016," she responded. "The polls have never accurately reflected how people feel about this president. Especially now, I think people now are more afraid to voice their support for President Trump than they were when he was just a candidate in 2016."
She did not elaborate on why voters would supposedly too shy to voice support for Trump.
Recent polling has not been good for Trump. An ABC News/Washington Post poll released on Wednesday showed Trump 15 points behind Vice President Joe Biden, 9 points behind Sen. Bernie Sanders (I-VT), 7 points behind Sens. Elizabeth Warren (D-MA) and Kamala Harris (D-CA), and 4 points behind Mayor Pete Buttigieg of South Bend, Indiana.
Quinnipiac's polling from late August showed Trump down 16 points to Biden, 14 to Sanders, 12 to Warren, 11 to Harris, and 9 to Buttigieg.
Trump has not led in polls against Biden, Sanders, Warren, or Harris for two months.
While Trump has continued to be supported by many Republican voters, he has weakened from his already precarious position among certain demographics, such as black women. In CNN's recent poll, Trump was down to a dismal 3 percent with that group.
Trump and his team have often lambasted the polls for their forecasts of the 2016 election, but in fact, most polling showed Clinton with a slight lead going into election day. That prediction was reflected in the popular vote, where Clinton defeated Trump by 2 percentage points and by nearly 3 million votes, despite his electoral college victory.
More recently, Trump predicted that he and the Republican Party would fare well in the 2018 midterm elections. Even as polls showed the party as headed for trouble, Trump repeatedly tweeted that a "big red wave" of voters would keep Republicans in the majority.
That didn't happen. In November, Republicans lost big, losing control of the House with 60.5 million votes backing Democrats ⁠— a record in American electoral history.
Polling isn't perfect but it has often been accurate in predicting trends and election outcomes. The Trump campaign's assertion that their voters fear pollsters is not supported by facts or evidence.
Published with permission of The American Independent.